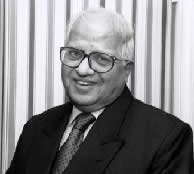 FOUNDING SECRETARY-GENERAL (1995-2004)
Ambassador S. K. Singh was the Founding Secretary-General of UPIASI. In December 2004, he was appointed Governor of Arunachal Pradesh and remained a member of the Governing Council of UPIASI in an honorary capacity.
Ambassador Singh was a former Foreign Secretary of India. He was India's Ambassador to Lebanon, Austria, Jordan, Cyprus, Afghanistan, and Pakistan, and served as Foreign Secretary of India in 1989-90. He has represented India at the United Nations on the Economic and Social Council, the Human Rights Commission and the UNIDO & the UNCTAD. For three years, Ambassador Singh was the Indian Governor on the IAEA Board of Governors in Vienna. He has monitored General Elections in Kenya, Lesotho, South Africa, Malawi & Sierra Leone on behalf of the Commonwealth Secretary-General.