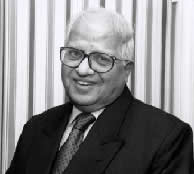 It is with great sadness that we report the passing of Ambassador Shilendra K. (S.K.) Singh, Governor of Rajasthan and former Foreign Secretary of India, on December 1, 2009. He was 77. Ambassador Singh was a Founding Member of the University of Pennsylvania Institute for the Advanced Study of India (UPIASI) in New Delhi and served as Secretary General from 1995 to 2004. He was a member of CASI's International Advisory Board for nine years, and remained an Honorary Member of the Governing Council of UPIASI after being appointed by Prime Minister Manmohan Singh Governor of Arunachal Pradesh in December 2004, and Governor of Rajasthan in 2007.
"S.K. Singh brought great foresight and integrity to the service of his country and to UPIASI and CASI," said Marshall M. Bouton, chairman of CASI's International Advisory Board. "He will be sorely missed by all who worked to advance India's progress at home and relationships around the world."
Professor Francine R. Frankel, Founding Director of CASI, wrote, "Ambassador Singh's contribution to the establishment of UPIASI as the counterpart institution of CASI in New Delhi was emblematic of the extraordinary qualities for which he was respected in every responsibility he shouldered. Efforts to gain recognition for UPIASI were undertaken at a time when it was still very difficult to carry conviction about the importance of greater cooperation between the U.S. and India in educational and research collaboration. It was S.K.'s reputation for commitment to right causes, and his unquestioned reputation for integrity, honor and loyalty that provided credibility to the difficult enterprise of convincing the Delhi Administration, and the Department of Scientific and Industrial Research, Ministry of Science and Technology to register UPIASI as CASI's counterpart institution, and extend to it recognition as a Scientific and Industrial Research Organization (SIRO). Once UPIASI became operational in 1997, and purchased offices in the India Habitat Centre, S.K. Singh, despite all his other obligations, generously lent his stature and donated his time to keep his original commitment to make UPIASI the first U.S.-India organization to become a unique framework for collaborative research projects, dialogues and publications on contemporary India."
Ambassador Singh's passing leaves a great gap in the CASI-UPIASI lineage. Our prayers go out to his family in this time of immense loss.
Professor Devesh Kapur and the staff at CASI