Onward! Forging the Narikuravars' Political Path to Scheduled Tribe Status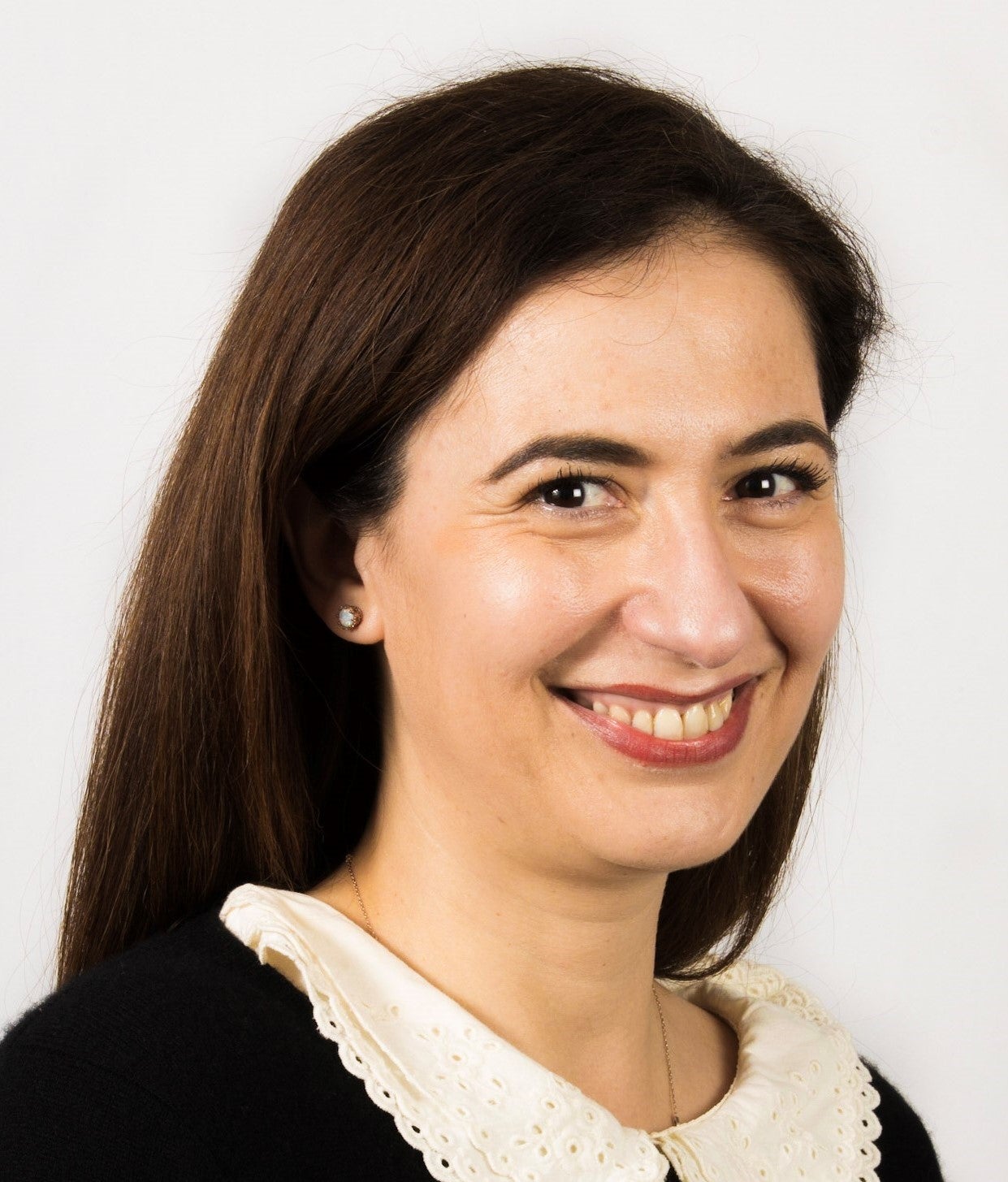 Cristina-Ioana Dragomir
January 16, 2023
In the latest issue of India in Transition, Cristina-Ioana Dragomir (Clinical Assistant Professor in Liberal Studies, NYU; 2016 CASI Visiting Scholar) discusses the Narikuravars' decades-long journey to ST status and its potential ramifications for other underprivileged groups in India.
---
CASI in the News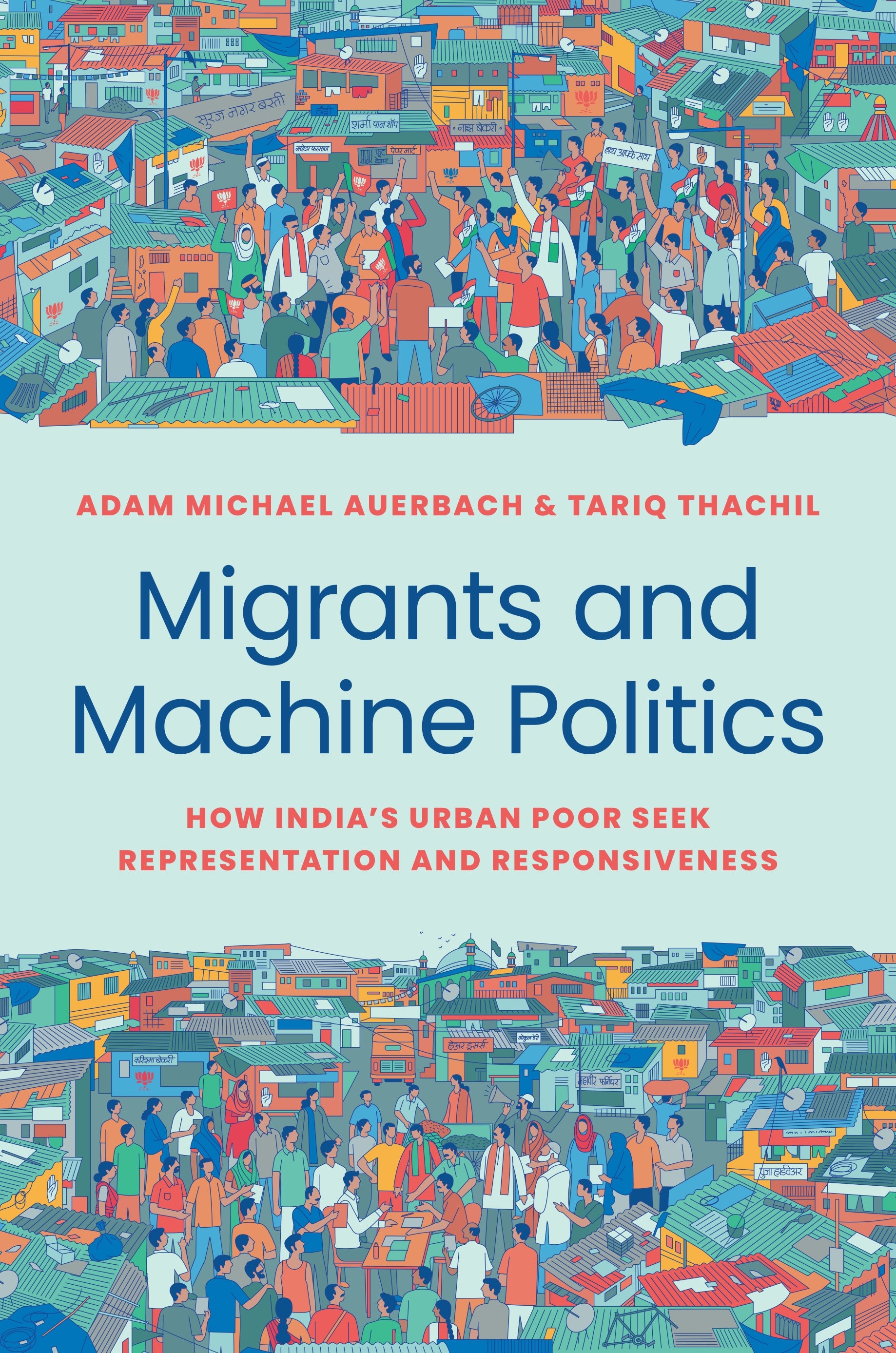 CASI Director Tariq Thachil and CASI Non-Resident Visiting Scholar Adam Auerbach (American University) co-authored Migrants and Machine Politics: How India's Urban Poor Seek Representation and Responsiveness (Princeton University Press, 2022). Preview Chapter 1 here and receive 30% off with code P321.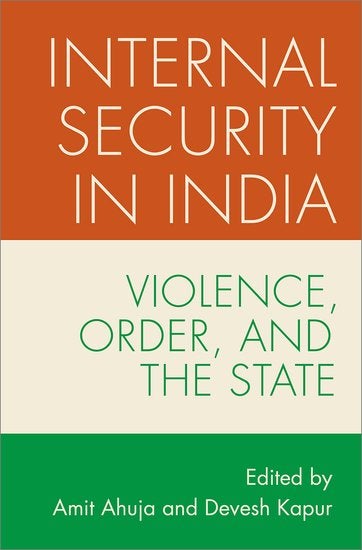 CASI Senior Fellow & former Director Devesh Kapur (SAIS, Johns Hopkins) and Amit Ahuja (UC, Santa Barbara) co-edited Internal Security in India: Violence, Order, and the State (Oxford University Press, 2022). The book is available for pre-order and will ship January 20, 2023.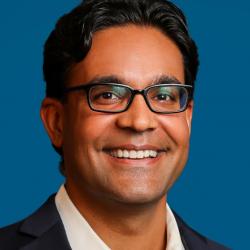 CASI Non-Resident Visiting Scholar Milan Vaishnav (Carnegie Endowment for International Peace) published "What's Working in India?" in the January 2023 issue of Seminar.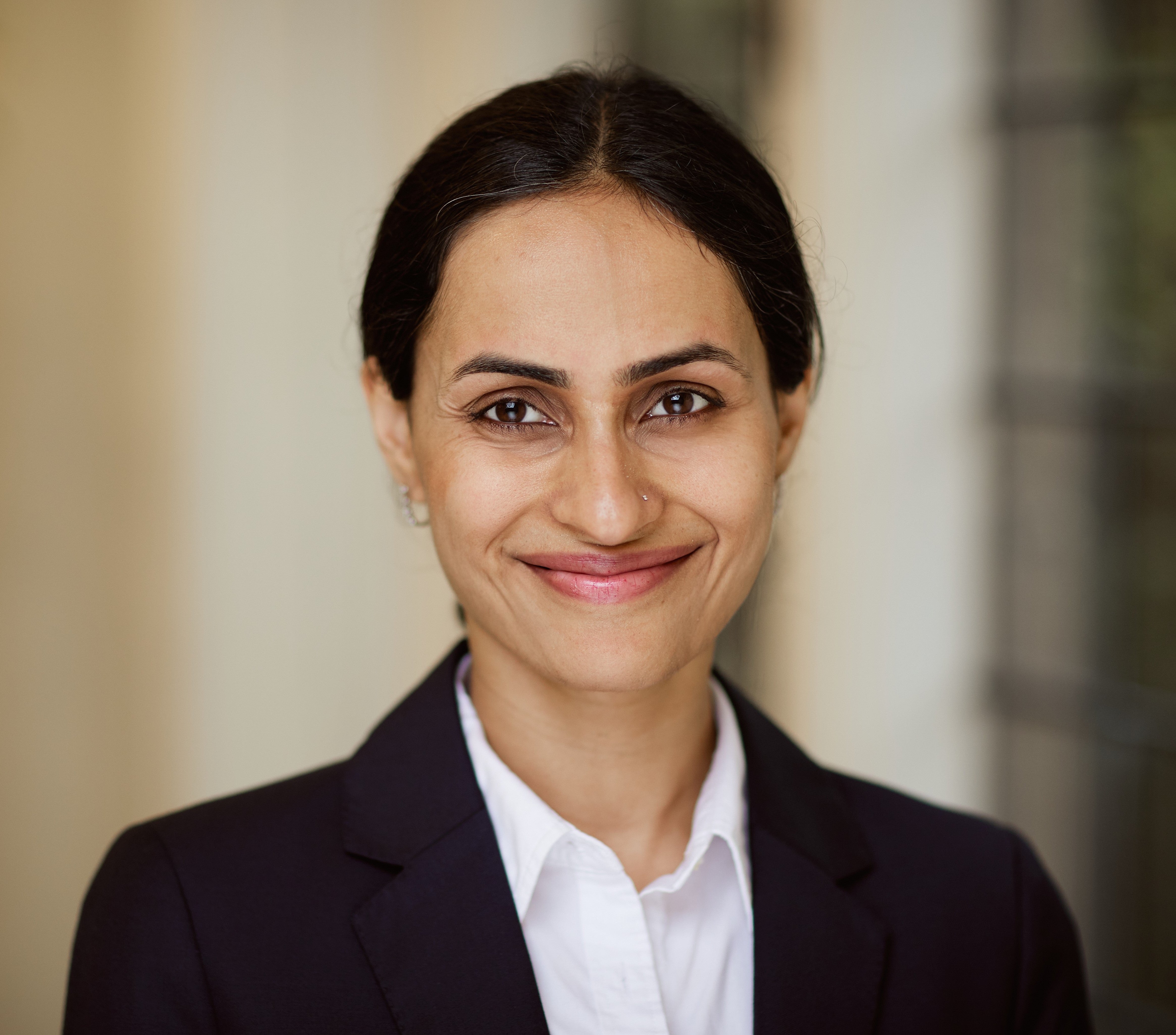 CASI Non-Resident Visiting Scholar Radhika Khosla (University of Oxford) co-authored "Sustainable Cooling in a Warming World: Technologies, Cultures, and Circularity" in the December 2022 issue of Annual Review of Environment and Resources.
---
CASI Student Programs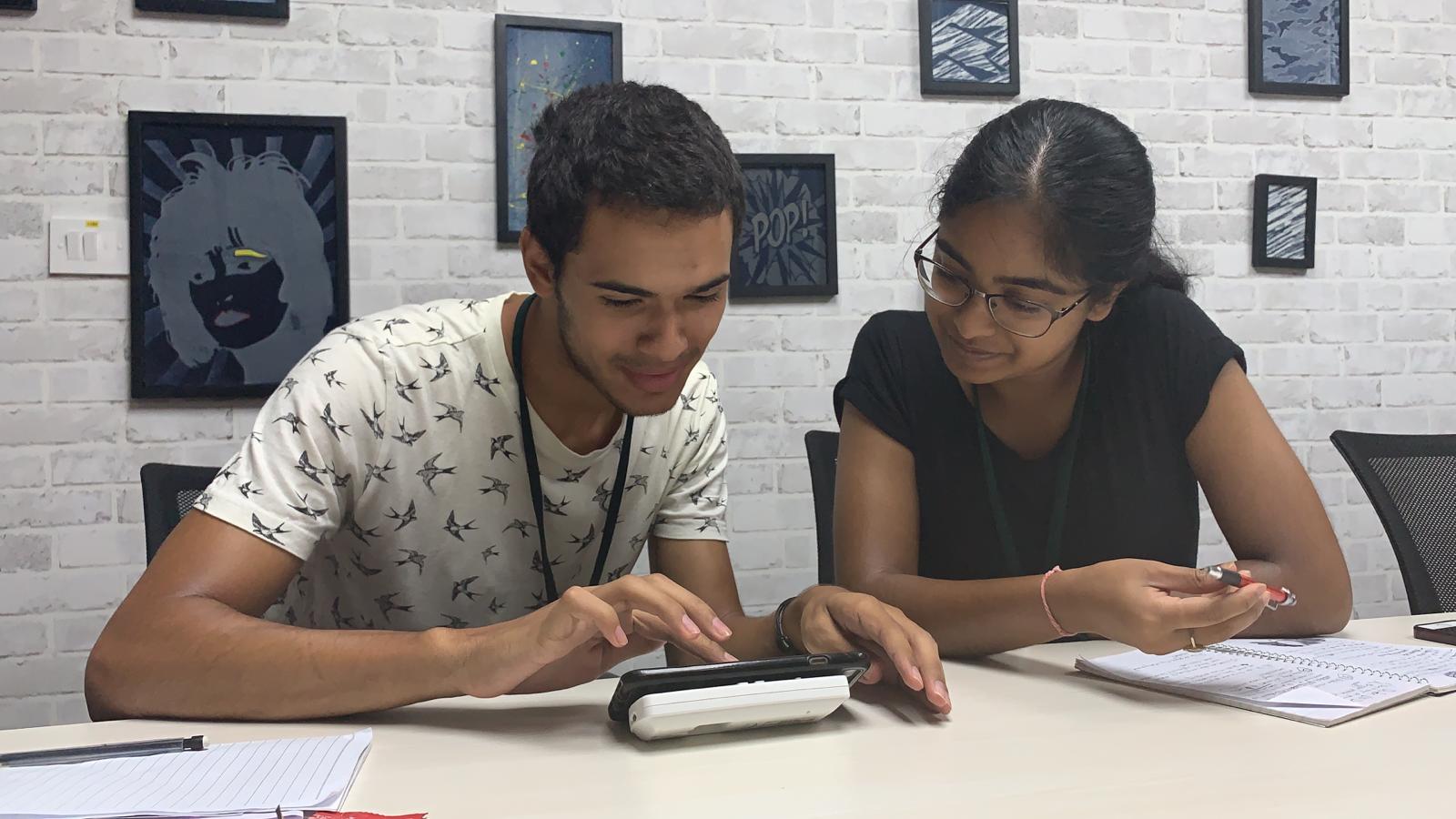 Applications for Summer 2023 Volunteer Internship Opportunities in India for eligible Penn students AND Summer Research Funds to support Penn students with their independent India-related research projects are now OPEN!
Deadlines to Apply:
Summer Internships: Monday, February 6, 2023, 11:59pm EST
Summer Research Funds: Monday, March 13, 2023, 11:59pm EDT

For more information:
Attend the CASI Student Programs Open House at CASI (Thursday, January 19, 2023, 3:00-5:00 p.m., 133 S. 36th Street, Suite 230 in the Perelman Center for Political Science and Economics)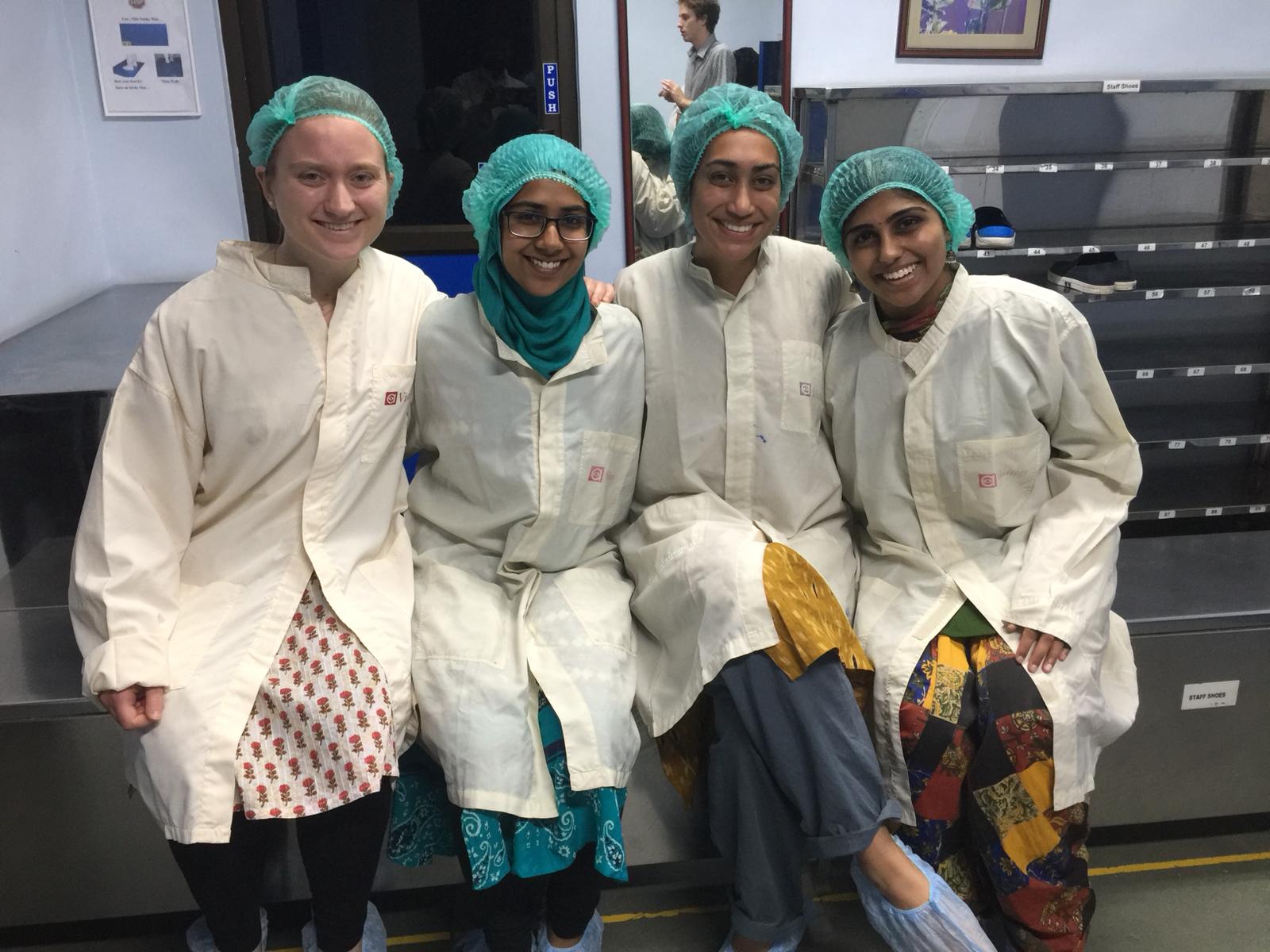 Read all about how past travel funds winners spent their summers in India on the CASI Student Programs Blog!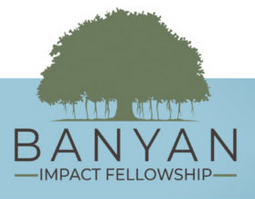 2023-24 AIF Banyan Impact Fellowship Applications Open
The American India Foundation (AIF)'s Banyan Impact Fellowship is a fully-funded, interdisciplinary experiential learning program that places young professionals from India and the US in service with communities across India.
Candidates must be U.S. or Indian citizens, or U.S. permanent residents. They must be between 21 and 35 years of age and have obtained their Bachelor's degree by the start of the program. The deadline to apply is Tuesday, January 31, 2023. Eligible graduating seniors and young alumni can apply here and learn more about the Fellowship.
Questions about CASI Student Programs?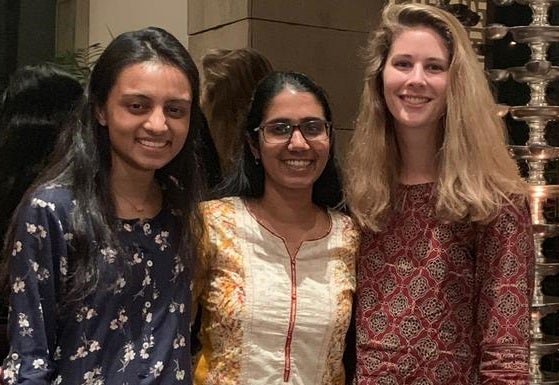 Please contact casi@sas.upenn.edu
---
CASI Job Opening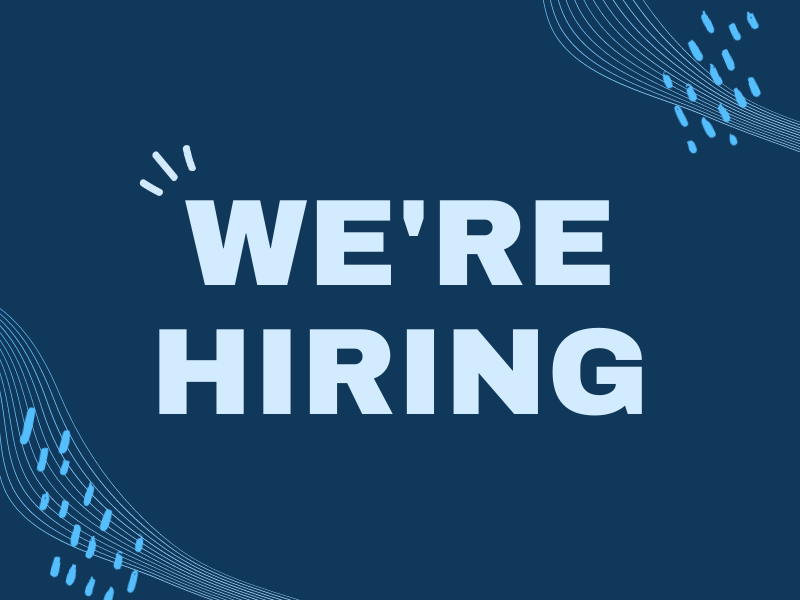 CASI is seeking an Administrative Coordinator to perform complex and confidential administrative and coordination functions for all aspects of the Center. This position requires a candidate possessing the ability to work effectively and professionally with CASI's director and staff, SAS, the University, and external partners.
---
Upcoming Events
2023 CASI VIRTUAL Data Seminar Series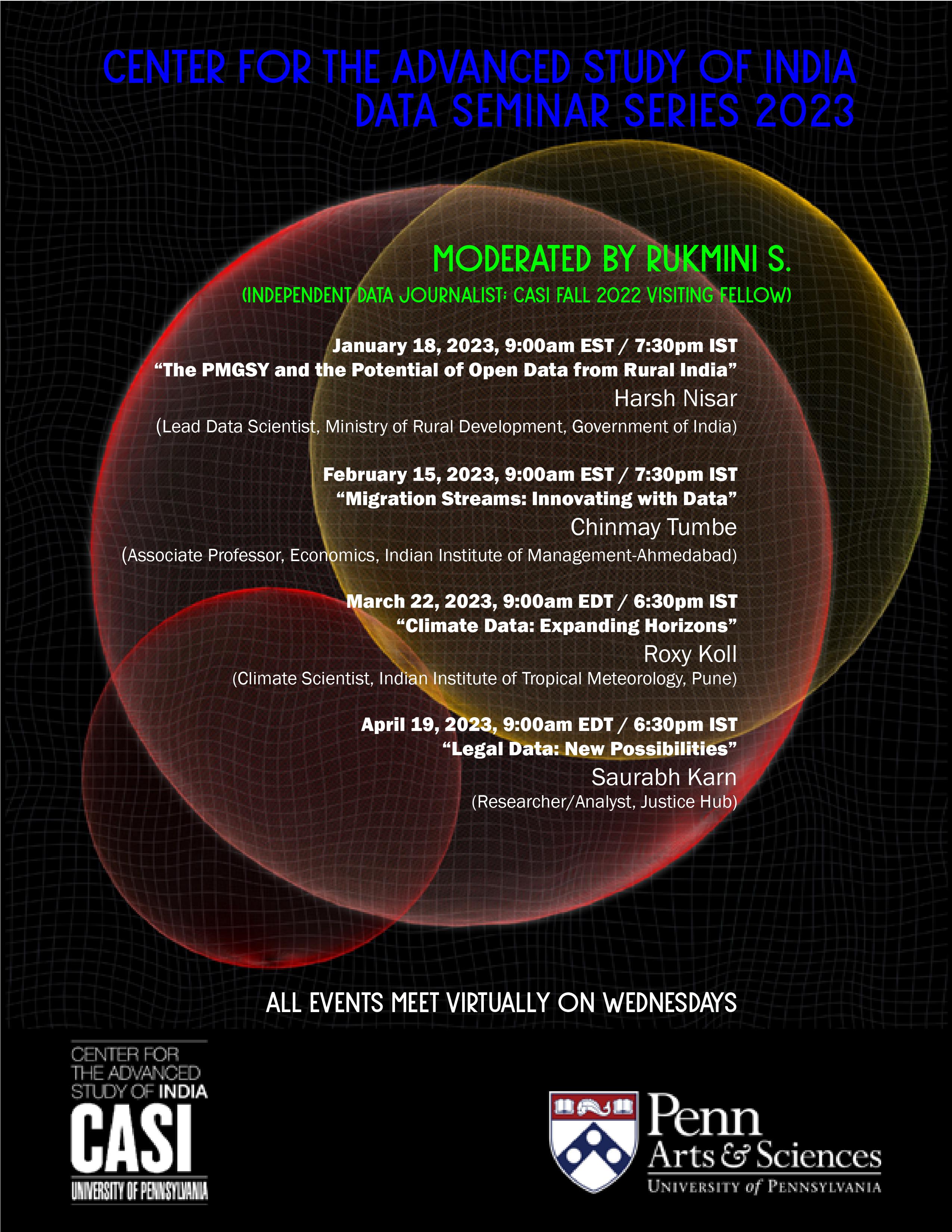 January 18, 2023, 9:00am EST / 7:30pm IST

"The PMGSY and the Potential of Open Data from Rural India"
Rukmini S. (Independent Data Journalist; CASI Fall 2022 Visiting Fellow) in conversation with Harsh Nisar (Lead Data Scientist, Ministry of Rural Development, GOI)
Full Data Seminar Series Schedule

2022-23 CASI Hybrid Seminar Series
*In-person events will no longer feature a virtual option*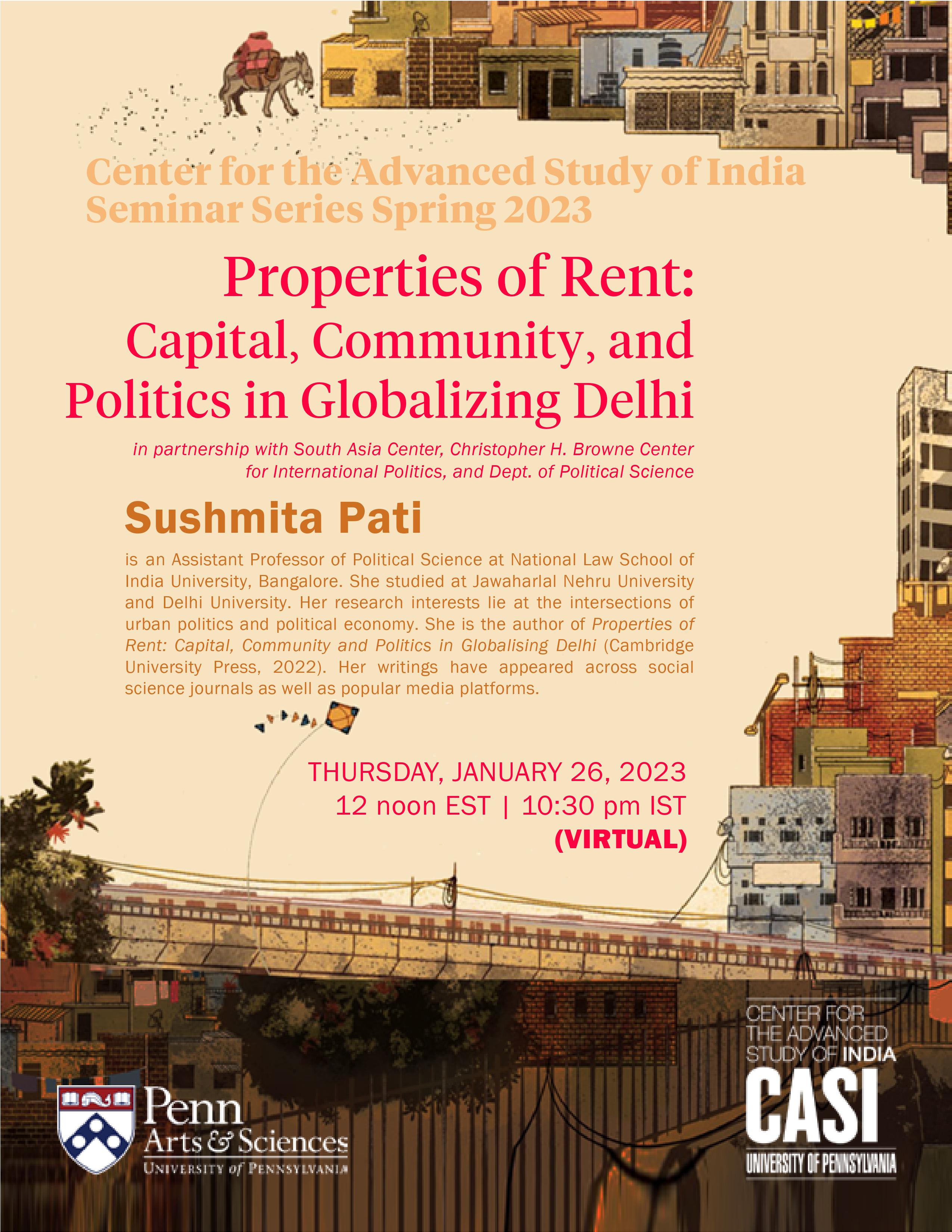 January 26, 2023, 12 noon EST | 10:30pm IST (Virtual)

"Properties of Rent: Capital, Community, and Politics in Globalizing Delhi"
CASI / South Asia Center / Christopher H. Browne Center for International Politics / Dept. of Political Science Seminar with Sushmita Pati (National Law School of India University, Bengaluru)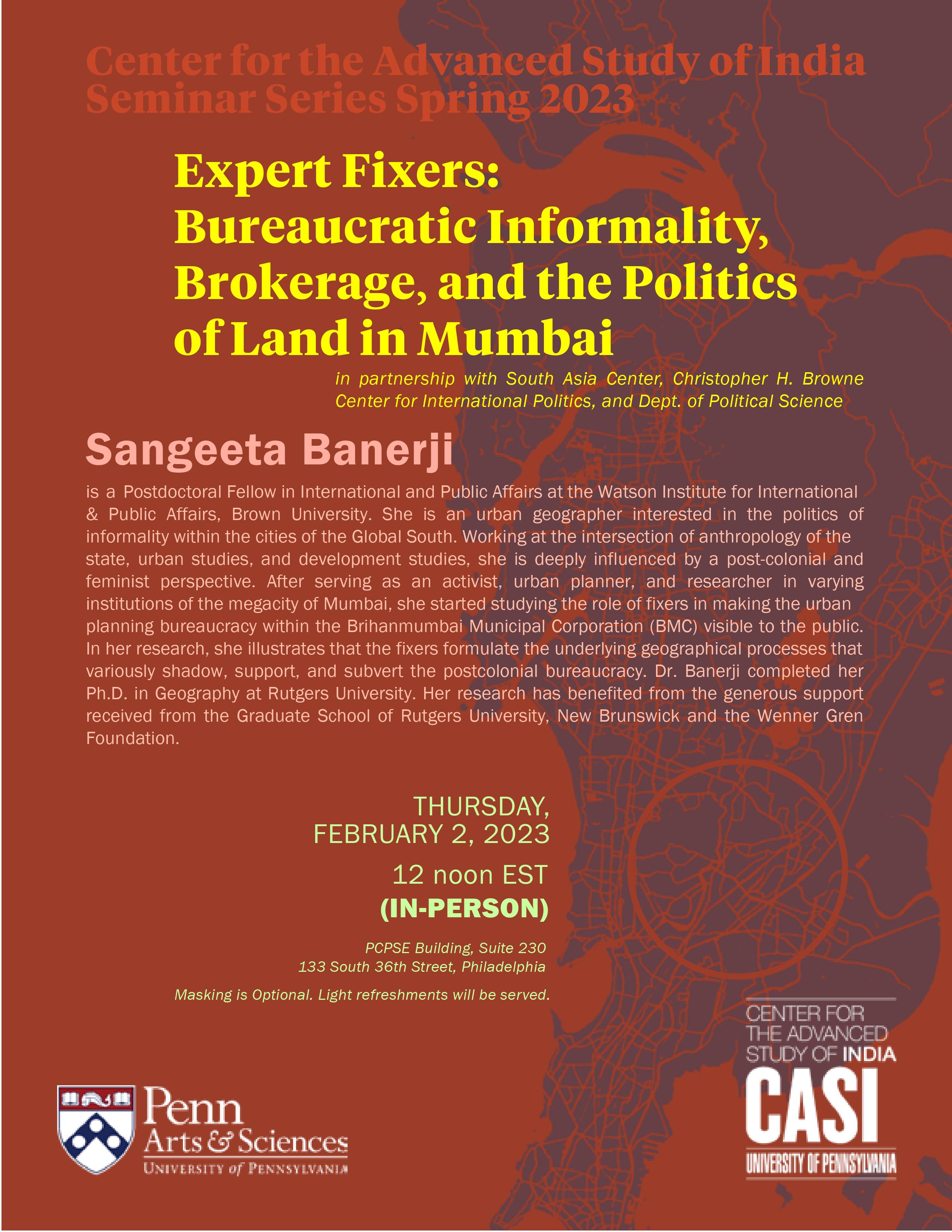 February 2, 2023, 12 noon EST | 10:30pm IST (In-Person)

"Expert Fixers: Bureaucratic Informality, Brokerage and the Politics of Land in Mumbai"
CASI / South Asia Center / Christopher H. Browne Center for International Politics / Dept. of Political Science Seminar with Sangeeta Banerji (Brown University)


---
Campus Location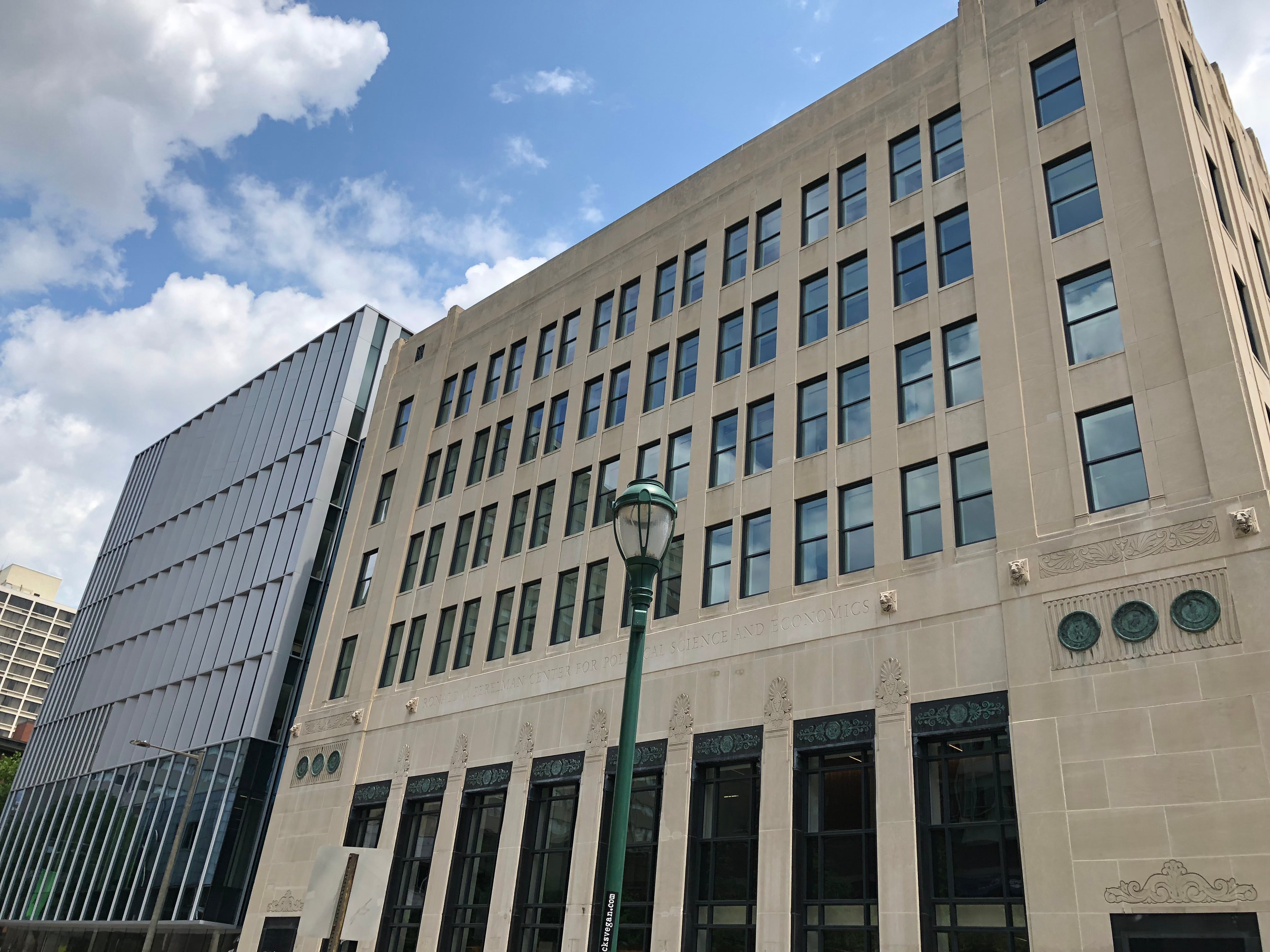 CASI's office is located close to the heart of Penn's campus at the Ronald O. Perelman Center for Political Science & Economics at 133 South 36th Street (Suite 230) Philadelphia, PA 19104-6215.
Please note: CASI is operating on a hybrid schedule.