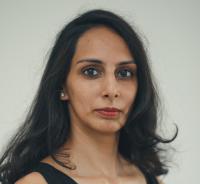 Rukmini S.
CASI Non-Resident Visiting Fellow
Independent Data Journalist

July 1, 2023
to
June 30, 2024
Rukmini S. is an independent data journalist based in Chennai, India. Her work focuses on inequality, gender, caste, and politics. Rukmini was previously National Data Editor of The Hindu and now writes independently for Indian and international publications. She also hosted a pandemic podcast, The Moving Curve, which won an Emergent Ventures COVID-19 India Prize in 2020.
Rukmini's work on the true toll of COVID in India won the global data journalism awards (the Sigma Awards 2022). Her work also won a Jury's Special Mention for Investigative Reporting at the ACJ Awards 2022. Rukmini's bestselling book, Whole Numbers & Half Truths: What Data Can and Cannot Tell Us About Modern India, was published by Westland in December 2021 and was longlisted by the New India Foundation. Her second book will be published in 2023.
Rukmini has a Post-Graduate Diploma in Social Communications Media and an MSc in Development Studies. She was a CASI Fall 2022 Visiting Fellow.