India in the Indo-Pacific: Leveraging a "Low-Resolution" Liberal Order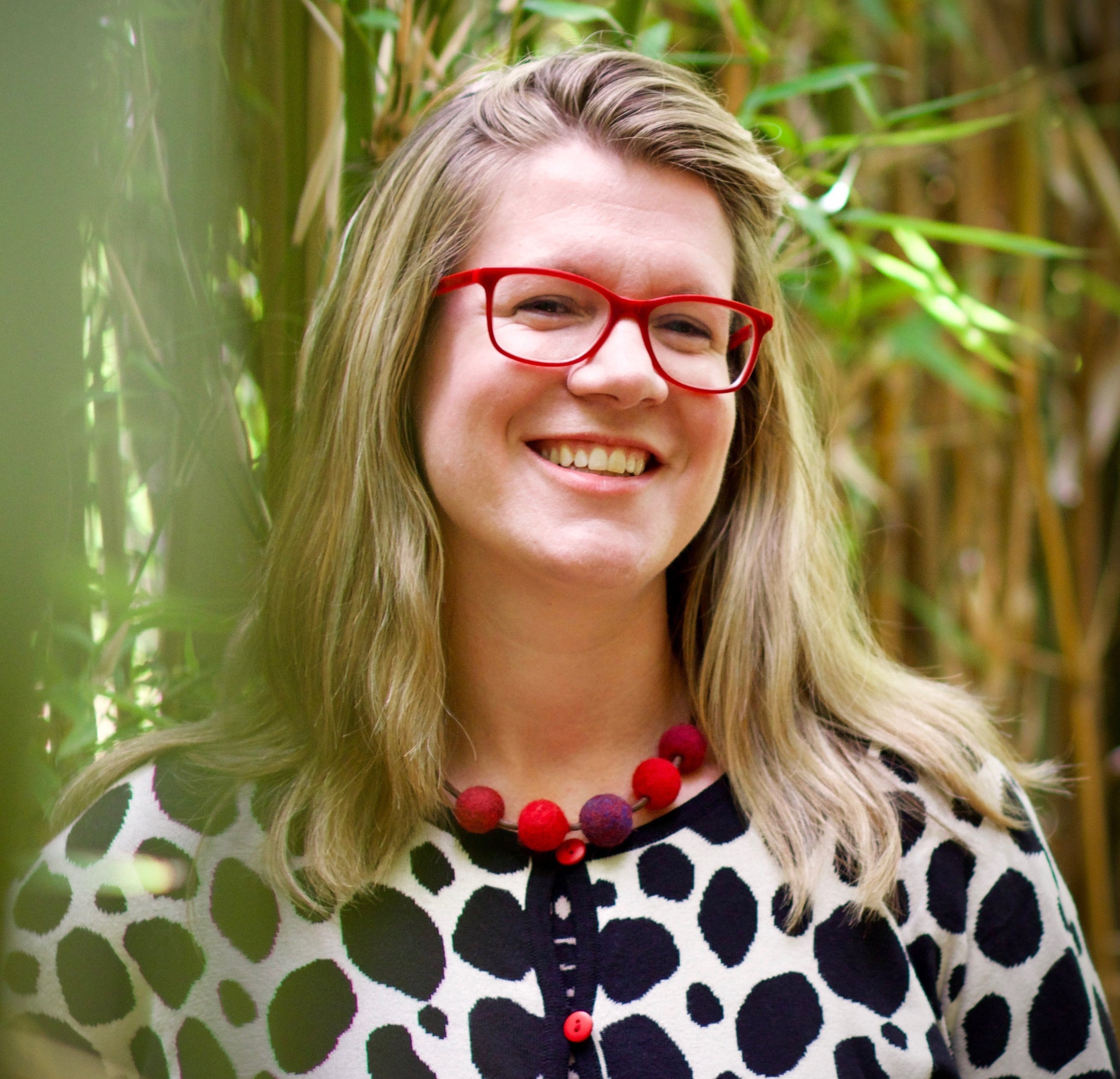 Kate Sullivan de Estrada
May 8, 2023
In the latest issue of India in Transition, Kate Sullivan de Estrada (Associate Professor, International Relations of South Asia, University of Oxford) argues that the Indo-Pacific is a weakly-defined order and the "likemindedness" of Quad partners is sometimes more superficial than deep.
This article is the first in a four-part IiT series focused on India in the Quad, the geopolitical grouping that also includes Japan, Australia, and the US, whose leaders are meeting for the annual Quad Summit in Sydney in May 2023. As India's perception of the China challenge continues to evolve, its approach toward the Quad—which has expanded in ambition and activity since the COVID-19 crisis, the 2020 Indo-China clash in Ladakh, and amid growing Sino-US tensions—calls for additional scholarly scrutiny. Subsequent pieces in the series will look at India's individual relations with each of its fellow Quad nations.
**
CASI Welcomes Consulting Editor for India in Transition, Rohan Venkat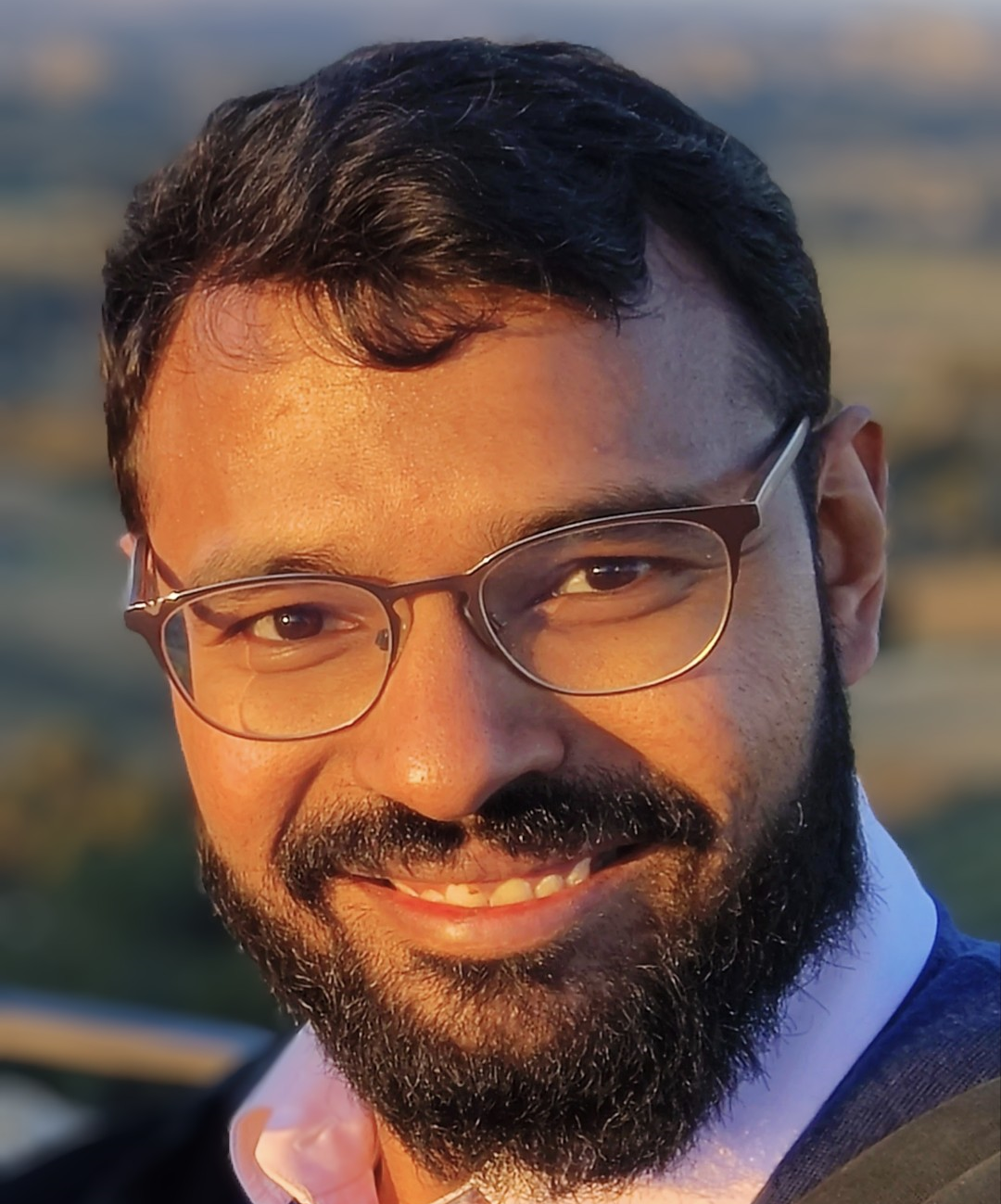 Rohan Venkat is a Consulting Editor for IiT and a CASI Non-Resident Visiting Scholar. He writes for India Inside Out, a newsletter on Indian politics, foreign policy and history, and is also an Editorial Consultant at the Centre for Policy Research.
---
CASI in the News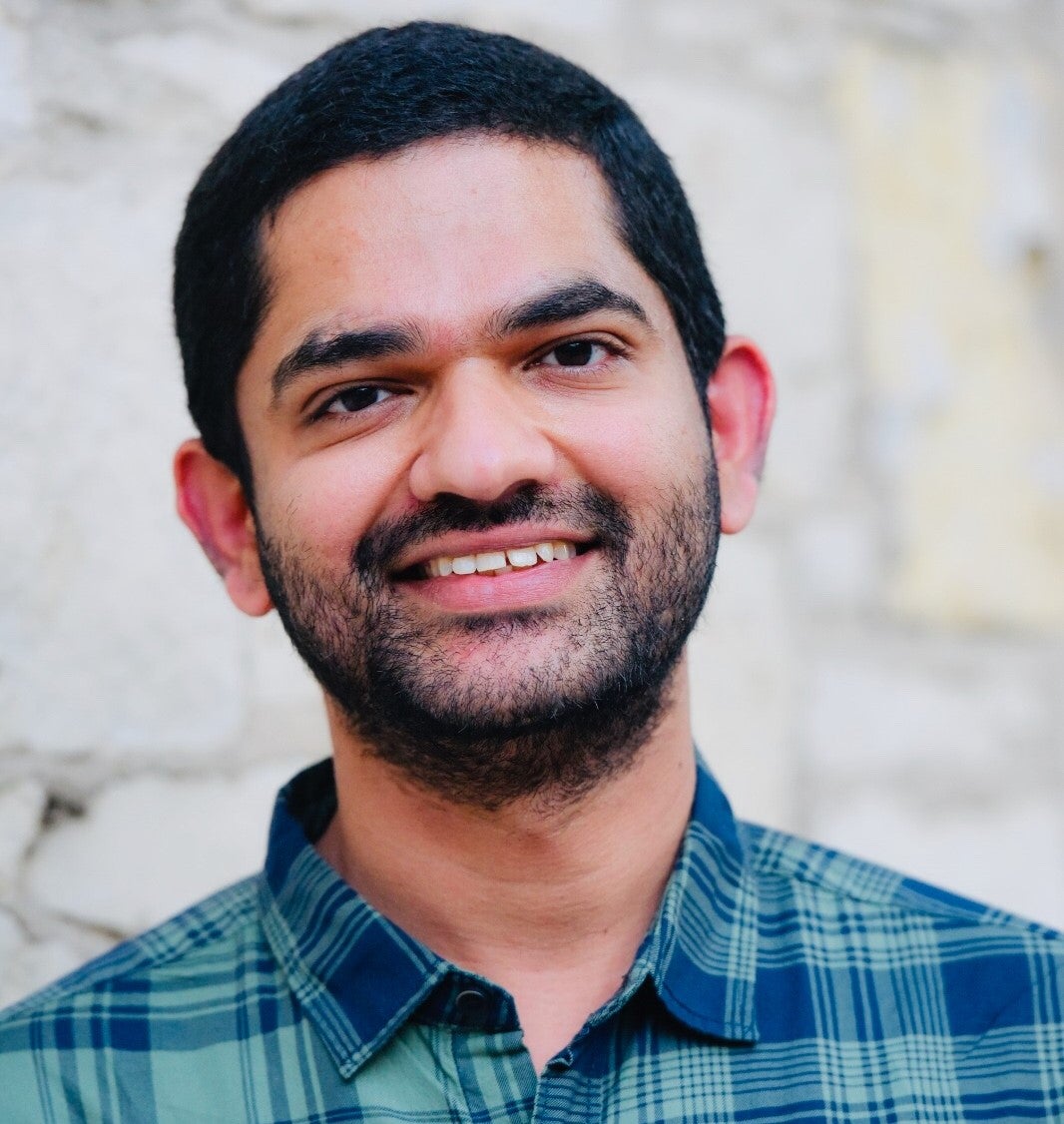 CASI Postdoctoral Research Fellow Sarath Pillai published "The Politics of Democratic Planning in Postcolonial India," a review of Planning Democracy: Modern India's Quest for Development by Nikhil Menon, in the April 25, 2023 issue of Himal Southasian.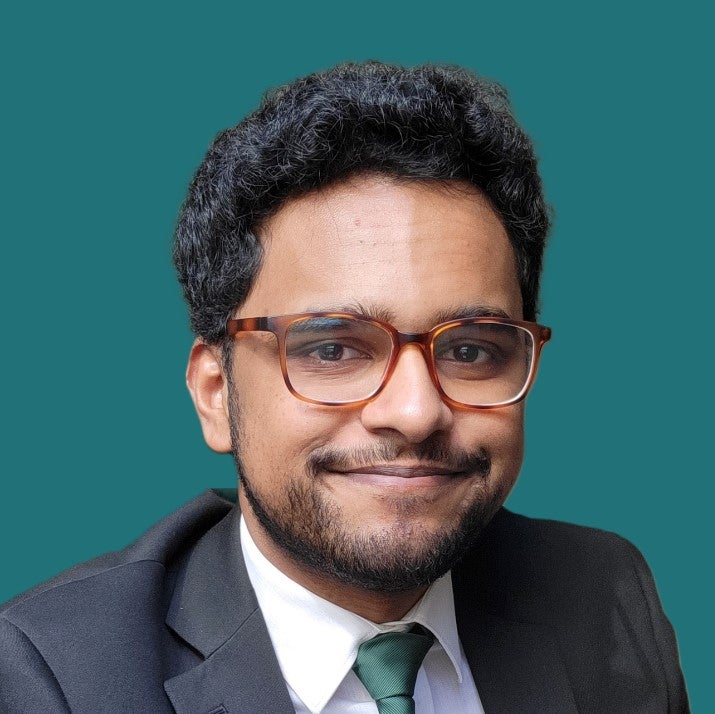 CASI Undergraduate Research Assistant Mathew Chemplayil's senior thesis, "A Conundrum of Compliance: Why States Lift Sanctions on Their Adversaries," won the South Asia Studies Department's Holden Furber Prize, awarded annually for the best undergraduate essay on a topic related to South Asia. His thesis analyzes why nuclear noncompliance related sanctions cases vary in their outcomes. This is accomplished, in part, through a comparative case study analysis of American sanctions against India, Pakistan, and China.
---
Video of Saluja Global Fellows Lecture with Ramachandra Guha Now Available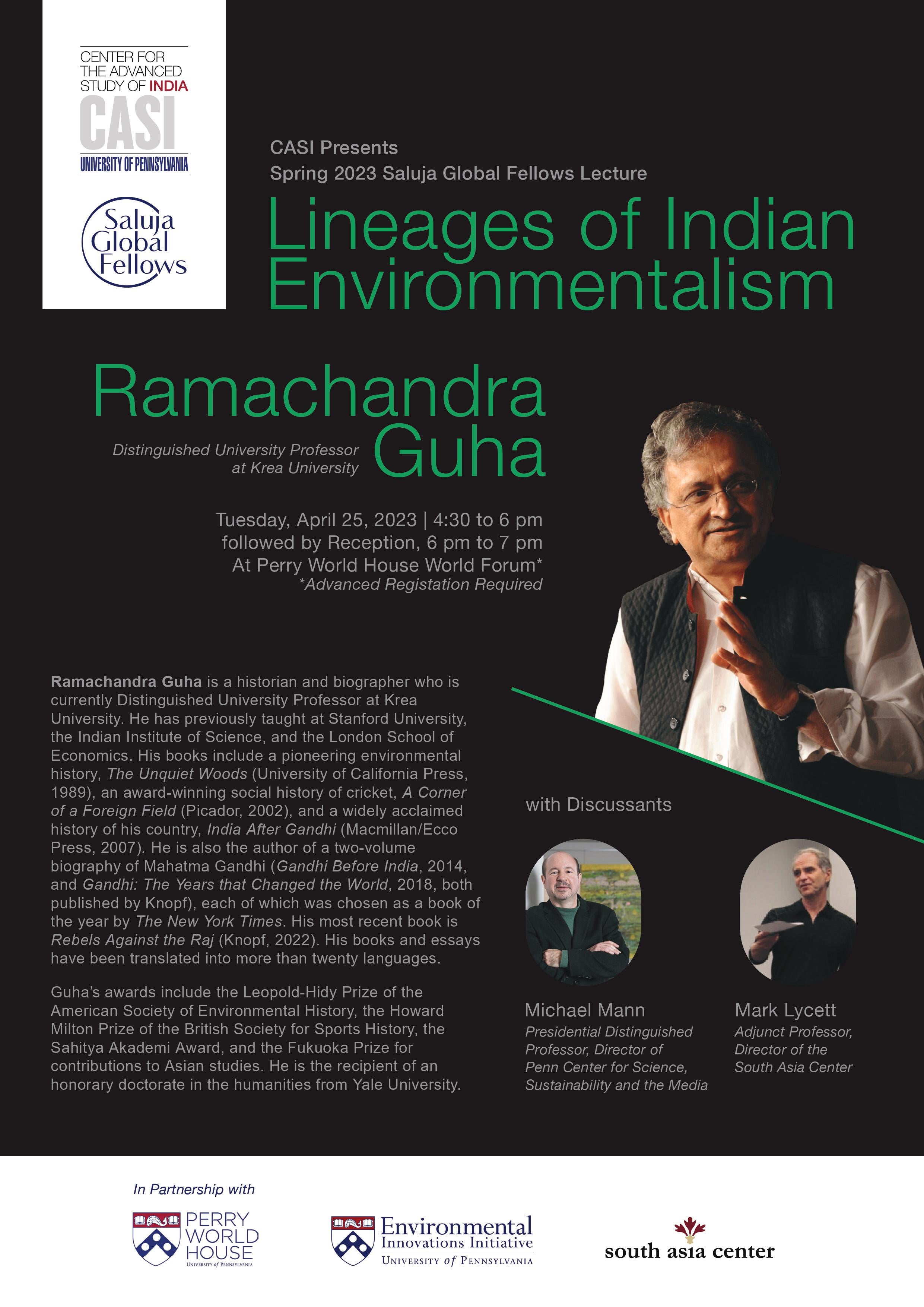 On April 25, 2023, Ramachandra Guha (Distinguished University Professor, Krea University) presented CASI's Spring 2023 Saluja Global Fellow Lecture, "Lineages of Indian Environmentalism" with discussants Michael Mann (Penn Center for Science, Sustainability, and the Media) and Mark Lycett (South Asia Center) and in partnership with Perry World House, Environmental Innovations Initiative, and the South Asia Center. [Full Video]
---
CASI Student Programs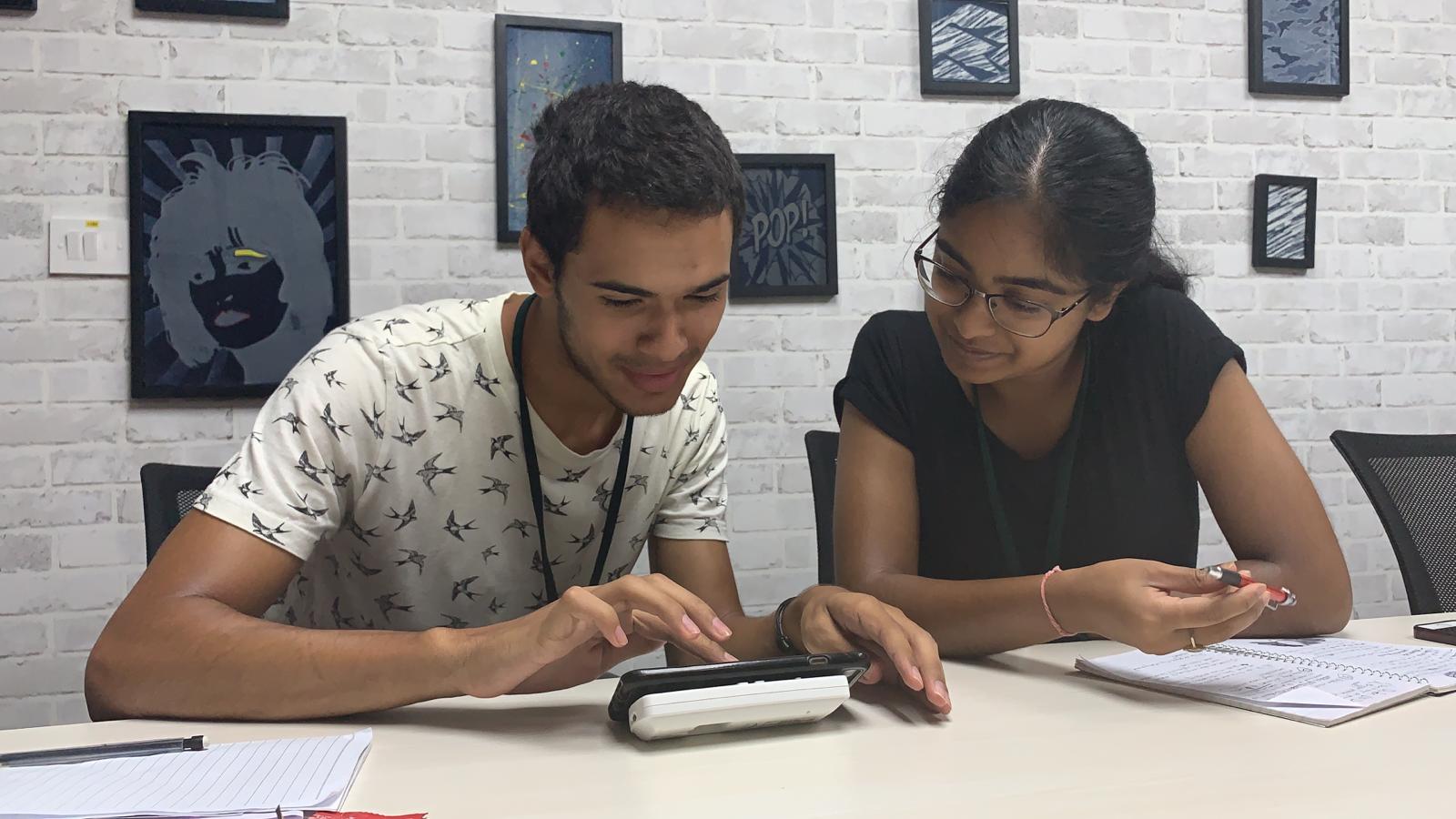 Congratulations to CASI's 2023 Summer Interns and Summer Research Grant recipients!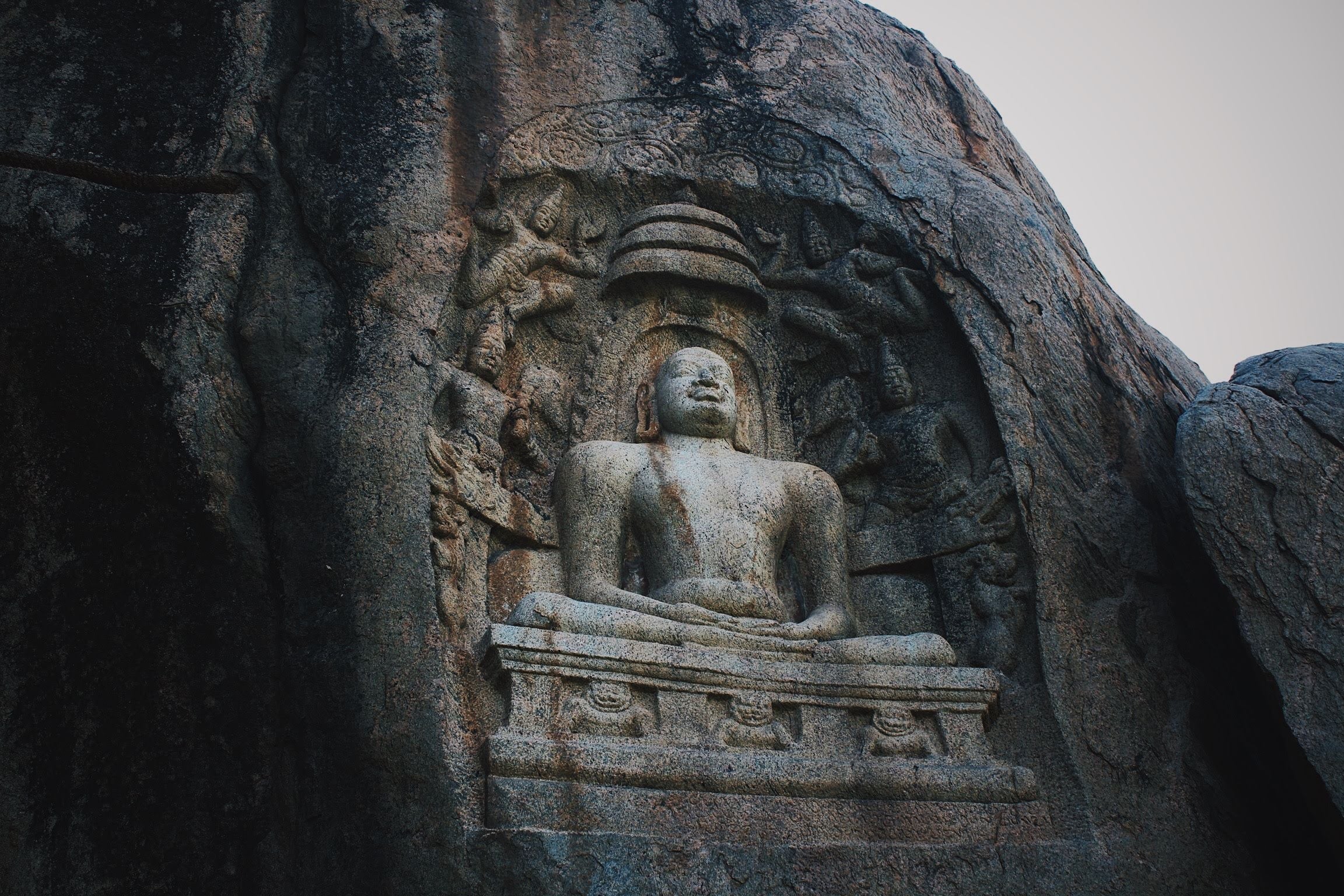 2023 CASI Summer Research Grant Recipients:
Rabani Garg: Graduate School of Education, Ph.D. Candidate in Education
Youth-Led Coalitions and Playful Political Expression in Urban Delhi; Youth Perspectives and Understandings of their Spaces
Arshdeep Brar: Penn Arts and Sciences, Ph.D. Candidate in History
Community and the Formation of Culture: The Making of Punjab,1891-1955
Shaashi Ahlawat: Penn Arts and Sciences, Ph.D. Candidate in South Asia Studies
Reimagining Medieval Magadha and its Cultural Encounters: Religious and Socio-political Landscape of Nalanda during the eleventh-fourteenth century CE
Abhi Sanghani: Penn Arts and Sciences, Ph.D. Candidate in Anthropology
Landscapes of Glory: Hydraulic Commons in Western India
Ngamlienlal Kipgen: Penn Arts and Sciences, Ph.D. Candidate in History and Sociology in Science
Wartime bodies in Frontier lands: Racializing American medicine in colonial India during WWII
Deepaboli Chatterjee: Penn Arts and Sciences, Ph.D. Candidate in Political Science
Unpacking Transnational Migration Aspirations of Indian Muslims in the Current Political Climate
Sanya Dhar Malhotra: College'24, History, Minor in Economics
Ghadar Party and Revolutionary Socialism in late-colonial Punjab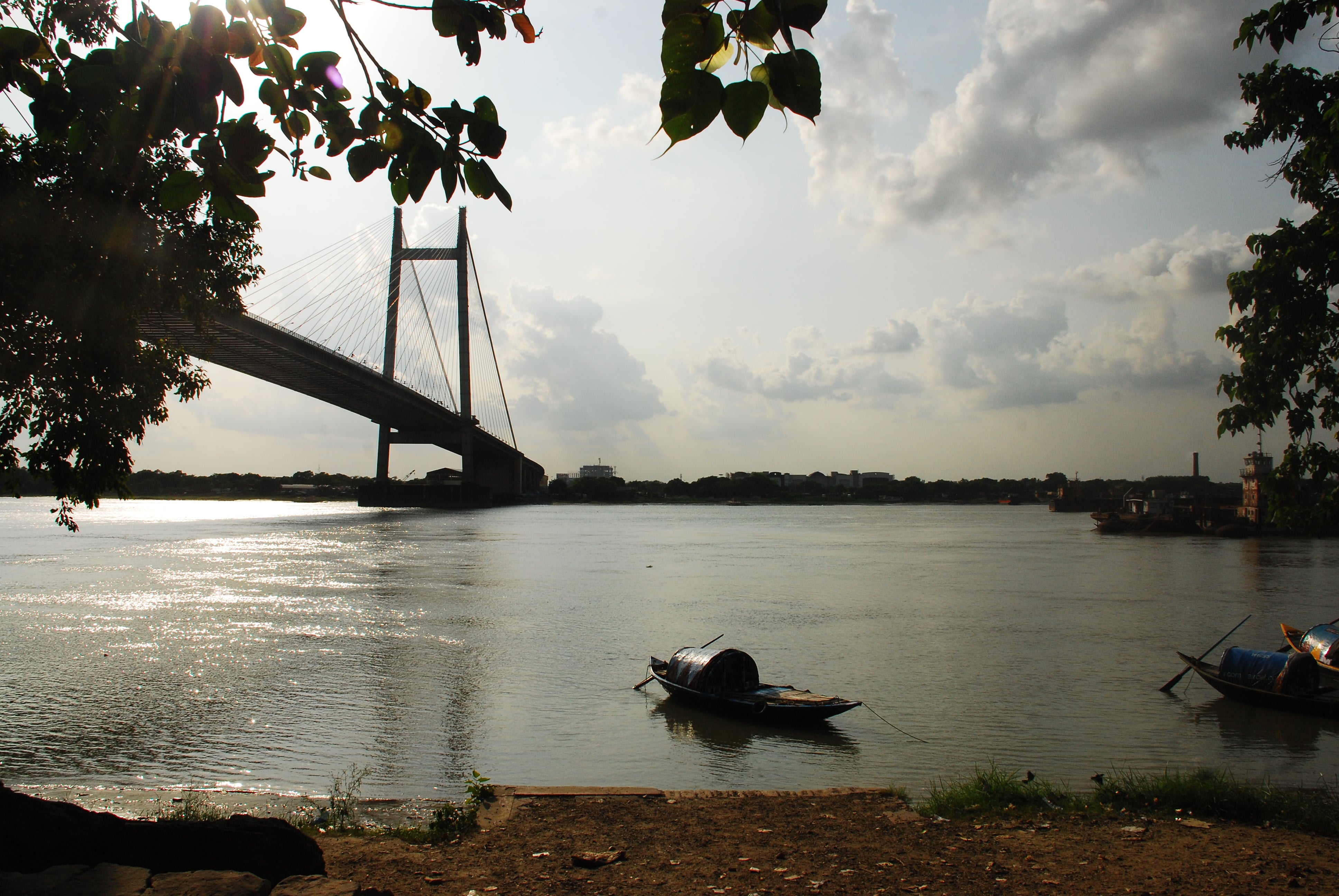 2023 CASI Summer Interns:
Public Health Foundation of India (PHFI): Gurgaon, Haryana
Melissa Bell: SAS'25, Health and Society
Meghan Fersten: College'23, Neuroscience, Public Health Studies; Master of Public Health, Public Health Studies
Aravind Eye Care System: Madurai, Tamil Nadu
Achint Das: Wharton'25, Health Care Management
Eric Lee: College'26, Biochemistry
Sage Leland: College'26, Neuroscience
Ashna Patel: Vagelos Life Sciences & Management Dual-Degree Program'25, B.S. in Economics & B.A. in Biology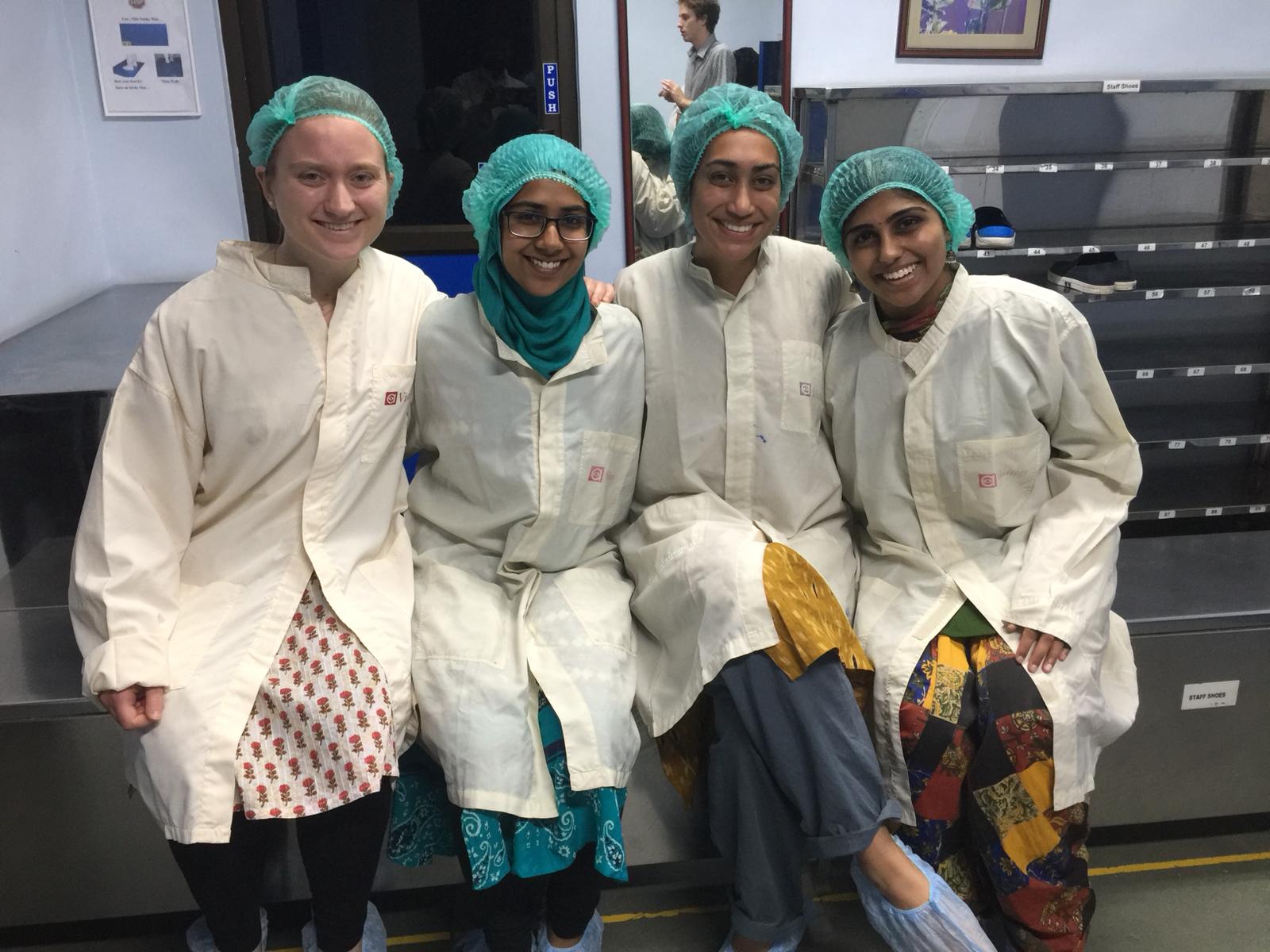 Keep up with the travel funds winners' experiences on the CASI Student Programs Blog!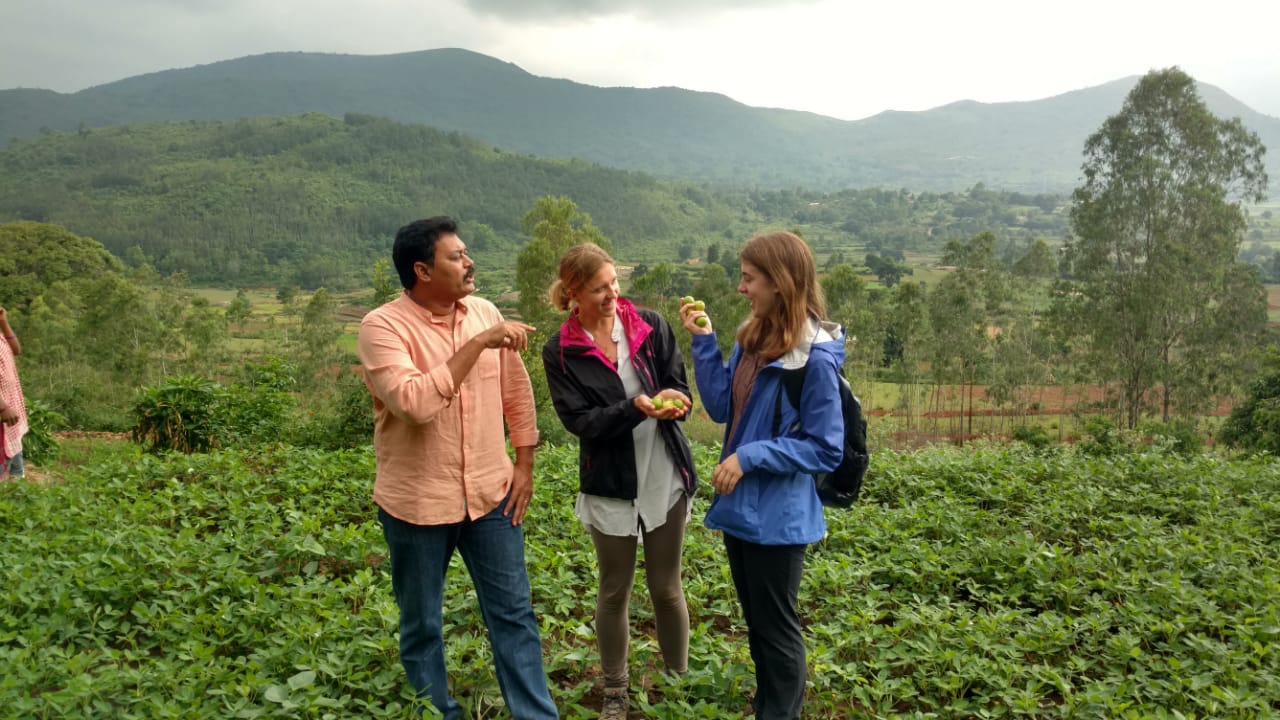 Questions about CASI Student Programs?
Please contact Juni Bahuguna (Assistant Director, Student & Visitor Programs) at junib@sas.upenn.edu
---
Upcoming Events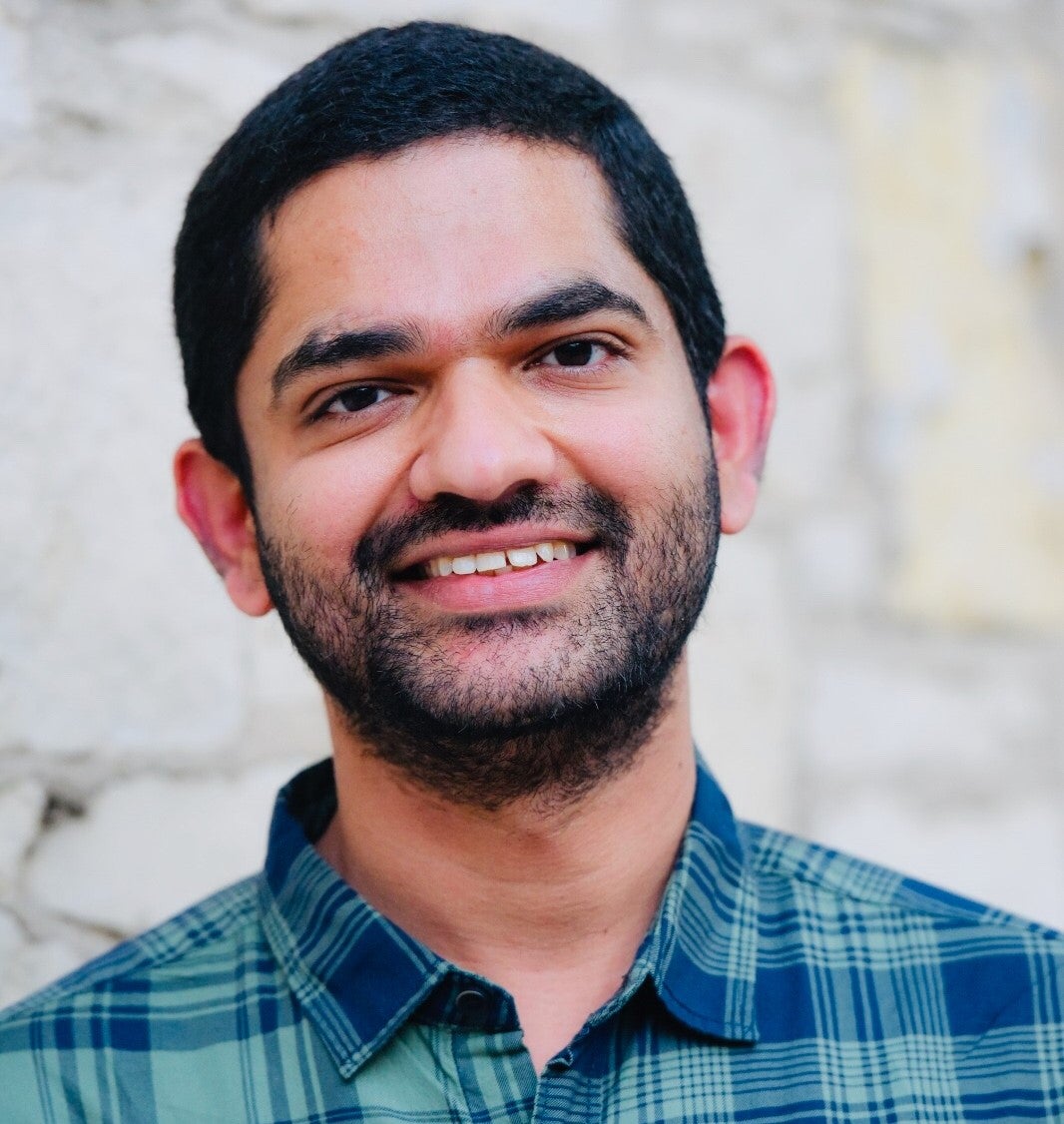 Tuesday, May 23, 2023, 6:30pm EDT
"Discovering South Asia: Resources at the Historical Society of Pennsylvania"
A Historical Society of Pennsylvania Virtual Lecture by CASI Postdoctoral Research Fellow Sarath Pillai

2023 CASI VIRTUAL Data Seminar Series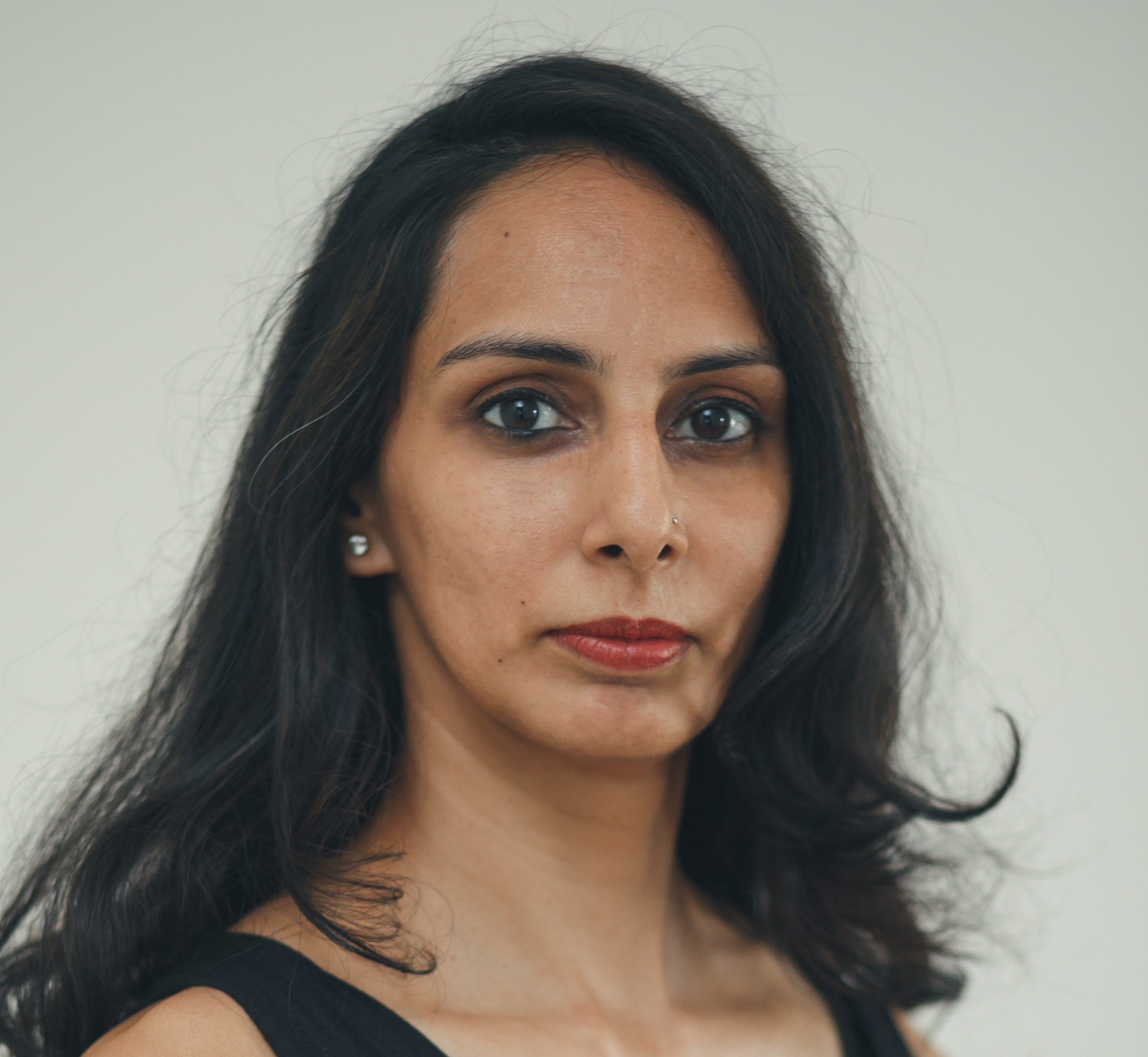 CASI's Data Seminar Series continues in Summer 2023 on the following Wednesdays at 10:00am EDT / 7:30pm IST. All seminars will be held virtually and speakers will be hosted by Rukmini S. (Independent Data Journalist; CASI Fall 2022 Visiting Fellow). Registration required!
May 24, 2023
"Demographic Transitions: Fertility and Mortality"
Aashish Gupta (Demographer and Sociologist, Marie Skłodowska-Curie Fellow, University of Oxford)
June 14, 2023
"Women In (and Out of) the Workforce"
Vidya Mahambare (Professor and Director, Research, Great Lakes Institute of Management) & Sowmya Dhanaraj (Senior Research Fellow, Good Business Lab and Assistant Professor, Madras School of Economics)
July 12, 2023
"Health Data: Indicators and Access"
William Joe (Assistant Professor, Population Research Center, Institute of Economic Growth, Delhi, and Bernard Lown Scholar, Harvard-Chan School of Public Health)
August 23, 2023
"Sub-National Administrative Data: The New Frontier"
Neelanjan Sircar (Senior Fellow, CPR and Assistant Professor, Ashoka University)

View Videos of Past Data Seminar Series Lectures
---
Campus Location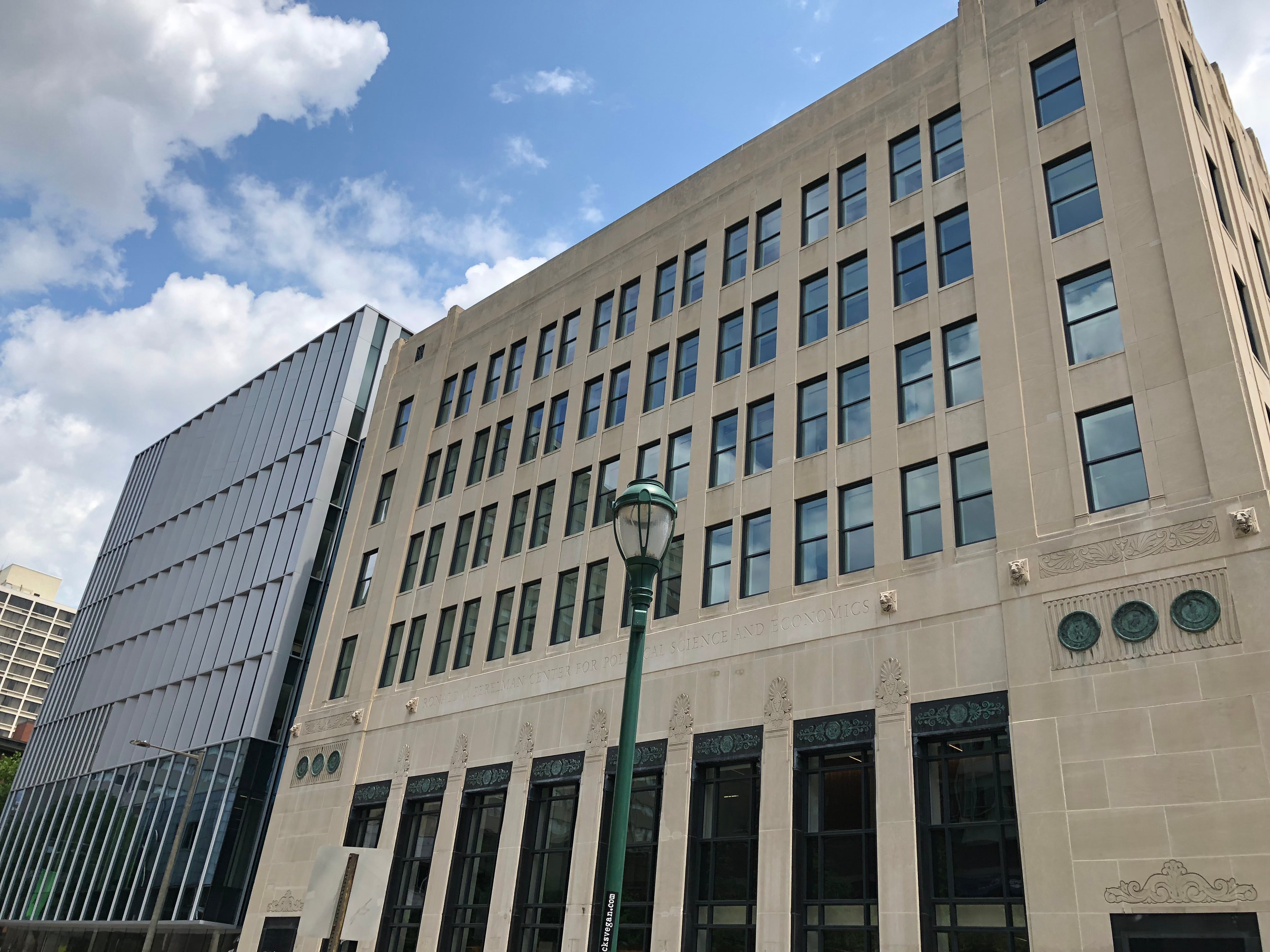 CASI's office is located close to the heart of Penn's campus at the Ronald O. Perelman Center for Political Science & Economics at 133 South 36th Street (Suite 230) Philadelphia, PA 19104-6215.
Please note: CASI is operating on a hybrid schedule.