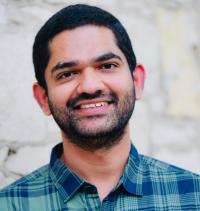 Sarath Pillai
Postdoctoral Research Fellow
Sarath Pillai completed his Ph.D. in History with distinction from the University of Chicago. He holds a Master of studies in law from Yale Law School, a Master of arts in history from the University of Delhi, and a postgraduate diploma in archives and records management from the National Archives of India, Delhi.
His research interests lie in Modern South Asian history, global, legal, intellectual history, and postcolonial studies. His Ph.D. dissertation, Federal Futures: Imagining Federation, Constitution, and World in Late Colonial India, studies the rise of federalist ideas in interwar India and their growing influence among various groups—nationalists, princes, liberals, and minorities—in the late 1920s through the 1940s. It presents an alternate genealogy of political thought, constitutionalism, and worldmaking in late colonial India by showing the deep fissures between those who wanted a unitary state (singular sovereignty) based on the British colonial state and those who wanted a federation (shared sovereignty) based on Euro-American constitutionalism. He draws on multi-lingual archives—marshaled through 18 months of archival research in three continents—to recover the underappreciated federalist imaginaries in late colonial South Asia.
He was a Fellow at the Hurst Institute in Legal History at the University of Wisconsin Law School in 2021. His research has been supported by numerous centers within UChicago, Humboldt-Yale History Network, American Historical Association, and the Library of Congress. He is interested in ombudsing and served as the Student Ombuds at the University of Chicago. His writings have appeared in peer-reviewed and public forums such as Law and History Review, Archives and Records, Los Angeles Review of Books, Economic and Political Weekly, Scroll.in, The Diplomat, Hindustan Times, and The Indian Express.
Twitter: @i_sarathpillai
LinkedIn: https://www.linkedin.com/in/sarath-pillai-490419200/

Publications:
Peer-reviewed
2021 "Archiving Federally, Writing Regionally: Archival Practices and Princely State Histories in Postcolonial India," Archives and Records 42.2 (Oct. 2021): 149-166.
2016 "Fragmenting the Nation: Divisible Sovereignty and Travancore's Quest for Federal Independence," Law and History Review 34.3 (Aug. 2016): 743-782.
Book Reviews
2022 Book Review: A Genealogy of Terrorism: Colonial Law and the Origins of an Idea by Joseph McQuade (Cambridge University Press, 2020) Global Nineteenth-Century Studies, December 2022
2022 "Politics, Law, and 'Founding Moments' in Late Colonial India," review of Norms and Politics: Sir B. N. Rau in the Making of the Indian Constitution, by Arvind Elangovan, The New Rambler, August 24, 2022.
2021 "Whither India? Princely States and the End of Empire," review of Princestan, by Sandeep Bamzai, The Book Review 45.5 (May 2021): 06-08.
2015 Review of A Political Legacy of the British Empire: Power and the Parliamentary System in Post-colonial India and Sri Lanka, by Harshan Kumarasingham, South Asia Research 35.2 (July 2015): 272-76.
2014 Review of Princely India and the British: Political Development and the Operation of Empire, by Caroline Keen, South Asia Research 34.2 (July 2014): 183-86.
2013 "Princely Modernity: A Mysorean Perspective," review of Mysore Modern: Rethinking the Region under Princely Rule, by Janaki Nair, Economic and Political Weekly 48.22 (March 23, 2013): 33-36.
Public Writing
2022 "Amar Farooqui: A historian's indelible legacy and lessons to last a lifetime," Scroll.in, December 19, 2022.
2022 "How the princely states, used by Britain to consolidate its empire, faded into obscurity," Scroll.in, November 24, 2022.
2021 "Archival Futures: The Archive as a Place and the Place of the Archive," Los Angeles Review of Books, July 16, 2021.
2020 "Is this the right time for India to debate swapping its parliamentary system for a presidential one?" Scroll.in, Sept. 13, 2020.
2020 "Kashmir and the Forgotten History of India's Princely States," The Diplomat, August 4, 2020.
2020 "Of Genealogy and Land Deeds: Some Thoughts on Family Histories in Kerala," Ala: A Kerala Studies Blog, June 30, 2020.
2013 "Old Archival Laws, New Archives," Economic and Political Weekly 48. 3 (Jan.19, 2013): 20-22.
2012 "Archives and Archival Consciousness: A Postcolonial Predicament," Economic and Political Weekly 47.22 (June 2, 2012): 32-34.
2011 "Recovering an Indian," Hindustan Times, Jan. 4, 2011 (on C.P. Ramaswamy Aiyar).
2011 "It's off the Records," Hindustan Times, April 18, 2011.
2011 "Destroyed, lost, disorganized," Indian Express, July 1, 2011.
2011 "Keeping a record of our Past," Hindustan Times, Sept. 5, 2011.