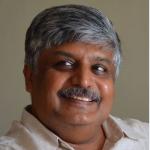 American small businesses—over twenty-eight million, of which eight million are minority owned—accounted for 64 percent of net new jobs created between 1993 and 2011, and employ nearly half of the U.S. workforce. Small business performance is therefore expected to be critical for the success of the Donald Trump presidency. It can be safely construed that the supplier diversity ecosystem fostered for decades will not suffer cuts and lashes given its unique status. Minority-owned firms generate $1.4 trillion annual gross receipts and employ 7.2 million people.
Supplier diversity measures—important for not just the U.S., but also developing economies like India—are largely about embracing more and more minority or disadvantaged business enterprises into the supply chains of companies, as well as those of government departments. It's about preferential procurement and can take the form of set-asides or goals. In the U.S., 23 percent of all federal contracting dollars are expected to be awarded to small businesses. Sub- goals are stipulated: 5 percent for disadvantaged businesses (minorities); 5 percent for women- owned businesses; 3 percent for disabled veterans, and 3 percent for those in historically underutilized business (HUB) zones.
Last year, the federal government awarded the highest percent of contracting dollars to small businesses (25.75 percent, totaling $90.7 billion). Contracts to disadvantaged businesses exceeded the goal at 10 percent. Some of the largest corporations in the U.S., such as Ford, GM, Johnson & Johnson, IBM, Walmart, Microsoft—all members of the National Minority Supplier Development Council (NMSDC), a network platform—have also contributed to the creation of a vibrant supplier diversity ecosystem in the country with an annual spend of over $100 billion with minority businesses.
In 2012, India passed a law stipulating a quota of 20 percent for small businesses, of which 4 percent is earmarked for businesses owned by the scheduled castes (SC)—also known as Dalits—and scheduled tribes (ST), the most disadvantaged sections in Indian society. The program has failed to take off. Contracting with SC/ST businesses was just about 0.50 percent a year ago. India could learn from the U.S. experience.
What is the rationale for supplier diversity programs? These measures are necessary due to the persistence of numerous discriminatory barriers faced by small and minority businesses. In a macro sense, supplier diversity can be tool for economic development and help reduce ugly wealth and income disparities in society. Although many corporations today swear by diversity measures, it was governmental diktat that made it happen. Large corporations now declare a clear "business case" for the adoption of supplier diversity.
This year, Unilever, the personal care products corporation, joined the NMSDC, prompted, likely, by the consumer dollars in the hands of minorities. The current buying power of African Americans is around $1 trillion and is expected to reach $1.3 trillion in 2017. There is no study on the buying power of Dalits in India, but a burgeoning Dalit middle class, seen from the consumer prism, can be quite attractive. A spotlight on this issue may perhaps jolt Indian companies, and also multinationals, to engage with them.
General Motors (GM) started engaging with African Americans in 1968 after the Detroit riots. Today, it has one of the most robust supplier diversity programs in the U.S. with a total Tier -1 spend of $84 billion with minority firms since inception. This involvement has led to a close consumer connect which benefits GM when car-buying decisions are made. For a company to endear itself to minorities, it has to be sensitive to their concerns. Supplier diversity is one such way.
Interestingly, very few of the U.S. multinationals who are champions of supplier diversity are keen on taking the concept to India. A governmental nudge in India is required just as it was in the U.S. The U.S. Public law 95-507, enacted in 1978, in one stroke, brought in swathes of the private sector into thinking about diversifying their supply chains with its clear emphasis on "sub-contracting." The law stipulates that bidders for federal contracts in excess of $500,000 for goods and services and $1 million for construction have to submit a detailed sub-contracting plan for utilization of minority businesses. It is happening at city levels too. Philadelphia, for instance, analyzed $951 million in city and quasi-public contracts in 2015. Of this, 30.6 percent ($290.4 million) went to minorities/women/disabled business enterprises (M/W/DSBE), up from 29.4 percent in 2014.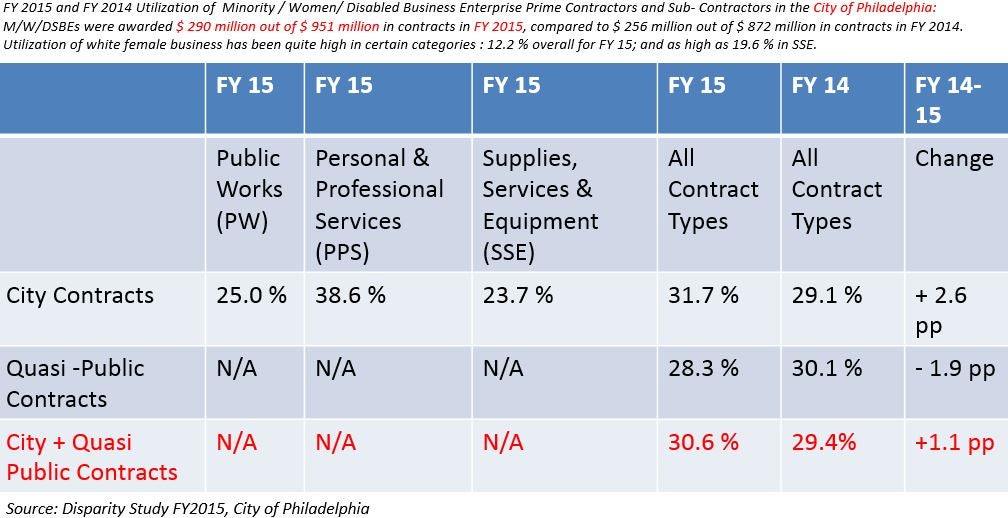 Evidence shows supplier diversity measures prevail at all levels of federal to local governments. In India, policy measures are largely focused on access to capital with little thought about facilitating the process. In the U.S., access to capital is definitely addressed, as it is one of the biggest challenges faced by small businesses. Last year, the Small Business Administration (SBA) approved loans totaling $27.8 billion.
However, capital is only one necessity; an entrepreneur especially from minority communities is handicapped by lack of myriad capacities to either launch or run a successful business. Capacity building has to be a crucial component of any program. The ecosystem approach addresses many of these concerns. Over the years, the SBA and the Minority Business Development Agency (MBDA), a federal agency, have fostered a unique facilitating framework. Issues from the very basics—the certification of a minority business, training, management education, to helping explore foreign markets—are on the agenda.
A couple of months ago, the MBDA launched the Inclusive Innovation Initiative (I-3) for linking up minority businesses with the resources of the hundreds of federal laboratories in the U.S. The idea was to prepare minority firms for innovation, from big data to the internet of things. Two programs stand out: the Mentor-Protégé Program and the thirty-six-year-old Small Business Development Center (SBDC) network.
The SBAs Mentor-Protégé program enables hand-holding of small minority firms by large businesses; either a minority or white-owned. Mentors can enter into joint ventures with a protégé firm to compete for federal contracts and also invest in such firms (limit of 40 percent of the equity holding). The SBDC network of 1,000 centers across the U.S. is a partnership that includes the U.S. Congress, SBA, the private sector, state governments, and colleges/universities. The centers extend management and technical assistance, mostly free for minority entrepreneurs.
An impact statement says it all: a new business is opened by an SBDC in-depth client every thirty-three minutes; a new job created every seven minutes; $100,000 in new sales generated every four minutes; and $100,000 in capital obtained every fifteen minutes.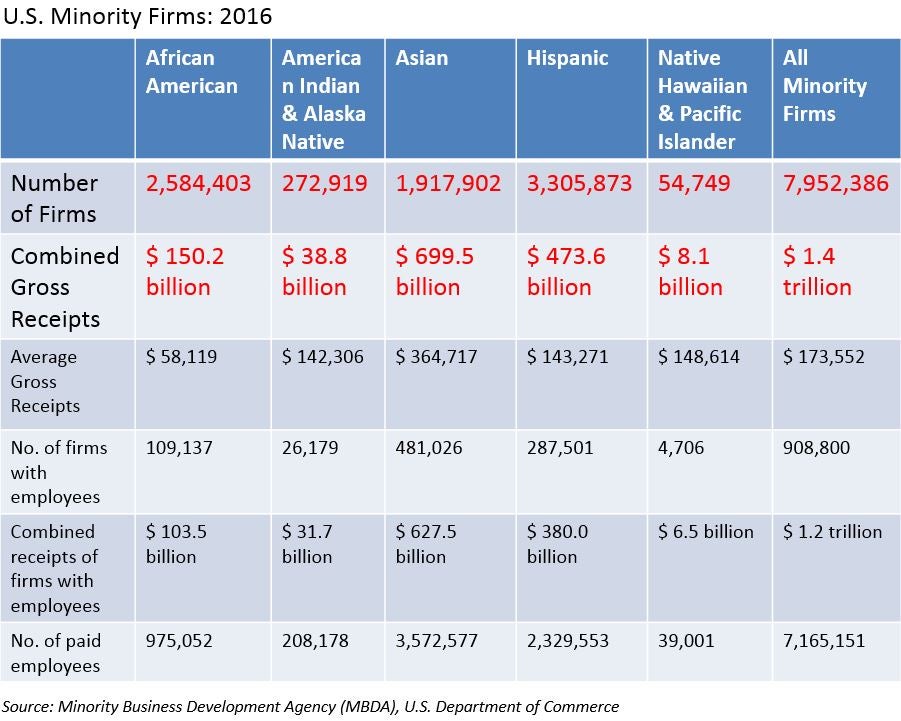 This doesn't mean the supplier diversity ecosystem that has emerged doesn't have its downsides. There are implementation glitches galore. And there has been incongruous growth. According to latest MBDA figures available, the combined annual gross receipts of African American firms is around $150 billion, while it is $699 billion for Asian American firms and $473 billion for Hispanic firms. African Americans have been unable to leverage or benefit from the system as other minorities.
In Philadelphia, the utilization of white women-owned business is the highest. Activists indicate that many of these firms are fronts for white males. They also point to the private sector record of $100 billion annual spend with minority businesses and the resultant creation of a small band of minority elite. They point out to a "club" of about 200 companies that account for $50 billion plus in annual diverse spending.
These flaws and distortions notwithstanding, the supplier diversity ecosystem in the U.S. has had an undisputable impact on the well-being of minority communities. The NMSDC and others are in the process of devising comprehensive studies to measure the impact. India has a lot to learn from the U.S. experience. In particular, it needs to build capacities of SC/ST entrepreneurs through an ecosystem approach by creating broad coalitions (capacity building is the key to program success); the existing approach to supplier diversity in India is top-down. Start from the grassroots (the municipal bodies across the country); and the sub-contracting approach is vital to trigger private sector involvement. This has to be mandated by the government.
Naren Karunakaran is a Senior Journalist with The Economic Times, and a CASI Fall 2016 Visiting Fellow.


---
India in Transition (IiT) is published by the Center for the Advanced Study of India (CASI) of the University of Pennsylvania. All viewpoints, positions, and conclusions expressed in IiT are solely those of the author(s) and not specifically those of CASI.
© 2016 Center for the Advanced Study of India and the Trustees of the University of Pennsylvania. All rights reserved.