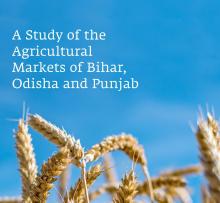 Mekhala Krishnamurthy & Shoumitro Chatterjee
CASI Non-Resident Visiting Scholars; Associate Professor of Sociology and Anthropology, Ashoka University and Assistant Professor of Economics, Penn State University, respectively
Thursday, February 4, 2021 - 10:00
A Virtual CASI Seminar via Zoom — 10:00am EST | 8:30pm IST
(English captions & Hindi subtitles available)
About the Lecture:
How should we conceptualize the marketing of agriculture produce? In particular, what are the different market sites, how do farmers make marketing decisions, what are the terms of exchange, and what role do intermediaries play, and how complex are agricultural supply chains? The CASI Agriculture Markets project, in partnership with the Bill & Melinda Gates Foundation, was set up to make sense of these questions. In this discussion, the co-PIs will present the main findings of the study and discuss their relevance in today's context.
About the Speakers:
Mekhala Krishnamurthy is Associate Professor of Sociology and Social Anthropology at Ashoka University. She has trained at Harvard University, the University of Cambridge (M.Phil. in Social Anthropology) and at University College London, where she completed her Ph.D. in Anthropology as a UCL Global Excellence Scholar. She is also a CASI Non-Resident Visiting Scholar, where she previously held a Postdoctoral Fellowship. Prior to joining Ashoka, she taught in the Department of Sociology at Shiv Nadar University.
Shoumitro Chatterjee is an Assistant Professor in the Department of Economics at the Pennsylvania State University. He received his Ph.D. in Economics from Princeton University in 2018 and was an INET Research Associate at the University of Cambridge in 2018-19. His research is at the intersection of development economics and trade. Currently, a major strand of his research focuses on studying agricultural markets and market power in agricultural supply chains in India.


FULL TRANSCRIPT:
Tariq Thachil:
And so welcome, and for those of you who are interested, you can sign up for any and all of our events on our website. And we have them on most Thursdays, either at 10 a.m. as this one is, or more traditionally at noon, Eastern time. So please do take a look and register for any events that catch your interest. And so yeah, without further ado, let me go into introducing today's speakers. I'm delighted that for our first conversation, we get to host Shoumitro Chatterjee and Mekhala Krishnamurthy for a joint session in which they will present findings from their report Farmers and Markets: Understanding Indian Agricultural Markets Across States and Commodities.
This presentation is especially meaningful not just because of how timely it is in a way that I don't even think our authors could have predicted, but because of the fact that all four authors of the report are CASI affiliates, so Mekhala and Shoumitro are both non resident fellows at CASI as are the two other authors, Devesh Kapur and Marshall Bouton, both of whom many of you know served as directors of CASI before me. And so we're delighted that both can make lunch or could make time from their busy schedules to share some of the findings from the report.
Just to introduce both of them briefly, Mekhala Krishnamurthy is an associate professor of sociology and anthropology at Ashoka University. She's currently a senior fellow at the Center for Policy Research, and was a CASI postdoctoral research fellow from 2010 to '12. So her affiliation with CASI goes back a long way. Her doctoral research and current book project explores the changing social, economic and political lives of an agricultural market in the central Indian state of Madhya Pradesh. And over the last 15 years, she's worked extensively across a range of fields, sites and subjects including women's courts and dispute resolution, community health workers, public health systems and water, livelihood and land acquisition.
Shoumitro Chatterjee is an assistant professor of economics at Pennsylvania State University with interests in development economics, trade and agriculture. And his Ph.D. in economics from 2018 was from Princeton University. And he is currently, in addition to being a non resident visiting scholar at CASI, a visiting fellow at the Center for Policy Research. He's previously served as economist in the Office of the Chief Economic Adviser of India. In his work, he's examined a range of different topics. He has a paper in the American Economic Review, looking at economic growth and fertility change across the developing world, and a paper co-authored with Arvind Subramanian on whether India has occupied the export space vacated by China.
So they are going to present very briefly this study of agricultural markets that they conducted across seven districts in three states, Bihar, Orissa and Punjab. Just two quick points. One, the full report is available on our website. It is over 200 pages. There is no way even the talented duo that we have presenting will be able to distill all of the insights that it contains. So I invite all of you who are interested to take a look at the report. It really does have a lot of interesting nuggets, not all of which they'll be able to get to today.
And one of the things I just want to particularly highlight that I hope will come across in the presentation is it's a truly multidisciplinary report. It draws on the collaborators from anthropology, economics and political science. That's an often overused word. But they really are drawing on histories of the agricultural markets in each state, year long ethnographic studies in each district. They work with a survey of over 9,500 farm households at different points in the agricultural cycle, and a unique survey of marketing intermediaries in Bihar.
So it's really got a rich array of data for people to dig into, and I hope many of you do. Before I turn it over to them, just remember, we're going to hold a similar format where if you have questions, could you please enter them in the chat box to me, Tariq Thachil? And I will call on you to pose your question to the presenters. Please keep your questions brief and to the point so that we can get to as many of them as possible. And apologies in advance if I can't get to everyone. So with that, I'm going to turn it over. Mekhala, I think you're going to kick us off. So welcome again, both of you.
Mekhala Krishnamurthy:
Great. Thank you so much, Tariq. And it's just such a huge pleasure to be with all of you today. I so wish that I was actually in Philly and at CASI. And as Tariq says, it's a long association. I came to CASI when I was finishing my dissertation. And so the first year was a dissertation fellowship. So a lot of people I can see in this Zoom room have inflicted upon them many, many hours and lots of conversations about Hathras mandi. And so really, my work is deeply, deeply connected to CASI and it's just wonderful to be here.
It's also the place where I met, of course, Marshall, who's also here for the first time. Devesh, I did know years before, who's really I think seen me from my first research up. But it's also the place where I met Shoumitro for the first time, and I remember at a CASI seminar when I was presenting on soybean markets and prices. And so it is really a great pleasure to be back and to be presenting this work with him here today.
I also want to say that we have a number of our colleagues who were part of the team that, did this work. Many of our field researchers are here with us today. So in the Q&A, hopefully in case there are further clarification, they're all here because they've really been on the ground. As Tariq said, this is both a difficult time to talk about Indian agricultural markets. In some ways, it's a sector which is getting much, much overdue attention, attention that should have come a long time ago. These are extraordinarily important parts of economy and society that have remained under studied, neglected empirically, poorly theorized. And that remains the case even today.
So in some ways, the last several months have provided an opportunity for us to talk about how agricultural markets really work in practice, and there has been an unusual amount of interest. However, it's also a particularly difficult time, because it seems right now that although there's a lot of attention and interest, the way the conversation is framed and the way the debate has been framed, it's very difficult to get into the details and to understand the diversity, the complexity, the dynamism, and the very particular ways in which agricultural markets function.
So in that context, this is a really wonderful opportunity for us to focus on some of the details and to share with you some of what we've learned in the course of doing this work over the last two years. As Tariq mentioned, it's really an interdisciplinary effort, we've learned a lot. I would say it's interdisciplinary, it's intergenerational also. We learned hugely from Marshall's early work many, many years ago and decades ago begin trying to understand Indian agricultural markets. It was an opportunity for him to return to someone poor as I'd been many decades ago. So we've learnt across multiple skills, sites and districts, and I will take you through very quickly some of the study itself and from there, some of what we will try and share with you today. I'm just going to open this presentation.
Right, everyone can see this. For those of you who have seen our report, we really worked very hard on designing it and making sure that it's packed with really exciting information. Our presentation is slightly less impressive, actually. So that is what happens when you do it when semester starts. But here we go. Tariq has already done this job for me so I won't have to go into the details of this. But we really tried to use a whole range of methods. We had an amazing team of field workers, who spent a full agricultural year in each of these seven districts. We did farmer household survey. We repeated it, so we went back to each of these farmers three times at different times in the agricultural cycle to get deeper information on different elements.
We did an intermediary survey, and then we collected some price information, which was a mixed experience. I'm happy to talk about that as well. Just to give you a sense of some of the major commodities in these three districts. Samastipur, Nalanda and Purnea are in Bihar. Balasore, Koraput, Sambalpur in Orissa and Hoshiarpur in Punjab. Now, before we go into the details, one thing, just since so many people are paying attention to regulation and law, I wanted to make two points. One is that these three states, Bihar, Orissa and Punjab are good examples of the very diverse trajectories of regulatory design and reform, as they have evolved in India over many years, as they do over the last 70 years.
The story goes back of course earlier as well. But even if you just look at the post independence period, these are three states which have very different regulatory systems and a very different range of commodities as well. Paddy is one very common commodity, and we'll talk about that in a fair amount of detail today.
It's important to keep this in mind because for those of you who are following the central laws, it is the first time in India that we actually have a central law on agricultural markets and marketing, agricultural marketing has otherwise been a state subject. So, you see in these three states, Bihar is a state which used, had very poorly developed agricultural marketing system, formal regulatory system. It then repealed the law in 2006. So, by the time when we went in, in 2018, it had already had over 12 years of unregulated markets, deregulated or unregulated agricultural markets, with very little state or no formal state regulation.
Orissa actually has the oldest APMC Act, one of the oldest APMC Acts in the country. But it always allowed a range of different kinds of sites, and again, has a very poorly developed formal regulated marketing system. We'll talk a little bit about that as well. But it was a system of plural sites, multiple different sites that operated. Punjab, as many of us now know, is a state with very well established formal agricultural produce marketing committees, both in terms of the density of the markets and their establishment. But these markets are primarily, particularly when it comes to paddy and wheat, use our sites for government procurement.
So you will see this as we talk further the complexities of this. So this is one theme that we want to explore with you, because the assumption is that Indian agricultural markets are dominated by mandis. And these three states give us a sense of that variation. And particularly when you look at Bihar and Orissa, a very different picture emerges.
The second thing I wanted to tell you a little bit about is that this is what happens when you put field workers on the ground. You're able to actually map out very complex commodity chains and commodity systems. Very quickly, they stop looking like chains and they start looking like systems and networks. And this is just within the district level. But I want to just before we go into presenting some elements of the first transaction, share with you how different paddy networks look. If you look at just paddy, this is Bihar, this is Balasore in Orissa. This is Hoshiarpur.
There's a tremendous difference in the way in which these markets are organized. Part of this difference is because of regulatory systems, so you have well established mandis and you don't, but the majority of this complexity and dynamism is actually attributed to the conditions of production and the conditions of consumption, and the nature therefore of intermediation of these crops. And this is just to point out into different districts in Orissa itself. This is Koraput, paddy in Koraput and this is Sambalpur. All of these are there in the report, so you can take a closer look at them. But this is just to give you a sense of the diversity that we are talking about.
And so in the presentation today, we want to use the time we have to talk about these three things. The first site, so farmers and markets, the site of exchange, the overall large global international narrative is that exchange is restricted to APMCs, and that's where you need to open up mandis. We're going to show you some data that looks at that. The second is on the very vexed question of the minimum support price and what purpose it really serves. What is the role of the MSP? And the third is to take up this question of intermediaries, the argument that intermediaries and middlemen are inefficient, that they are exploitative and that they're these large vested interests. We wanted to take up each of these three key elements. And I think these are sort of key assumptions that all of us make about markets. And after that, we can open it up to questions, a more detailed discussion on the data and on the research and findings as well as our current challenges. So Shoumitro, I'll end here and then I'll leave it to you and we'll both come in the next part.
Shoumitro Chatterjee:
Thank you. Thanks a lot. Let me just share the screen. Is my screen-
Mekhala Krishnamurthy:
Yeah, it's showing.
Shoumitro Chatterjee:
Okay. So what I'm going to do is basically walk through the different data that we collected. The way the rest of the presentation is sort of organized is you can almost think about it as the commodity flowing from its origin, down to a final destination.
Mekhala Krishnamurthy:
Is Shoumitro frozen for others?
Tariq Thachil:
Yes, he's frozen for me as well. Let me just message him. I'm messaging him.
Mekhala Krishnamurthy:
Okay. I'm happy to present this in the meanwhile, except I won't be able to, well I can [inaudible 00:15:43] what he shared. Well I'll quickly tell you about this so that we save time. But here, this deals until Shoumitro joins. So the assumption is that Indian farmers and there's always been this debate between... would you like me to share? Yeah, I'll just share the presentation. And then as soon as Shoumitro joins, he can do the work.
Okay, this is really important, because I have to just be very familiar with the whole idea of the debate between subsistence agriculture and commercial agriculture and whether these are surplus producing and surplus selling farmers. And this was really a striking finding, and it's extremely important for us to pay attention to the fact that in Bihar and Orissa, a very large number of farmers do not sell in the market. So here, we're looking at the fraction of cultivators who actually take their produce to the market for sale, so who have a marketable surplus. And if you look at maize in Bihar, you're looking at slightly less than 60. Paddy is about 40%. Potato is again, 40. Mustard is very low. Wheat, which is an important crop, again is just over 25%. So these are farmers taking produce to sell. This is of the total number that actually produce this crop. In Orissa, you see maize and paddy, again around the 60% mark, which means self consuming, and then you have potato and mustard.
Shoumitro Chatterjee:
Okay, I'm back.
Mekhala Krishnamurthy:
Great. I'll just finish this particular, and that is what you see in Punjab is for maize again, you're seeing 60% but paddy, potato, mustard very high levels of marketable surplus. So this is really important, because I think there's a very strong assumption that all Indian farmers now largely produce for the market. And at least in Bihar and Orissa, also in Punjab for maize, you see that that's not the case. Self consumption is still extremely important to farmers. And I think this is an important finding, and it's important to start with this. Shoumitro, I'll hand back to you. Let me Yeah, you share yours now.
Shoumitro Chatterjee:
All right. So part of what Mekhala said also shows up then in land sizes. Of course, those farmers who are larger and have larger cultivated land are the ones who are actually selling in the market. So what this chart is showing is the ratio of the land sizes of farmers who actually sell in the market for land cultivated to those who do not sell in the market. And what you can see is essentially across commodities, farmers, those who sell, have cultivated land, which is approximately at least twice more than those who do not sell. And the flip side obviously is then for a large fraction of the farmers, a large fraction of the output is then being used for self consumption.
So as some of you might know, from the output, farmers tend to keep some stuff for their own consumption. A little bit, they might keep a seed. In some instances, you could also use the output to pay labor. What we find is for most commodities, the self consumption component is actually pretty high, both in Bihar and Orissa.
Then comes, so once there is the output and I decide a fraction that I want to sell in the market, the first thing that the farmers decide to do is post harvest process. And here, what we find is sort of in line with what others have also found in various studies, which is largely that the markets are not rewarding post harvest processes, so post harvest processes meaning cleaning, grading and drying your produce. In Punjab, a lot of farmers do engage in many of these processes, especially in paddy and wheat. In Bihar, much less so. Very few farmers are actually grading their crops or drying. And I don't know which way the causality runs. But the market does not seem to be rewarding any post harvest processes in the sense that it does not necessarily lead to a higher price realization. In fact, the only component that we found any significant effect on prices was drying of produce in Bihar.
So then the question to ask is, who the first buyer is and where is the site of sale. And again, this varies a lot by states, by commodities, very crudely speaking at sort of high level and the Punjab stories is by now quite well understood, for paddy and wheat, even though it sort of ultimately ends up with the food corporation for MSP sales, they are sold at sort of mandis via arthiyas. And when we come back to procurement, we'll talk about this. There are differences in how the government procurement occurs for paddy and wheat in Punjab versus in other states. And that sort of will also help us understand what is happening in the current context.
For other crops in Punjab, again, they're largely sold at the mandi and the government at the APMC regulated mandi, and are brought by private traders who have licenses to trade in these markets. Bihar and Orissa actually showed the exact opposite picture, where almost all sales are at the farm gate. So private traders would show up at your doorstep, and there would be negotiation and they would buy from you. A small fraction of farmers in Bihar and Orissa, around 15% get to sell paddy to government procurement agencies. But let's hold back on procurement for a bit. I'll sort of come back to that.
But let me sort of give you a sort of visual overview of what what is the first site of sales. So this is Nalanda, Bihar. This is the farm of a potato farmer, and here you can see that there's this kind of a weighing scale on the right end of the screen. So the trader would come at the farm gate and buy these potatoes, and the trader has got these gunny bags with him to sort of put them before they are transported further down.
This is sort of a largish wheat farmer again in Nalanda, Bihar. The stuff is getting picked up from his house. You can see that he has an electronic weighing scale and not a manual weighing scale and that will be important in a couple of slides. But just because one reason this person is able to negotiate slightly better terms of trade and we'll again talk about that in more detail is the fact that he has more quantity to sell. And in fact, one of the key predictors of higher prices in our study is how much you are able to sell. Whether it is competition or whether it is just reduction on cost on the side of the intermediary is still an open question and I'm happy to discuss that more.
This is the Bihar Sharif mandi in Nalanda. It is one of the largest vegetable markets in North India. A lot of farmers but also village level aggregators who would buy at the farm gate would bring vegetables here. And traders from actually all across the country would come to this mandi to buy produce. We actually met with many viman traders who would come in their tempo, buy stuff here and then we asked them, "Where were you going.", and they were going many hundreds and thousands kilometers away, driving produce in their truck. So most likely if you're eating green vegetables in Delhi, it's quite likely that it is coming from this mandi in Nalanda, Bihar.
This is by the way how the mandi looks in the afternoon once trade has stopped. The reason I put this picture here is because it also shows you the state of the infrastructure in these markets. So, as most of us know, there isn't a regulatory structure of mandis in Bihar, which also then implies that enough investment is not flowing in into the maintenance and upgradation of these markets, and what you can see is that there is a large bit of obstacles there, still water and the structure is quite dilapidated, and and this hurts both traders, farmers, and in general equilibrium, even consumers.
Moving on to Orissa now, this is a this is a weekly vegetable market at the village level. Again, farmers would be bringing their produce here, and traders would be coming from all across to buy produce. This is the chili mandi in Sambalpur. I think Mekhala has nice stories about this but why don't you pitch in for a moment, then I'll come back?
Mekhala Krishnamurthy:
Yeah, no I mean, we will talk more about Sambalpur chili. But this was actually a site that the government had chosen for INAM, which is the National Agricultural Market. But the trade really happens outside in unregulated markets. And both in the case of Sambalpur's chili and in the case of Balasore and green chili, there's very active group of intermediaries, quite strong in the case of Balasore, thus called the Chili Syndicate, and here in Sambalpur too, very active group of intermediaries. And so here is a case where you actually see farmers that would have benefited and have even approached the government at various times for regulated markets, but have been tied in trade with very powerful local intermediaries in exchange outside.
So we can get into more detail of local market power, but chili is one case where we definitely saw the power of intermediaries operating in unregulated markets, even where you had a formal regulatory system. This was one commodity that is out. I just want to say, just looking at all of the commodities that we've done so far, you can see both changes in the site of sale. But for example, in Hoshiarpur or in the case of green peas in Hoshiarpur, you will see field level sales, but you will see farmers going to the mandi for wheat and paddy. Pou will see exactly the opposite happening in say, Orissa, in Bihar, where actually grain is sold in the village but you will see farmers approaching the mandis a little more for fresh vegetables. So these dynamics, they literally are commodity and context specific. When people think you can't generalize about them, and we're being nitpicky when we point this out, it's really not. The same commodity follows different paths in different states. In the same state, different commodities also follow different paths. So it's really, this is what we are coping with. We'll continue.
Shoumitro Chatterjee:
And one thing I do want all of you to notice again, is on the right hand side where the man is standing, see that there is an electronic weighing scale. I keep pointing this out, because I'll show you a graphic, which was at least sort of quite revealing to us. I've been stuck for some reason. Okay, let's skip this for a moment. So how-
Mekhala Krishnamurthy:
[inaudible 00:29:11] one sec to that thing, so they can just see what INAM looks like, just worth looking at. So this is-
Shoumitro Chatterjee:
This one?
Mekhala Krishnamurthy:
Yeah, the previous one and this one. This is just to point out that the government has created this infrastructure for trading of chilis in Sambalpur. But you saw where the chili market is, and it's not inside the regulated market committee area, which has been designated as the INAM mandi, and the next image is actually of the state of the INAM.
Shoumitro Chatterjee:
This is supposed to be the quality of saying lab, but what it is used for is to make chai. So what is the inertia in these relationships? So what we have seen is that the site of transactions, the first transaction, at least in Bihar and Orissa is probably the farm gate and they are selling stuff to traders. How do I choose whom do I sell to and, and how long lasting are these relationships? What we found and this is transactions level data. So even if one farmer is conducting multiple transactions, we are recording each transaction separately. In Bihar and Orissa, the relationships are pretty short lived in the sense that the trader might be a local trader, you would still know him. But on the day of the transaction, the farmers are essentially choosing the person who is offering the best price, and that you will see sort of more directly in the next graph.
And so this is in response to a question, which is if I sold to somebody this year, for how many years in the past did I sell to the same person? And for Bihar and Orissa, the numbers are pretty low, exactly the opposite in Punjab, where relationships tend to be longer, so most transactions are with traders where relationships have been greater than five years.
This is now directly asking, "Why did you choose to sell to the person you sold to?" And in Bihar and Orissa, you can see almost everybody said that they chose the trader because they were offering the best price in Orissa. In remote areas, in some instances, you only have a small set of buyers. So then farmers say that that was the only buyer who would buy my stuff. In Punjab, for paddy and wheat, it's the actual price that then starts dominating. If I broke the Punjab chart by commodities, you would see that the best price is basically for maize, and for paddy and wheat, it's dominated by farmers getting the MSP.
So how are terms of exchange decided? So in Punjab, we understand that it's the MSP that is determining the price. How are prices determined in Bihar and Orissa? And although most of us like to think that there are auctions going on because the regulatory acts define that an auction should happen, in Bihar and Orissa, it's basically bilateral bargaining. So either the trader is offering a price that you have to accept or there is some kind of haggling and negotiation.
And this is just the flip side. So this is sort of breaking it again by commodity. In Punjab for paddy and wheat, it's basically MSP that determines the price. For maize, you can then see that there is auction bargaining going on.
Now is, so I have my output. And this is the start chart that I was talking about. How much in terms of revenue will I get depends on the price, the fee but also depends on the quantity, and the quantity is not the quantity I think I have. The quantity is the quantity that both of us agreed the trader and the farmer that I have. And that agreement comes through some form of payment. What we found stark is that in Bihar and Orissa, where you would think that marketing systems are not well developed, in fact we showed pictures where most of the trade were in unregulated informal markets, weighing was almost always done by electronic weighing scales. So the scope of cheating just goes down enormously. In Punjab, on the contrary, where you would think that you have a well developed markets, weighing is done by manual weighing scales. And so this also feeds into what my income is as a farmer.
How soon are transaction settled? So this is another sort of key point that no farmer, almost no farmer will get paid immediately, no matter where you are. There is some delay. And this is because supply chains sort of run on credit. As an intermediary or a trader, once I buy from you, I'm able to pay you only once I sell it forward. It's still pretty quick. Almost everybody gets their payments within one or two weeks, and we can talk about this later. This is one of the reasons behind sort of selling it at the farm gate and not going to the nearby large mandi because the larger traders in the mandi pay with a greater delay. Again, sorry this is the wrong graph. But essentially for Orissa also, you will see payments settled pretty quickly, within one or two weeks. Punjab there is a delay. And that delay is because the government itself pays the intermediaries, the MSP with some delay. And once the intermediaries get paid, they pay the farmers.
So just to do a kind of a quick recap. If I just think about my total income, there are several components in it. So the revenues are price times quantity minus the cost, and we don't get into the cost here. But what affects my quantity, things we understand, so productivity, but what we also kind of show here is what influences Q is how you measure the Q. I might have a lot of quantity. But if you use a manual weighing scale, you can fudge and say I have less Q, and post harvest processes. So one reason farmers don't try to dry their crop too much is because the wet crop weighs more. And there is some understanding that with a wet crop, the P times Q is larger, but whether it's optimal or not is another question.
What do we find on prices? We found that larger farmers who are selling more tend to get slightly better prices. Now these margins are quantitatively small. The larger farmers also tend to wait a little bit more longer before they sell. Another thing that hurts price realization is remoteness. So if I'm in a remote village, I tend to get a lower price. It could be because of transportation costs. But it also could be that I am far away from market centers. So I don't know what the market price is. So forget my bargaining power. As a farmer, even if my bargaining power is low, what is the benchmark against which I should be bargaining? And in remote locations, that sort of having less information on that also plays a role.
Mekhala Krishnamurthy:
So Shoumitro, [inaudible 00:37:06] to wrap up in about five minutes. We had these two other segments that we wanted to present to you on public procurement and risk, public procurement and risk and then on intermediaries. So shall we just run through them very quickly?
Shoumitro Chatterjee:
Yeah, yeah. Tariq, can I take like 10 minutes? I think 10 minutes should be, is that okay?
Mekhala Krishnamurthy:
If not, the other thing we could do, Tariq, it's up to you is that we can come to these in Q&A and talk about procurement and intermediaries there, if that is something you prefer.
Tariq Thachil:
No, I think it makes sense to cover both topics. And I think there might be a bunch of questions on that, and maybe just tailor it to give what you think is like the critical information. And then if there are questions, you can expand upon that.
Shoumitro Chatterjee:
So then the second section that we want to talk about was public procurement and risk. So as all of you sort of know that government announces a minimum support price in many crops, but the minimum support price is not a guarantee unless the government actually buys it. So if the market price falls below the MSP and there is no active government intervention in procuring it at the minimum support price and the market price will fall and farmers will get prices well below it.
What we also know by now that in Punjab and Haryana, this coverage in procurement is almost universal. So almost all farmers in Punjab and Haryana tend to get the MSP. There are other states that tend to do well, maybe not at the level of Punjab and Haryana, but MP is one state that has emerged as one of the largest procurers of wheat. In Bihar and Orissa, where we studied, procurement is rather limited. So, if you see from the table in Bihar, about 15% of the output is getting procured, and in Orissa, it's about 60%. So quite significant, but still lower than what you would expect in Punjab.
In terms of how many farmers are getting benefited, so in Bihar, it's about 5% of the farmers who are selling to the government. So remember from the first chart, a lot of farmers don't sell. Amongst the farmers who have marketable surplus, about 5% in Bihar sell to the government. In Orissa, it's higher, it's about 12%. But there is a regressivity in this and we can talk about the details later, but essentially, the larger farmers through the local political economy systems get the first tips. They are the ones who get the first chance to sell to the government.
In terms of price realization also, there is an heterogeneity. So in Punjab, when I sell to the government, I almost always get the minimum support price. In Bihar or in Orissa, when I sell to government agencies, I am promised an MSP but the net price that I receive is about 10%, 15% lower. So that is what the 16.61 and 17.12 is showing. And that's because these agencies put some deductions on quality, on the moisture content and so on. But those farmers who get the MSP in Bihar, they get a significantly higher price than those who don't, about a 30% higher price. And there are also spillovers. So I don't want to go into the regressions too much. But in a village where there is procurement, as a farmer, even if I don't sell to the government procurement agency, my price utilization is higher. So there are these spillover externalities of having government procurement in the village.
Mekhala Krishnamurthy:
Shoumitro, if you just go back, you can go to the next slide, actually, the one with... Yeah. Okay, and just briefly, to give you guys a sense, and you can look at the details, of course, the report has graphics to describe these as well. I think it's just important to understand the context of procurement in each of these states. And particularly in the case of Orissa and Bihar, Punjab we know has a very well developed procurement system. And it's historically so, but Orissa is one state that really developed a decentralized procurement system, and it's remarkable. They're a P-PAS system, it's a very well organized thing. They've invested a lot in creating an online database. This database helped them a lot with the KALIA program, and they were looking at direct benefit transfers. And they have also had a commitment to including tenant farmers and sharecroppers.
And so this is actually, it's a remarkable story. And it's an important story of state investment in decentralized procurement. So the point that Shoumitro was saying, which is that even with all this investment, larger farmers tend to have greater access in districts. Where there are well organized and well mobilized farmers unions and farmers organizations, procurement is higher, there is better procurement. Short delays in the window for procurement opening affects the staying capacity. And so smaller farmers who have already sold will not sell to the government. And there is individual level, multi level negotiation that happens in terms of deductions.
So I think all of that is very true. But I think it's in the context of a government system, which has really invested in procurement, and is continuing to invest in, we did procurement last season as well with all the problems that that came with. That is in contrast with Bihar, which hasn't taken the same kinds of steps. So I think it's important to just highlight that here and put procurement in these two states in context.
Shoumitro Chatterjee:
And the other thing I want to highlight about procurement is the site of procurement in the sense that in Punjab, the site of procurement is the mandi itself, whereas the site of procurement in Orissa, in Bihar, and even in a state like Uttar Pradesh, in many cases is the village. So farmers in Orissa wouldn't associate the MSP with the mandi site. And therefore, the anxieties when anything that threatens the mandi system is it's automatically related to then the MSP sort of going away.
I want to just spend like two minutes on the economics of the minimum support price. It's not, I mean, usually you would think that this is just providing a price floor. But in terms of economic objectives, it is actually doing much more. It is currently, when it works, currently it is being used as a tool to increase farmer incomes, which is why you want to give 50% or 60% over and above the cost. It then gets muddled with food security. So supplying grains in PDS means that you have to procure it through the MSP system. In the initial days of the MSP system, these two objectives were not related. But now, Food Corporation of India is centrally responsible to provide trainings for the PDS.
Because it is also being used to build buffer stocks, the MSP system then indirectly is also being used to stabilize prices. And finally, and most importantly, because other forms of risk mitigation, so there are crudely two forms of risk. So there is yield risk that we understand, and there is price risks, which might go down because there is an excess supply in a certain year or because there are international shocks, which could lead to price declines.
In absence of any other risk mitigation strategy, the MSP is the only insurance, real insurance that farmers have access to when they have access to it. So essentially, in terms of policy, you're using one instrument to solve multiple objectives, and that is creating some issues.
Finally, a couple of slides on what we found about intermediaries in Bihar, I would like to say that this was really a challenge. I think we are one of the first ones to be actually able to do a survey in Bihar, and the entire credit goes to our field researchers who were able to pull this off. We were unsuccessful though in the sense that in Orissa, we were not able to pull this off because intermediation in research tends to be in the gray area. So in informal conversations, people who acknowledge, like with our field research teams that they were intermediaries and they were dealing in this business, when you showed up with a survey instrument, they just refuse to answer. And in Punjab, they had obviously larger volumes and the scale of business were large and they thought that we are going to report them to the income tax authorities. So they were basically giving us information that did not make sense, but one state where we did pull it off was intermediaries in Bihar.
I just want to show first a juxtaposition between who the intermediaries are and who the farmers are, both in terms of-
Mekhala Krishnamurthy:
Let me just say very quickly that this is the first buyer. So there are many intermediaries, when we think about intermediaries and markets, there are a whole range of different actors. This is the person the farmer sells to. In some ways, you could just call them the buyer, the first buyer in the market. We are using the term intermediaries, because of course they are not the final consumers of this product and they're often functioning as aggregators, but it's important that we are looking at the people the farmer sells to.
Shoumitro Chatterjee:
So, in terms of the cost distribution, they look pretty similar and sort of from the same cost as the farmers. In terms of education, though the intermediaries tend to have slightly higher education than the distribution of farmers. So essentially, what is going on is the first layer of intermediaries is essentially the larger farmers in the village, who are now diversifying their business. As Mekhala likes to call them, they're portfolio capitalists. So, if they have a little bit of more time and surplus and money and investment, they could then get a little shop or get a little [inaudible 00:47:25] into this.
Mekhala Krishnamurthy:
Just a quick point here, just a quick point in the previous slide, it is important and this will sit with what Devesh and the others have also looked at, there is a fairly important difference in caste and the level right, so SEs, as you can see a higher proportion of farmers, smaller number of intermediaries.
Shoumitro Chatterjee:
In terms of their economic status, you can see here both in terms of the housing of the intermediaries versus farmers and just in terms of accrued asset index, intermediaries tend to do slightly better than the farmers but they're not completely right skewed, in the sense that a lot of intermediaries also live in kutcha houses. For the first layer of intermediaries, what they're essentially doing is if you can try to visualize is they are going around villages picking up stuff from the farmers, and for most of them, each intermediary tends to cover about eight to 10 villages, and then deal with about 20 farmers in each village.
So that's kind of roughly the scope of so they're really like sort of small scale intermediaries going around villages, picking up stuff, dealing with some farmers and these relationships as we saw from the farmer survey are not very stable. So I have my customers but then I have to compete with others to give my customers the best price. And to give you a sort of official overview, this is a village trader shop in Nalanda, Bihar, who sort of trades in paddy and maize, but on the side, he is also a retailer of branded rice and also provides inputs and credit to farmers.
This is Koraput in Orissa, and the reason I sort of put up this picture is at least it was sort of revealing for me that there was a lot of engagement of women, both as farmers but also very importantly as traders themselves. And finally, I guess this is one chart that everybody would want to take home is what is the margin of these farmers, of the intermediaries, of the first layer of intermediaries?
One thing that I want to highlight is calculating these margins is incredibly hard, because the way we think about organizing businesses is not the way they think about organizing businesses, in the sense that they don't keep a log of what is my revenue and what is my cost. So when you talk to them, they would say, "When a farmer comes to sell, I have to give him T. D I also count that T as a cost in my books? Should I also report that?", but then getting those details is incredibly hard. So in terms of revenues we know, it's the output and the prices. In terms of cost, what we could incorporate is the cost of transportation, and that was straightforward, and some labor. Again, not all labor gets recorded. Sometimes labor gets paid over a period of time, so you cannot attach the labor costs to transactions. But in terms of bounds, if you can see, the margins are at most sort of 10%, the mean and the mode would be around 5% or 8%. So these are small margins that these intermediaries are making, but there might be other costs associated with these transactions that we have not fully captured.
Mekhala Krishnamurthy:
That's the, Tariq's also noted us on the time, so I think that's more or less what we want to say. I think if you've gone through this so far, you will perhaps understand why our report concluded by saying that there are no low hanging fruits, or the idea that there are low hanging fruits is really as misguided as it is attractive and seductive for us to think. And this is, a lot of the questions have already indicated, trying to understand that, that this is not a business where you see large margins and we didn't find enormous inefficiencies. We can talk about specific commodity markets where there was a very high level of market power in the level of the intermediaries, but that was not visible across most of these market sites, that the MSP plays a critical role, and it also helps us highlight why the MSP is an issue and is at the heart of so much debate today and the multiple roles that it is playing.
And finally, that we never built a mandi system in Bihar and Orissa that works over all of these years. We didn't invest in market sites, in building strong primary markets. The dream of the original regulatory dream of having strong primary agricultural markets never materialized here. So trade and exchange happen in the context of that vacuum. And yet regulation does play an important role because it's there, both at the level of self regulation, we have a lot of interesting material on how these markets do regulate themselves in the absence of formal regulation, and also as Shoumitro said in the presence of the fact that traders in Orissa weren't willing to talk to us tells you that regulation has a role even when it's not particularly effective. So we can come back and talk about all of these details. Thank you so much.
Tariq Thachil:
Okay, thanks, everyone, and thanks both of you for giving such a detailed presentation. And I think it's really necessary given the complexity of the subject matter and the wealth of information in the report, to kind of front end a lot of the information in the presentation. I did want to get you guys to just reflect on, so there have been several questions coming in, but I do want to ask you guys at a kind of big picture level, there are two aspects of kind of some of your conclusions in the report that I want you to reflect on. The first is that you talk about the fact that there are limits, obviously to regulatory reform, but in the report, you say the key principle of regulatory reform should be to enable multiple buyers to buy agricultural produce directly from farmers, and to facilitate the operation of multiple market sites in addition to existing and new APMC mandis, and that this might be especially crucial for small farmers.
Small farmers have been invoked constantly in the context of the discussion. But as far as I could understand, obviously there are many things that are in the report. But if I could distill what I thought is a key point that you're making, this is one in terms of what regulatory reform can do. And then I have another question about what it can't. But just on this point, why do you feel that this is the most important principle of regulatory reform and whether you want to reflect or not on how that might best be achieved, but just to kind of isolate your thoughts, distill your thoughts on this key point?
Mekhala Krishnamurthy:
Shoumitro, should I start?
Shoumitro Chatterjee:
Yeah, yeah, yeah. You can go ahead, Mekhala.
Mekhala Krishnamurthy:
So I think part of the response on this was also coming from the larger questions around Indian agricultural market reform. Bihar and Orissa are actually not the right states to understand how well APMCs could work because they had never worked in the way that they're supposed to. I mean, [inaudible 00:55:26] Sakhigopal mandi, which is a coconut mandi was one of the mandis in Orissa, which actually had open outcry auctions. But as we showed for most of these, the idea that you would have well regulated markets with good priced discovery systems, good investments, we've shown a number of images of both Orissa and Bihar, where initial endowments and investments simply weren't made.
So it's difficult to make this argument based on just Bihar and Orissa. And it's equally difficult to make it on the basis of Punjab because Punjab is effectively a site where the mandi is used for public procurement. Our instinct for this actually comes from work that we have done in other states, my work in Madhya Pradesh and in Karnataka, but also, Shoumitro's overall work looking at the importance of mandis, and doing the economic analysis on why more mandis matter. And there, what we see is if you have a good, at least a decent mandi, which has a function of actually allowing farmers to have a good benchmark for price discovery, and for other critical non price dimensions of exchange, that helps prices outside as well.
So we've written about the fact that the mandi is in that sense like a public good. It's an investment in good price discovery. And that was the original promise of the agricultural produce marketing regulations. Now, tragically, they haven't materialized in many parts of the country. But where we do exist, I think we have good evidence to show that they play this role. And that's why a larger recommendation, it was to say that we need multiple sites. Orissa and Bihar are examples of multiple sites, and you have many sites of exchange, but you don't have well regulated primary markets that function as benchmarks, although some of these mandis, when they become large enough and competitive enough, are benchmarks.
So even more competition amongst unregulated markets is good. More competition at the level of intermediaries is good. But there's a set of investments that come when the government invests, which means better infrastructure. And we've seen this in Bihar over the last 15 years, the investment in infrastructure, although farmer, I mean traders make some collective investments in fixing the road from time to time or plugging these terrible leaks that happen, there isn't really a collective mobilization for infrastructure. So the idea that private infrastructure will come and fill this gap hasn't really materialized in these market sites. And so therefore, that's the basis of our thing. Shoumitro, you can add to it, but that's the context.
Shoumitro Chatterjee:
Yeah, I mean, this was sort of stated very clearly. When we said that there should be multiple buyers, we did not mean remove the public option. In fact, the public option is playing a very key and central role, which the private sector will never do, because they will, I mean, self interested parties will maximize their own welfare. But if you just want to do information dissemination in the absence of a market intelligence system, under current circumstances, it is the mandis that are doing it. They might be doing a bad job at it, but they are the only way it is being done.
Tariq Thachil:
Okay, thanks. And I'm mindful that we're at time, but if I can, I want to keep you guys on for a few extra minutes just to get to at least a couple more questions. So we had a few questions come in that actually, I think speak to something that also comes through in the report a lot, which is about thinking about risk and the limits of regulatory reform in dealing with risk that as you say, I think at some point in the report, a ubiquitous attribute underlying all aspects of farming in India is risk, and especially for again small farmers, that there are many kinds of risks that perhaps prevent them from changing to different kinds of crops or making some of the changes that many people, including many farmers might agree needs to be made and might be that's necessary for the long term health of agriculture.
But what you pointed in the report is that for reducing risk, the best policy is a comprehensive and accessible insurance policy. Pradhan Mantri Fasal Bima Yojana, you find very low take up on this government sponsored crop insurance scheme. So to the degree that there has been some attempt to meet first of all the idea that we have to meet and kind of provide incentives and insurances against this, kind of emphasizing why that's a key point but also why then is there this low take up? What did you find in the course of your research as to why this policy didn't actually work and perhaps what the path forward therefore might be, or at least so far has not been taken up?
Shoumitro Chatterjee:
So a little bit of this is my sort of own reactions rather than strictly learnings from the report itself. So risk exists in agriculture everywhere. And the way the West has tried to deal with it is through insurance schemes, both insurance, both insuring yield risk but also price risk. So for example, in the United States, if they follow countercyclical trade policy, then they compensate farmers for the loss due to that. But it is important to notice that insurance and agricultural markets don't work almost anywhere, in the sense that it's not like auto insurance, where private players can exist by themselves. Governments subsidize bulk of the insurance that is provided to farmers. Now for India, I guess you have to think about what works for us. There might be many constraints why traditional or orthodox insurance schemes may not work. We don't know who the landless farmers are. There are records that are missing. It is hard to gather information on why crops fail. Was it a willful default or was it due to weather risk? And then prices, why did they crash and so on? And so I don't want to sort of outline a proposal. I wrote about it a little bit in an op ed in the Hindustan Times. But essentially, we have to think about a policy that works for us in our context.
Tariq Thachil:
Thanks.
Mekhala Krishnamurthy:
Just very quickly I'll add, and I think there are some specific questions. So Tariq, I mean Shoumitro and I love to talk about all of this. So we are happy to sit and talk. So I think if everybody else who's possibly busy starting your day, but what I want to quickly say is that I think this point that he makes about the role of the public sector, or the role of the state in virtually all of these aspects, I think the big takeaway from the report, and you mentioned the limitations of regulation is that we have to focus on investments. There are conditions of production and of consumption. This is the economic market. So what we found are these enormously complex divorce deeply intermediated markets, but they were not irrational. And a number of people have asked questions like, why isn't grading helping. But grading doesn't help if the consumption system is not responsive to grading. And in fact, it makes more sense for farmers not to bring it.
And in fact, larger lots sometimes have more valuable quality, and so smaller lots might get higher prices. So you see all kinds of things working themselves out. There's good logic for why farmers are not grading, but yet people assume that if we solve grading, then everybody will get a higher price or they think it's transportation. And we saw this experiment in Samastipur in Bihar, where private and enterprise, social enterprise came in, tried to do, just provide farmers aggregation and transport, and all this conversation about urbanization of transport.
As soon as they exited and try to transfer the cost of that onto farmers, it collapsed and the whole program. And so these risks, and intermediaries play a very important role in also managing all of these different kinds of market risks. And so this is how it's getting spread. So there's a reason why these simple solutions, which we think are low hanging, if we could improve infrastructure, if we could just improve connectivity, transport, if we could do grading and quality assurance, wouldn't the price go up?
We're not finding those things. And we're finding that that's actually quite a consistent picture. So does that leave you depressed and say that you can't do anything? No, it means you actually have to invest in production and consumption, you have to think about how the market actually functions. Think about expanding markets, so that farmers can reach their produce further, you improve aggregation and collective bargaining power of farmers and markets, and it depends on the commodities. Not in every case will FPOs work or farmer producer organizations. In some cases, it will be different options. So I think our focus that's why it's to say it's not just a regulatory constraint at all, it is about well directed public investments in agriculture.
Shoumitro Chatterjee:
And what is also important to sort of understand and this was really a humbling experience for me is to realize that what might seem as rational to us as outside observers may not be rational. And we have to think about the constraints under which the farmers are operating. So this thing, why aren't they trading? One other reason is that post harvest, the opportunity cost of time of farmers is exorbitant. And it's a very small thing. But it's slightly deep in the sense that when they harvest paddy in Bihar, suppose they want to do wheat as the next crop, they want to take advantage of the moisture that is already in the soil, which means that they have to do the sowing pretty quickly after harvest. Now you tell them, "Why don't you go and sell this paddy to the city yourself?" They will say, "Who is going to buy and who is going to sow the wheat. And if I go to the marketing in which I don't have expertise, I will lose this advantage, and then there will be additional costs on cultivating wheat." So the dynamics of it are subtle. They are there, we just need to carefully study them before we start thinking that if they are not doing a certain activity, it must be rational.
Tariq Thachil:
Thanks for that. That actually addresses two of the questions that we had from [inaudible 01:06:14]. We have one other question that was asked in different forms by two students, Bumi and Nikhil, so I'm just going to put that to you and then we can close, which is they both want to know in different ways about barriers that may exist at the local level. So Bumi asks are there caste or class barriers at the local level? Aside from inherent differences in inputs, do farmers who own more land in any way interfere with those who have less land? And Nikhil wants to know if there are structural markers of difference, specifically, caste or gender that influence farmers' abilities to negotiate prices? And so essentially, they're both asking about some of these dynamics and intra farmer differences at the local level, and kind of what you found in terms of that term influencing and creating barriers for them in this process.
Mekhala Krishnamurthy:
Yeah, so I think that yes, I think there's no doubt that when we look at the ethnographic material, you see very specific stories with every farmer. You definitely see even with intermediaries, how they enter the market, what was the initial asset? How did they actually get the initial amount of capital to negotiate? And you definitely see, and we saw this also in major systems like in government procurement, that land size matters. Certainly cost and so anybody who studies Bihar already saw or Punjab would not say that these things don't matter at all.
What I think we were pointing to in some of the larger analysis in the survey analysis is, and you saw that even with the intermediaries, there was a striking difference in terms of OBCs and in terms of representation in the community and who becomes an intermediary. So these are sensitive. I think on women, again there's a huge recognition problem. That's the say other thing to keep in mind like the sharecroppers and tenant farmers, and their ability to access inputs, access resources, women farmers in terms of their ability to actually be counted and I think both Orissa and Bihar because Orissa has KALIA and has actually been quite sensitive to inclusion in recent times, particularly in Bihar has JEEVIKA, which focuses on women, these are states that are conscious of this. And that's actually very important. It strikes me they're more conscious than often states like Punjab about some of these dynamics.
So I think that's important. But on women, it's very interesting, like we showed you in Koraput and in certain sites, you see much more participation of women both in the farm and in the mandis. And here, you also see a commodity specific difference. We tend to see many more women in vegetable and fresh produce markets. And they also play a very, very important role in [inaudible 01:09:04], many of them come, in Samastipur, there was a group of women who actually come from a neighboring district every day to Samastipur mandi, renting a truck, which is driven by a man, the rest of it is all women traders who come into the thing.
So I think it's also important to remember that these are vast and really complex livelihood systems. This is something that is completely lost in our discussion about farm laws, competition, corporatization. These are primarily informal markets. There is a vast sector of livelihood and opportunity. There is not the kind of stable accumulation that we would like to see, and that is where well directed public investment makes a difference.
If you take the sector seriously, if you take it seriously as an industry and as multipliers, these livelihoods can get more stable and people could accumulate better, whether they are small scale industrialists, whether they are millers and processors, whether they are small traders. They are all part of market. So these markets grow, then opportunity for them grows, accumulation grows and the relationship between farm and nonfarm also happens on a more progressive tone. Right now, we see a lot of distress driven diversification. And Bihar and Orissa are both sides of this kind of distress driven diversification. We met many farmers who have many other sources of income because they cannot live off farming, but hold on to their farm both for food security and landless insurance. If you want to see them grow and have better terms of diversification, investing in agriculture, in the right parts of agriculture, and then in the non farm economy is very important in understanding those relationships. So for us, I think this is another thing that's very vivid here, that the number of lives and livelihoods tied up in the sector are worth looking at beyond and labor is something that we haven't had a chance to look at here, but there was a lot of ethnographic material on that as well. I'll stop here.
Shoumitro Chatterjee:
So just to add one sentence before we finish, I think the other thing that sort of the research is also pointing to or hinting at is that there are limits to how much you can do by just tinkering in agriculture, especially for the small farmers. I mean, if you do not have enough marketable surplus, no matter what you do, by how much will your income go up. And for that infrastructure transformation, the solution may not lie in agriculture, but somewhere else.
Tariq Thachil:
Yeah, and just since we went over time, I will close it there. But just to again, invite people to reflect on the report, and there are a number of insights in it. It links to things such as how does the fact that as the report makes clear, so many farmers are growing for their own consumption, link these issues to those of food security. I mean, there's just all of these are such interconnected webs between the worlds of agricultural markets that the report analyzes, and policymaking in a number of different spheres. And I'm sorry that we didn't get to host both of you at CASI. I know a lot of people on campus share that. On the other hand, I'm very glad that this meant that a lot of people from across the country and indeed across the globe were able to join us for today. Thank you for giving us so much of your time, especially the time where I'm sure you have many requests to come and share your wisdom in various different forums. So thank you for sharing some of that time with CASI. And thanks, everyone, for joining us. And we will be here again next week at around noon, start time for the next iteration of the weekly seminar. So thanks again, everyone. And again, read the report if you can.
Mekhala Krishnamurthy:
Thanks so much. CASI was the first place we were going to present this report properly. So there would have been no other place to do it. And to close, I really do want to thank, I see so many people here, Juliana and Georgette, I think this project really wouldn't have happened. Georgette held us together, I think in so many ways. And also to Alan, who put up the report and has made sure that we were widely disseminated. So really, it's been a privilege to work with all of them. And I don't know if Marshall is here, but-
Shoumitro Chatterjee:
Marshall is here.
Mekhala Krishnamurthy:
Yeah, I mean, none of this would have happened without Marshall and the way he and Devesh really gave us a chance to do this. So just to thank everybody enormously from our end.
Tariq Thachil:
Thanks, everyone. Thanks, both of you.