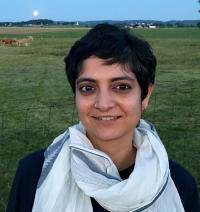 Mekhala Krishnamurthy
CASI Non-Resident Visiting Scholar
Associate Professor of Sociology and Anthropology, Ashoka University
July 1, 2023
to
June 30, 2024
Mekhala Krishnamurthy is an Associate Professor of Sociology and Anthropology at Ashoka University. She is currently a Non-Resident Visiting Scholar at CASI and was a CASI Postdoctoral Research Fellow (2010-12). She has trained at Harvard University, the University of Cambridge, and at University College London, where she completed her Ph.D. in Anthropology as a UCL Global Excellence Scholar.
Over the last fifteen years, Mekhala's research, publications, policy, and professional engagements have involved work within and across a range of field sites and subjects, including women's courts and dispute resolution, community health workers and public health systems, agriculture and agricultural markets, and water, livelihood security, and land acquisition. This has placed her in a variety of roles at the intersections of and in partnerships between academia, public policy, government, the private sector, and grassroots civil society organizations.
As an anthropologist, Mekhala's work engages most deeply with classical and contemporary questions animating the anthropology of the state and market. Her doctoral research and current book project explores the changing social, economic, and political lives and relationships of an agricultural market/mandi in the central Indian state of Madhya Pradesh. As a result of prolonged exposure to mandi life, Mekhala has developed an abiding interest in grappling with the diversity, complexity, and dynamism of agricultural markets, regional capitalism, and economic life in India. She is currently leading (as Co-Principal Investigator) a major CASI research project on agricultural markets, agro-commodity networks, and farmers' incomes in Punjab, Bihar, and Odisha.
Mekhala's other area of longstanding interest and research commitment, which she is pursuing in a number of field-based and writing projects, focuses on the institutional dynamics and everyday life of public systems and local bureaucracies, especially on the lived experiences of frontline functionaries of the Indian state.