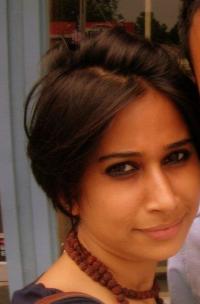 Chinki Sinha
CASI Spring 2012 Visiting Fellow
Journalist, New Delhi
Chinki Sinha is a journalist based in New Delhi. She worked for The Indian Express and covered a range of issues including primary education and the Right of All Children to Free and Compulsory Education Act, 2009. She finished her Master's in journalism from the S.I. Newhouse School of Public Communications, Syracuse University, and worked at the Utica Observer-Dispatch, a mid-size newspaper in New York state. There, she covered education and minority communities, including refugees and issues of integration in schools for people in exile.
During her years in the U.S., Ms. Sinha also wrote on Islamic schools in the post 9/11 world. She moved to India in 2008 to work at The Indian Express and traveled extensively to rural areas to report on school education and other issues. Ms. Sinha is interested in social rights and their implementation, and access to opportunities for the poor. She has also written on a range of other issues like the identity project being implemented in India, and focuses on narrative form to cover such issues. At The Indian Express, Ms. Sinha wrote about the issues of the Urdu medium schools and the minority community's struggles to access higher education opportunities. Additionally, she covered the travesty that nursery school admissions have become in the national capital where issues of access arise with the point system that private and unaided schools have manipulated to keep the children belonging to the lower income groups out of the schools.
At CASI, Ms. Sinha will be working on issues of access to education and social rights for the poor. She will be looking at the RTE Act, 2009 in the context of lower income groups.
We are pleased that Ms. Sinha will be in residence at Penn as a Visiting Fellow at the Center for the Advanced Study of India from February through March 2012.