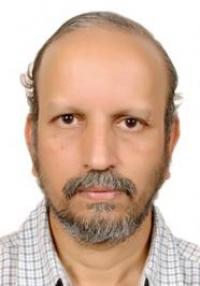 P. S. Vijay Shankar
CASI Spring 2011 Visiting Scholar
Director of Research, Samaj Pragati Sahayog (SPS)
P. S. Vijay Shankar is the Director of Research and afounding member of Samaj Pragati Sahayog (SPS), an NGO based in Dewas district of Madhya Pradesh. He earned his M.Phil. from Jawaharlal Nehru University, New Delhi. As part of SPS, Mr. Shankar has lived and worked among the tribal communities of the Narmada valley for the last twenty years. His areas of interest are water resource management, sustainable agriculture, and strengthening of community-based, equitable and self-reliant peoples' institutions. He has also been engaged in training and capacity-building of a wide range of organizations, as well as on a wider policy advocacy to mainstream issues of rainfed drylands as part of the civil society initiative on the theme of revitalizing rainfed areas.Mr. Shankar is a member of the faculty at the Baba Amte Centre for People's Empowerment, one of only seven such national centers set up and assisted by the Government of India for extending training and field support to several agencies implementing watershed projects on half a million acres of land in the five states of MP, Chhatisgarh, Jharkhand, Bihar, and Rajasthan. As a faculty member, he has assisted in the development of curricula and teaching material for training programs on Watershed Development, Agriculture and Land Use Planning, Sustainable Community Management of Groundwater and Self Help Groups and Micro-Finance. He is also a member of the Steering Committee of the Integrated Watershed Management Programme (IWMP), Ministry of Rural Development, Government of India, and member of the Working Group on Sustainable Groundwater Management set up by the Planning Commission for the 12th Five Year Plan.
Mr. Shankar has co-authored the book, India's Drylands: Tribal Societies and Development through Environmental Regeneration (OUP, 1998) and the unpublished study Rethinking Reforms: A New Vision for the Social Sector in India (prepared for the United Nations Research Institute for Social Development – UNRISD - Geneva, 2009). He has also published several papers including "Groundwater Demand Management at Local Scale in Rural Areas of India: A Strategy to ensure Water Well Sustainability based on Aquifer Diffusivity and Community Participation" (with H. Kulkarni, S. B. Deolankar and Mihir Shah, published in the Hydrogeology Journal,2004), "Rural Credit in 20th Century India: Overview of History and Perspectives" (with Mihir Shah and Rangu Rao, Economic and Political Weekly, 2007), and"Groundwater: Towards an Aquifer Management Framework" (with Himanshu Kulkarni, Economic and Political Weekly, 2009).
We are pleased that Mr. Shankar will be in residence at Penn as a Visiting Scholar at the Center for the Advanced Study of India from February through March 2011.