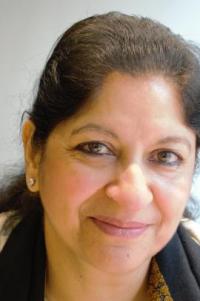 Ravinder Kaur
CASI Spring 2018 Visiting Scholar
Professor of Sociology and Social Anthropology, Department of Humanities and Social Sciences, Indian Institute of Technology, Delhi
March 1, 2018
to
April 30, 2018
Ravinder Kaur is a Professor of Sociology and Social Anthropology at the Department of Humanities and Social Sciences, Indian Institute of Technology, Delhi. She served as Chair of the Department from July 2015 to February 2018. She has previously taught at the University of Delhi and New York University. Most recently, she offered a course on Gender, Technology, and Society at the University of Bielefeld in Germany. Her current research interests are in the areas of the sociology of gender, family, marriage, kinship, middle class, and technology. She is also interested in issues of migration, class, rural-urban geographies, and more broadly, in processes of social change. She has worked extensively on the issue of skewed sex ratios and has published widely on the subject. Her work in this area spans gender-biased sex selection and its relationship with fertility, class mobility, work, and education. Her ethnographic work on bride shortages and marriage change in Haryana has been seminal to research in this area.
She has co-authored the book, Planning Families, Planning Gender, as well as edited two books: Marrying in South Asia: Shifting Concepts, Changing Practices in a Globalized World (with Rajni Palriwala) and Too Many Men, Too Few Women: Social Consequences of the Gender Imbalance in India and China. She is currently working on a monograph entitled "Strangers as Spouses: Skewed Sex Ratios and Marriage Migration in India."
She has worked closely with the UNFPA on research and advocacy on gender-biased sex selection and has served on the Government of India's Central Supervisory Board of the PC-PNDT (Prohibition of Sex Selection) Act. She was also one of the five members of the Justice Srikrishna Committee on Andhra Pradesh that decided on the bifurcation of AP into Andhra Pradesh and Telangana. She is currently on the editorial board of the journal, Social Forces.
At IIT Delhi, she has coordinated and conducted a study on student underperformance among B.Tech. students (2017) and also leads their programs and activities on gender sensitization. She is also a recipient of a Teaching Excellence award at IIT Delhi.
On May 31, 2018, Professor Kaur and her husband, Surjit S. Bhalla, were interviewed on PBS NewsHour to discuss Bhalla's new book, The New Wealth of Nations. (Their interview begins at the 31 minute mark).