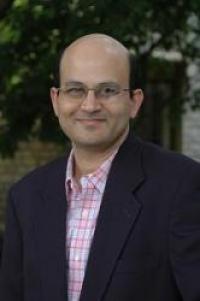 Rishikesha T. Krishnan
CASI Fall 2008 Visiting Scholar
Professor in the Corporate Strategy & Policy Area and Jamuna Raghavan Chair Professor of Entrepreneurship
Rishikesha T. Krishnan is a Professor in the Corporate Strategy & Policy Area and Jamuna Raghavan Chair Professor of Entrepreneurship at the Indian Institute of Management, Bangalore (IIMB), India. His research interests are in the areas of strategy, innovation and competitiveness. At IIMB, he is currently the Chairperson of Research & Publications. He was earlier the Chairperson of the Postgraduate Programme in Management (PGP) at IIMB.
Prof. Krishnan has been a consultant to, or conducted management development programs for, Hewlett-Packard, British Telecom, Daimler Chrysler, Wipro, Siemens, and the Governments of India and Karnataka.
Prof. Krishnan worked for four years as the General Manager of a small high technology company in the telecom sector from 1987-91. During this period, he also co-founded a software company working on specialized engineering application software. In 2001, he worked with a software product start-up in the knowledge management space founded by an IIMB alumnus.
Prof. Krishnan holds an M.Sc. in Physics from the Indian Institute of Technology at Kanpur; an M.S. in Engineering-Economic Systems (now Management Science & Engineering) from Stanford University; and the title of Fellow (equivalent to Ph.D.) from the Indian Institute of Management, Ahmedabad, where his thesis proposal won the outstanding thesis proposal award instituted by the Industrial Finance Corporation of India.
Prof. Krishnan has been a member of the Confederation of Indian Industry (CII) National Panel on Intellectual Property, R&D, Technology and Innovation, the Advisory Council of CII's National Innovation Mission and on the jury of Nasscom's innovation awards. He has been a member of government committees to review the performance of the National Innovation Foundation, and to study "The Future of Aviation and Aeronautics in India." He has just completed an external review of the plan schemes of India's Department of Scientific & Industrial Research.
Prof. Krishnan is an independent director on the boards of D-Link (India) Ltd., Sundaram BNP Paribas Asset Management Company Ltd., and Halbit Avionics Pvt. Ltd (a joint venture between HAL and Elbit Systems). He is on the Indian advisory board of CIO Magazine and the Foundation for Excellence Trust, and a member of the Governing Board of the Indian Institute for Health Management Research, Jaipur. In addition, Prof. Krishnan is an active member of Globelics and Asialics, international fora that focus on the understanding of innovation systems and competitiveness. He serves on the editorial advisory boards of the International Journal of Management & Entrepreneurship, Asian Journal of Technology Innovation, Science, Technology & Society, and ManagementNext.
Apart from papers published in academic journals, Prof. Krishnan's articles have appeared in the Economic Times, Business Line and the Financial Express. He has presented his research at seminars at a number of reputed institutions such as Stanford University, London Business School, the Hebrew University of Jerusalem, and Hong Kong University of Science & Technology.
We are fortunate that Prof. Krishnan will be in residence at Penn as a Visiting Scholar at the Center for the Advanced Study of India during the Fall 2008 semester.