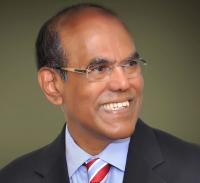 Duvvuri Subbarao
CASI 2019-20 Distinguished International Fellow
Governor, Reserve Bank of India (2008-13)
Finance Secretary, Government of India (2007-08)
Secretary, Prime Minister's Economic Advisory Council (2005-07)
October 20, 2019
to
February 21, 2020
Dr. Duvvuri Subbarao served as Governor of the Reserve Bank of India for five years (2008-13). Prior to that, Dr. Subbarao was Finance Secretary to the Government of India (2007-08) and Secretary to the Prime Minister's Economic Advisory Council (2005-07).
Dr. Subbarao joined the Indian Administrative Service (IAS) in 1972, topping the highly competitive civil services entry examination in that year. As a career civil servant, he worked in various positions in the state government of Andhra Pradesh and in the federal government of India. He was a Lead Economist in the World Bank (1999 - 2004).
Dr. Subbarao studied at the Indian Institute of Technology (IIT), Kharagpur and later at the Indian Institute of Technology (IIT), Kanpur. He went to Graduate School at Ohio State University where he got an MS in Economics and later was a Humphrey Fellow at MIT studying Public Finance. He got his Ph.D. from Andhra University.
Dr. Subbarao began as Governor of the Reserve Bank of India just a week before the global financial crisis erupted in full in mid-September 2008, and he led the effort to mitigate the impact of the crisis on the Indian economy and to institute economic and financial sector reforms reflecting the lessons of the crisis.
In his capacity first as Finance Secretary and later as Governor, RBI, Dr. Subbarao was alternate Governor for India on the Governing Boards of the World Bank and the IMF. He participated actively in the G 20 meetings, the meetings of the International Monetary and Financial Committee (of the IMF), bi-monthly meetings of Governors at the Bank for International Settlements (BIS) in Basel, the Asian Consultative Committee of central bank Governors, and a host of other international committees and conferences where his views were respected for the emerging market perspective he brought to bear on the discussions.
"India's Economy: When Will the Elephant Dance?" Duvvuri Subbarao interview with Mukul Pandya, Knowledge@Wharton, January 3, 2020