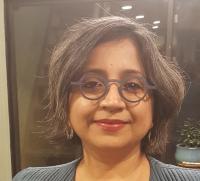 Debjani Bhattacharyya
CASI Non-Resident Visiting Scholar
Chair, History of the Anthropocene
University of Zürich
July 1, 2023
to
June 30, 2024
Debjani Bhattacharyya holds the Chair for the History of the Anthropocene at the University of Zürich. Previously, she was an Associate Professor of History and Urban Studies at Drexel University. Her work lies at the intersection of legal and environmental history. Her research is driven by the desire to understand how legal and economic structures order our conceptualization of environmental transformations and shape how we respond to climate crises. Her book, Empire and Ecology in the Bengal Delta: The Making of Calcutta (Cambridge University Press, 2018) won the 2019 honorable mention for the best book in Urban History. It documented how legal experimentation through the 18th and 19th century was central to reshaping the political economy of urban land and waterscapes in the Bengal Delta. Through an environmentally grounded history of the urban land market, it argued that ecological change influenced practices of land speculation, urban planning and property law and showed how marshes were transformed into speculative property in the Bengal Delta.
Currently Prof. Bhattacharyya is writing a long history of how marine insurance market's risk apprehensions shaped weather knowledge, colonial oceanographic sciences and a derivatives market in climate futures in the Indian Ocean Region. She is also interested in developing alternatives to climate adaptation strategies of planned retreat along the Bay of Bengal coast.
Her work has been supported by the American Institute of Indian Studies, The History Project funded by the Joint Centre for History and Economics, Harvard University, and Social Science Research Council. She held visiting fellowships at the International Institute of Asian Studies (Leiden), Max-Planck-Institute for Legal History (Frankfurt), and the Shelby Cullom Davis Center for Historical Studies, Princeton University. Her work has been published in the Journal of Social and Economic History of the Orient, Comparative Studies in South Asia, Africa and the Middle East, Economic and Political Weekly, Global Environment, and Modern Asian Studies. She is the South Asia editor for History Compass. Her writings have also appeared in The Telegraph, Amrita Bajar Patrika, n+1, The Diplomat, and Somatosphere.