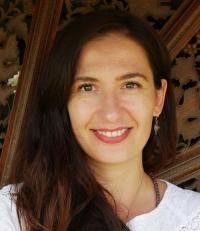 Cristina-Ioana Dragomir
CASI Non-Resident Visiting Scholar
CASI Fall 2016 Visiting Scholar
Lecturer, Queen Mary University of London, School of Politics and International Relations
January 1, 2018
to
June 30, 2018
Cristina-Ioana Dragomir is a Lecturer at Queen Mary University of London, School of Politics and International Relations. Previously, she was an Assistant Professor of Political Science at SUNY Oswego. Before that, she was a Postdoctoral Fellow at Rockefeller College of Public Affairs and Policy, University at Albany. She is the recipient of several awards and fellowships including the 2007 Ted Robinson Memorial Award by the South West Political Science Association, Bucerius Ph.D. Fellowship "Settling in Motion," and The Global Network Grant from Open Society Institute.
Her work is in the field of social justice, subaltern studies, immigration and citizenship. Her dissertation, titled "Making the American Immigrant Soldier: Inclusion and Resistance," examined the effectiveness of minority groups' use of essentialist practices to challenge the existing political and social order and strive to achieve parity. Specifically, using political theory, ethnography, visual politics, social media, and historical analysis, her doctoral study analyzed the patterns of incorporation that immigrants use while enlisted in the U.S. military.
Currently, she examines how the traveling Roma or "Gypsies" organize access to social justice and their mobilization against racial and ethnic discrimination. While traditional political science scholarship considers the migrating or nomadic groups only from a narrow European political perspective, she utilizes a global framework of nomadism and studies several mobile groups in Europe and India.
She received her Ph.D. from the New School for Social Research in Politics in 2014 and was a CASI Fall 2016 Visiting Scholar.