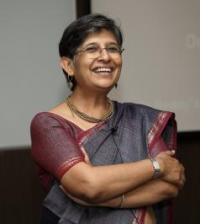 Indira Chowdhury
CASI-NIF Spring 2011 Visiting Scholar
Scholar-in-Residence, Srishti School of Art, Design and Technology, Bangalore
CASI-New India Foundation Spring Visiting Scholar
Indira Chowdhury is a Scholar-in-Residence at the Srishti School of Art, Design and Technology in Bangalore, where she started the Center for Public History. She has a Ph.D. in History from the School of Oriental and African Studies, London. Formerly a Professor of English at Jadavpur University, Kolkata, Dr. Chowdhury's academic interests have included history, women's studies, science history, cultural studies, translation, and lexicography. She compiled the Indian English Supplement included in the Oxford Advanced Learner's Dictionary in 1996. Her book, The Frail Hero and Virile History(Oxford University Press, 1998) was awarded the Tagore Prize in 2001. She also translated Ashapurna Debi's major novel, The First Promise (Orient Longman, 2004).
Keenly interested in setting up archival resources for research, Dr. Chowdhury was instrumental in starting the Urban History Documentation Project at the Centre for Studies in Social Sciences, Kolkata in 1993. She set up the Archives of the Tata Institute of Fundamental Research, Mumbai (2002-2006), the Archives of Naandi Foundation, Hyderabad (2007-2008), and the Archives of Dr. Reddy's Laboratories, Hyderabad (2009-2010). Dr. Chowdhury has also served as an Archival Consultant to IIT Kanpur (2008) and has been conducting oral history interviews since 2002. She has curated several archival exhibitions at TIFR including Partners in Science: JRD Tata and TIFR in 2005 and Homi Bhabha: The Cambridge Connection in 2007.
Dr. Chowdhury serves on the boards of several professional and academic bodies. She is a council member of the International Oral History Association. In 2006, she was awarded the New India Fellowship to write an institutional history of TIFR. She has just completed (with Ananya Dasgupta), a book about the Indian scientist Homi Bhabha, entitled, A Masterful Spirit: Homi Bhabha (1909-1966) (Penguin Books India, 2010).
Dr. Chowdhury is the recipient of a New India Foundation (NIF) fellowship. The NIF seeks to address different aspects of India's independence by sponsoring researchers to conduct high quality studies on India's modern history. Dr. Chowdhury's arrival marks the third time in which CASI and the NIF have joined to co-sponsor a Visiting Scholar.
We are pleased that Dr. Chowdhury will be in residence at Penn as a CASI-NIF Visiting Scholar for May and April 2011.