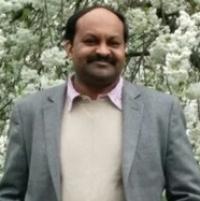 B. Venkatesh Kumar
Non-Resident Visiting Scholar
Professor & Chairperson, Centre for Public Policy and Governance, and Director, National Corporate Social Responsibility Hub, Tata Institute of Social Sciences
November 1, 2015
to
November 30, 2016
B. Venkatesh Kumar is Professor and Chairperson at the Centre for Public Policy and Governance, and the Director of the National Corporate Social Responsibility Hub (a policy think tank established by the Federal Government in India) at Tata Institute of Social Sciences. He is also the Program Chair for the Higher Education Leadership Program; Chair, Centre for Academic Leadership and Education Management (set up by the Federal Ministry of Human Resource Development, India); and the Course Director for the One Week In service Training for senior and mid-career civil servants sponsored by the Federal Government's Department of Personnel and Training.
Prof. Kumar has taught at the Department of Civics and Politics at the University of Mumbai, and was the founding Director of the Rajiv Gandhi Centre for Contemporary Studies. He earned his Masters and Ph.D. in Political Science from the University of Mumbai, and is a recipient of numerous awards.
His research interests are the political process, political institutions, the interplay of governance and social sector issues (mainly higher education). He has also been looking at questions of CSR interventions in the development sector. He is keenly pursing the understanding of the practice of critical interventions in areas of underdevelopment and questions of managing and practicing governance reforms.
Prof. Kumar has authored books, several journal articles of national and international repute, authored and co-authored research reports and policy briefs, and has seventeen years of teaching and research experience.
He was a CASI Fall 2015 Visiting Scholar.