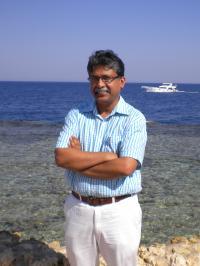 Avijit Ghosh
CASI Winter 2013 Visiting Fellow
Senior Editor, The Times of India
Avijit Ghosh works as a Senior Editor at The Times of India newspaper in New Delhi. Born in Agartala, a quaint town poised on the north-eastern edge of India, he grew up in the rough and intense townships of Bihar. He graduated in history honors from St. Xavier's College, Ranchi and earned his Masters and M Phil degrees from Jawaharlal Nehru University, New Delhi. The topic of the dissertation was "Gandhi and the Communal Problem: Some Aspects."
A journalist for more than twenty years, he has reported on a variety of subjects ranging from World Cup cricket to the 2004 tsunami, from the evolution of Bollywood to the 2010 Maoist ambush of paramilitary forces in Chhattisgarh. In recent years, he has written extensively on Hindi cinema and sports. He has also been a film critic for The Telegraph (Kolkata) and The Times of India.
He has written, Bandicoots in the Moonlight (Penguin Global, 2009), a novel set in 1970s Bihar that uses humor to explore morality and aesthetics among a bunch of teenagers. The novel's fate, he says, was much like an art film: critical success and commercial failure.
His second book, Cinema Bhojpuri (Penguin Books India, 2010), traces the history of Bhojpuri films and details its growth and expansion over the decades. The book won the Special Mention Prize for Best Writing on Cinema in the 2010 National Film Awards.
He has also contributed articles to four prestigious anthologies. The first two books were: Caste in Life: Experiencing Inequalities (Pearson, 2012) and First Proof: The Penguin Book of New Writing from India (Penguin Global, 2008).
The other books, both published in 2012, are: Bollywood's Top 20: Superstars of Indian Cinema (Penguin, 2012) edited by Bhaichand Patel, where he profiles the 1970s superstar, Rajesh Khanna. More than Maoism (Manohar, 2012), edited by Robin Jeffrey, Ronojoy Sen, and Pratima Singh, carried his interview of the Naxalite leader, Kanu Sanyal.
He is addicted to films, music, football, and cricket (not necessarily in that order).
We are pleased that Avijit will be in residence at Penn as a Visiting Scholar at CASI from February through March 2013.