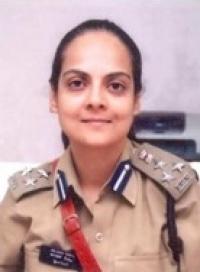 Anjana Sinha
CASI Fall 2012 Visiting Scholar
Inspector (IPS), General of Police, Andhra Pradesh, India
Anjana Sinha is a security reform practitioner with over twenty years of field and management experience in India. She entered the federal police force in 1990. Currently, she is Inspector General Communications in Andhra Pradesh, India.
Ms. Sinha has worked in a strategic advisory capacity with the UN in Bosnia-Herzegovina (UNMIB&H) to coordinate human rights investigations and to train international security corps as part of that UN mandate. Subsequently, she has served as the nodal person for the UNODC with Indian Police on the global campaign on anti-human-trafficking. As Chief of Police, she has neutralized 20 ultra-left guerilla groups. As part of the security for the Afro Asian Games in 2003, she has coordinated security for 117 countries. In 1992, she prevented the outbreak of violence in her jurisdiction when communal violence raged across India after the raising of the Babri Mosque by right-wing activists. With a track record of performance in conflict and pre- and post-conflict situations in challenging socio-political and politically sensitive regimes, she has held several executive and leadership positions in tackling guerilla warfare and religious fundamentalists. Ms. Sinha brings extensive experience in execution and management of law and order and public security using multi-cultural and multi-disciplinary frameworks.
Ms. Sinha earned a BA in History from Lady Shri Ram College, Delhi University, an MA in International Politics from Jawaharlal Nehru University in Delhi, and an MBA from the Indian Institute of Management, Bangalore with a specialization in Public Policy. In 2010, she was awarded the British Foreign and Commonwealth Chevening Fellowship in Peacekeeping and International Capacity Building at Bradford University, England. Ms. Sinha resides in India with her husband, a professor, and her son, a rising senior in Delhi University.
We are pleased that Ms. Sinha will be in residence at Penn as a Visiting Scholar at CASI from September through November 2012.