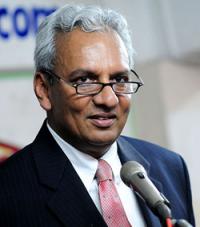 Ambassador Jayant Prasad
CASI Non-Resident Visiting Scholar
Former Ambassador of India to Nepal (2011-13)
July 1, 2014
to
June 30, 2015
Born in 1952, Ambassador Jayant Prasad joined the Indian Foreign Service in 1976. He obtained B.A. (Hons) in history from Delhi University in 1972 and M.A. in modern Indian history from Jawaharlal Nehru University in 1974, after which he lectured on Indian history for two years at St. Stephen's College, Delhi University.
In Indian Missions abroad, he has served as the Ambassador of India to Nepal (2011-13), Ambassador to Afghanistan (2008-2010), Permanent Representative of India to the Conference on Disarmament, Geneva (2004-07), Ambassador to Algeria (1996-98), Counsellor for trade access and development cooperation at the Indian Mission to the European Union in Brussels (1992-95), First Secretary in the Permanent Mission of India to the United Nations, Geneva (1984-88), and Third & Second Secretary in the Embassy of India, Paris (1979-80).
In the Ministry of External Affairs, New Delhi, he served as Special Secretary, Public Diplomacy (2010-11), head of the Americas Division (2001-04), head of the unit on Multilateral Economic Relations & Staff Officer to the Foreign Secretary (1990-92), Deputy Secretary for Disarmament Affairs (1988-89), and Desk Officer for Bangladesh (1981-84).
Ambassador Prasad was member of U.N. Secretary-General's Advisory Board on Disarmament Matters (2005-07), Fellow at the Weatherhead Center for International Affairs, Harvard University (1998-99), and Rapporteur of the U.N. Commission on Human Rights, Geneva (1986-87).
Since his superannuation from public service in August 2013, he has been living in New Delhi.
After completing his appointment as a Spring 2014 Visiting Scholar at CASI, Ambassador Prasad became a Non-Resident Visiting Scholar on July 1, 2014.