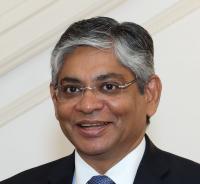 Ambassador Arun K. Singh
CASI Spring 2017 Distinguished International Fellow
Former Ambassador of India to the United States
January 1, 2017
to
May 31, 2017
Ambassador Arun K. Singh served as Ambassador of India to the United States from April 30, 2015 to August 31 2016, having served earlier as Deputy Chief of Mission from October 2008 to April 2013. During his tenures (spanning the Obama presidency and following the signing of the Indo-U.S. Civil Nuclear Agreement), the relationship between India and the U.S. consolidated significantly and is now described as a "defining partnership of 21st century" or as one among "natural allies."
Ambassador Singh joined the Indian Foreign Service in 1979. His first assignment abroad was at the Embassy of India, Moscow from 1981-1982. Subsequently, he served at the Indian Mission in Addis Ababa as Second Secretary from 1982-1985, where he was involved in India's engagement with the Organisation of African Unity (OAU) and the UN Economic Commission for Africa (UNECA).
From 1993-97, Ambassador Singh served as Counsellor at the Permanent Mission of India to the United Nations, New York, where he handled multilateral social and economic negotiations (he was the lead coordinator for India at the World Summit for Social Development in Copenhagen in 1995). During his next assignment in Delhi from 2000-05, Ambassador Singh served as Joint Secretary, dealing first with the United Nations Policy and then the Pakistan, Afghanistan, and Iran Divisions at the Ministry of External Affairs (he was involved in conceptualizing and implementing India's response to post-9/11 developments in Afghanistan). Before serving as Ambassador of India to the United States, he served as Ambassador of India to Israel (2005-08) and to France (2013-15).
Ambassador Singh earned his Masters Degree in Economics from Delhi University, specializing in econometrics, development policy, macroeconomics, and Indian economic history.