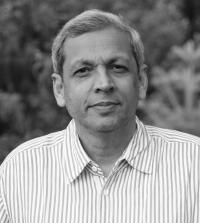 Ajai Shukla
CASI Spring 2016 Visiting Fellow
Consulting Editor on Strategic Affairs, Business Standard
April 1, 2016
to
June 30, 2016
Ajai Shukla is Consulting Editor on Strategic Affairs with the Indian business daily, Business Standard. He is a columnist and writer on strategic affairs, India's defense policy, defense economy, internal security, and diplomacy. He also hosts a strategic affairs blog, Broadsword, which has 3,000-6,000 readers daily.
Ajai is a frequent television commentator on Indian and international news channels. From 2001-08, he worked as a war correspondent and prime time news anchor for India's pioneer news channel, New Delhi Television (NDTV). During this period, he reported extensively from the wars in Afghanistan, Iraq, and Lebanon; and from India's insurgency—afflicted states, Jammu and Kashmir and the northeastern states.
From 1979-2001, Ajai was an Indian Army tank corps officer. He retired as a colonel after commanding an armoured regiment. He served across a range of geographies, including three counter-insurgency operational tenures in Jammu and Kashmir, Nagaland and Manipur. He spent a year in 1993-94 with the UN Peacekeeping Mission in Mozambique.
Ajai is currently working on two books. The first evaluates the structures and battle-readiness of India's military. The second is a geo-political history of the Sino-Indian border region in Arunachal Pradesh, which is contested between India and China. He has contributed chapters to published anthologies on Afghanistan and Iraq, and on war reporting in the Indian media.
Ajai is a graduate of Jawaharlal Nehru University and has a post-graduate degree from the Department of War Studies, King's College, London.