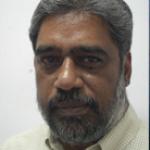 In two remarkable recent speeches in New Delhi, India's Foreign Secretary Shivshankar Menon underlined a significant shift in India's official discourse on its neighbors, especially toward Pakistan.

In a speech titled "The Challenges Ahead for India's Foreign Policy" and another which analyzed the enduring conflict with Pakistan, titled "India-Pakistan: Understanding the Conflict Dynamics," Menon identified the construction of a "peaceful and prosperous periphery" as a major national objective.

India's realization of a peaceful periphery necessarily involves a normalization of relations with Pakistan, which in turn depends on progress in resolving the dispute over Jammu and Kashmir.

The profound conservatism of India's diplomatic establishment rules out the casual introduction of new ideas. Nor are they presented, as in the United States, as a break from the past in the form of a new doctrine. Menon's speeches, rather, give us insight into what could be a consequential evolution in India's strategy of foreign policy.

At the end of 2002, Foreign Secretary Kanwal Sibal summarized India's concerns regarding its neighborhood in one sentence. He asserted, "virtually all our neighbors, by choice or default, by acts of commission or omission, compulsions of geography and the terrain, have been or are involved in receiving, sheltering, overlooking or tolerating terrorist activities from their soil directed against India."

Sibal's prickliness reflected the long-accumulated frustration in New Delhi over relations with difficult neighbors. That Sibal had little to offer in terms of an Indian strategy to end the structural crisis in regional relationships hardly surprised those familiar with India's barren South Asian policy.

After a little more than two years, Foreign Secretary Shyam Saran, equally severe in his assessment of the threats posed by neighbors, was ready to recognize India's responsibility in changing the appalling nature of the subcontinent's international relations.

"The challenge for our diplomacy lies in convincing our neighbors that India is an opportunity not a threat, that far from being besieged by India, they have a vast, productive hinterland that would give their economies far greater opportunities for growth than if they were to rely on their domestic markets alone," Saran said. "For our own sustained economic development and the welfare of our people we need a peaceful and tranquil periphery," he added.

Menon further developed this new Indian realism by arguing for the creation of "vested interests in each other's stability and prosperity in the subcontinent." He argued, "as our engagement with each of the neighbors increases, the value of our bilateral linkages will outweigh the attractions of sterile confrontation."

Menon also signaled a departure from India's past attitude toward its neighbors that was rigidly focused on strict reciprocity. In building a peaceful periphery, Menon said, "we are ready to provide benefits to our neighbors without necessarily insisting on reciprocity." To illustrate his point, Menon highlighted Prime Minister Manmohan Singh's announcement at the 14th Summit of the South Asian Association of Regional Cooperation in New Delhi earlier this month of the decision to unilaterally open the Indian market to the least developed countries in the region.

A number of factors are at work in India's changing policy toward its neighbors. Although India has always claimed primacy in the region, economic integration of the subcontinent has not been a national priority due to inward economic orientation. As South Asia responds to globalization, regionalism has naturally emerged. India's recent sustained high annual economic growth rates have also given New Delhi new options to leverage its own market for diplomatic gains on the regional front.

As experienced China hands, Saran and Menon understand Beijing's huge success in integrating its economy with those of its neighbors and raising its political influence in East and South East Asia. They are also aware that failure to re-integrate the subcontinent around India would only cede India's natural hinterland to a rising China.

India's foreign policy establishment has been fortunate to have a series of prime ministers-Inder Kumar Gujral, Atal Bihari Vajpayee and Manmohan Singh-who have had the political instinct to recognize that without a pacification of India's neighborhood, New Delhi will not be able to realize its global aspirations.

India's new regionalism is focused on self-interest, rather than mere sentimentalism that favors good neighborly relations, and therefore is likely to be more effective. It breaks away from three established trends in India's debate on the neighborhood-the left liberal peace activists who cannot conceive of the link between globalization and regional peace and prosperity, the hawks on the right who are deeply animated by communalism and ultra-nationalism, and the conservatives in the security establishment who are incapable of imagining a change in favor of India.

Menon's departure is even more striking with regards to the new perspective he offers on Pakistan. At the Jamia Millia University, Menon challenged three entrenched Indian myths about Pakistan: that Pakistan has an "identity problem" and "can only define herself in anti-Indian terms"; that it is impossible to negotiate with the Pakistan Army because it "needs hostility towards India" to stay in power; and that the Indo-Pak rivalry is a reflection of the Hindu-Muslim divide in the subcontinent.

Rejecting these three propositions, Menon highlights different potential futures for the bilateral relationship, "ranging from a cold peace to active cooperation to regional economic integration."

Menon, who served in Pakistan during 2003-06 and participated in the construction of the present peace process, asserts that India can choose the outcomes it wants in its relationship with Pakistan. This argument flies in the face of India's Pakistan policy that has vacillated over the decades between resignation and romanticism.

Regretting the "vision deficit" in the relationship, Menon lays out a political truth that few in New Delhi have been willing to confront: "for too long a limited military strategist's view of the relationship has prevailed," reducing the Indo-Pak relationship into a "zero-sum game."

Menon's challenge to India's received wisdom on Pakistan appears to be part of an effort to mobilize public support as New Delhi conducts a rare and purposeful negotiation with Islamabad on the Jammu and Kashmir dispute. The current substantive talks on the Kashmir question are the first since the early 1960s and have made considerable progress.

"If we redefine our own security in the broader terms people's welfare rather than the hard power of the state, many of the issues [read Kashmir] would be much easier to resolve," hopes Menon.

That prospect, however, rests on the ability of the new foreign policy realists to prevail over the conservative inertia in New Delhi, on issues ranging from the promotion of regional integration to the establishment of an historic reconciliation with Pakistan. But the battle has truly begun.

C. Raja Mohan is currently at the S. Rajaratnam School of International Studies, Nanyang Technological University, Singapore. He served on India's National Security Advisory Board (1998-2000) and was the Strategic Affairs Editor of the national daily The Hindu.


---
India in Transition (IiT) is published by the Center for the Advanced Study of India (CASI) of the University of Pennsylvania. All viewpoints, positions, and conclusions expressed in IiT are solely those of the author(s) and not specifically those of CASI.

© 2007 Center for the Advanced Study of India and the Trustees of the University of Pennsylvania. All rights reserved.