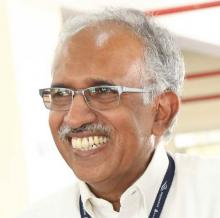 Executive Director, LAICO, Aravind Eye Care System
Monday, April 29, 2019 - 12:00
Center for the Advanced Study of India Ronald O. Perelman Center for Political Science & Economics 133 South 36th Street, Suite 230 Philadelphia PA 19104-6215
About the Speaker:
Thulasiraj Ravilla is the Executive Director at Aravind Eye Care System (Tamil Nadu), where he has been an active member of the leadership team since 1981. In 1992, he shifted his focus to capacity building and management training by setting up the Lions Aravind Institute of Community Ophthalmology (LAICO) which, by 2018, had shared best practices with about 350 hospitals in India and 28 other countries.
With his expertise in setting up culturally relevant solutions in eye care, Mr. Thulasiraj has served as an advisor on several national and international bodies including the South East Asia's Regional Chair for the International Agency for the Prevention of Blindness (2000-05) and was the Founder President of Vision 2020 The Right to Sight: India. He has been a Technical Advisor to India's National Programme for the Control of Blindness and to the World Health Organization.
Mr. Thulasiraj's contribution to the field of eye care, especially its management, has been well recognized. He was named a Social Entrepreneur in May 2005 by the Schwab Foundation and has been invited to attend the World Economic Forum at Davos, Switzerland. In 2008, he was adjudged Administrator of the Year in by Modern Medicare and GE Health. In 2009, the Chinese Ophthalmological Society, in recognition of the support to the prevention of blindness in China, awarded him the International Gold Award. In 2014, The Times of India listed him amongst the "30 most influential people in public health" and recognized him as the "most inspiring healthcare leader of the year." In 2018, he was honored as a distinguished alumni by the Indian institute of Management, Calcutta, where he earned an MBA.
About the Lecture:
As with most public health challenges, success or failure is often not with the efficacy of the clinical solution or intervention. Rather, it is with its execution. Close to 80 percent of blindness is due to cataract or refractive errors. Proven clinical interventions have existed for this for decades, and in many settings the essential resources also exist. Yet, millions of people continue to go blind due to these very causes, which has much to do with how the people leading the intervention on the ground perceive the challenges around access, productivity, and quality. Aravind Eye Care System's perspective to the challenges in intervention has helped in coming up with innovative delivery designs which enables it to handle over 4.3 million outpatient visits and close to half a million surgeries annually—making a significant dent in blindness in its service area of 70+ million.
Co-sponsored with