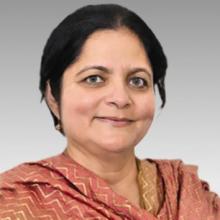 Professor of Sociology, Maryland Population Research Center, University of Maryland
Friday, November 20, 2015 - 12:00
Center for the Advanced Study of India 3600 Market Street, Suite 560 (5th floor) University of Pennsylvania Philadelphia, PA 19104
Sonalde Desai is a Professor of Sociology at the University of Maryland with a joint appointment as a Senior Fellow at the National Council of Applied Economic Research (NCAER), New Delhi. She received her Ph.D. from Stanford University and post-doctoral training at the University of Chicago and The RAND Corporation.
Professor Desai is a demographer whose work deals primarily with human development in developing countries with a particular focus on gender and class inequalities. She studies employment, education, and maternal and child health outcomes by locating them within the policy discourse and political economy of the region. While much of her research focuses on India, she has also undertaken comparative studies across South Asia, Latin America, and Sub Saharan Africa.
Professor Desai has published articles in a wide range of sociological and demographic journals and frequently writes for newspapers. She is currently leading a large nationally representative panel survey, India Human Development Survey, at NCAER.