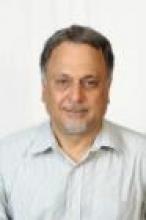 Research Professor in National Security Studies, Centre for Policy Research, New Delhi
Thursday, November 19, 2009 - 12:00
Center for the Advanced Study of India 3600 Market Street, Suite 560 University of Pennsylvania Philadelphia, PA 19104
About the Speaker:
Bharat Karnad is a Research Professor in National Security Studies at the Centre for Policy Research, New Delhi. He is the author of India's Nuclear Policy [Praeger, 2008], Nuclear Weapons and Indian Security: The Realist Foundations of Strategy (now in its second edition) [Macmillan India, 2005, 2002] and author-editor of Future Imperiled: India's Security in the 1990s and Beyond [Viking-Penguin India, 1994]. He was a Member of the National Security Advisory Board, National Security Council, Government of India, and Member of the Nuclear Doctrine Drafting Group, and formerly Advisor, Defense Expenditure to the Finance Commission, India. He is a regular lecturer at the highest military training institutions and forums and conducts an annual Strategic Nuclear Orientation Course for senior armed forces officers for the Integrated Defense Staff, Ministry of Defense.
Mr. Karnad is the Fall 2009 Visiting Scholar at CASI.
About the Lecture:

Mr. Karnad will discuss India's enduring democracy and fast-paced economic growth, which have spurred expectations of India's emerging as a great power. Mr. Karnad will argue however, that without the country obtaining the wherewithal of hard power and clearing certain self-created strategic obstacles, India's rise is questionable.
12 noon to 1:30pm
Please RSVP in advance by November 16:
email: casi@sas.upenn.edu
fax: 215.573.2595
tel: 215.746.3159