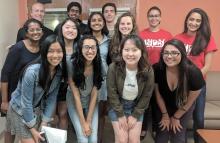 Tuesday, December 11, 2018 - 03:00
Center for the Advanced Study of India Ronald O. Perelman Center for Political Science & Economics 133 South 36th Street, Suite 230 Philadelphia PA 19104
3:00-5:00 p.m.
Join us at CASI's suite to meet Student Programs' alumni and learn more about their experiences in India!
CASI partners with for-profit and non-profit organizations working across India to provide summer internships on a range of development issues including health, rural development, environmental sustainability, education, gender, and social enterprise.
CASI also provides travel funds for Penn students conducting research—up to $3,000 to undergraduate winners and up to $3,500 to graduate student winners to use toward international round trip economy fare and India in-country travel related expenses.
Additionally, CASI offers an annual $12,500 award to one winner of the post-baccalaureate fellowship, the Sobti Family Fellowship Fund, for a nine-month India-based independent research project in connection with the winner's academic and professional interests.
Read more about CASI Student Programs.