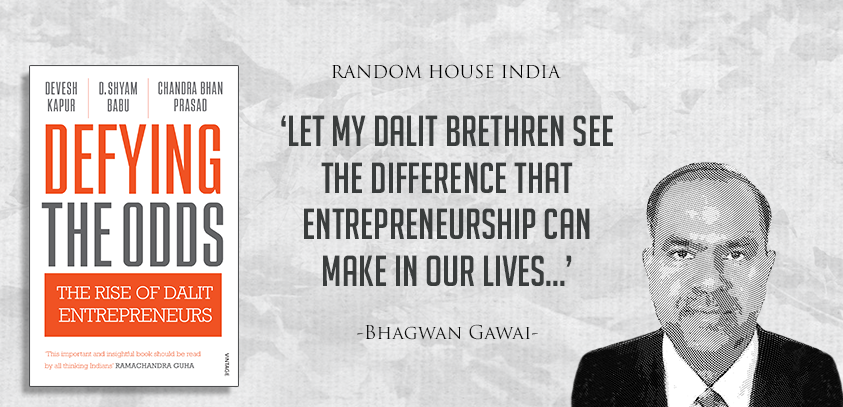 Publication

Devesh Kapur, D. Shyam Babu and Chandra Bhan Prasad
Defying the Odds: The Rise of Dalit Entrepreneurs
New Delhi: Random House India, 2014.
This book project was funded by a multi-year grant awarded to CASI from the John Templeton Foundation.
Defying the Odds is about the new Dalit identity. It pro­files the phenomenal rise of twenty-one Dalit entrepreneurs, the few who through a combination of grit, ambition, drive and hustle—and some luck—have managed to break through social, economic and practical barriers. It illustrates instances where adversity compensated for disadvantage, where working their way up from the bottom instilled in Dalit entrepreneurs a much greater resilience as well as a willingness to seize opportunities in sectors and locations eschewed by more privileged business groups.
Traditional Dalit narratives are marked by struggle for identity, rights, equality and for inclusion. These inspiring stories capture both the diffi­culty of their circumstances as well as their extraordinary steadfastness, while bringing to light the possibilities of entrepreneurship as a tool of social empowerment.
"This important and insightful book should be read by all thinking Indians."
RAMACHANDRA GUHA
"The heartrending stories of success in this book offer new possibilities on how we may eradicate the inequities that exist in our social fabric."
KESHUB MAHINDRA, FORMER CHAIRMAN OF THE MAHINDRA GROUP
"An emotionally powerful book. The authors share inspiring stories of remarkable individuals who overcome adversity to persevere and create a new path of possibility for the Dalit community—and India itself."
CHIP KAYE, WARBURG PINCUS
"A profoundly important account of what the struggle for social and economic mobility means in India."
PRATAP BHANU MEHTA, CENTRE FOR POLICY RESEARCH
As of July 2014, the book is available in India through Flipkart and Amazon. A kindle e-book version is available in the US via Amazon.
Book Project Funding
The John Templeton Foundation
Related Publications
"Capitalism's Assault on the Indian Caste System: How Economic Liberalization Spawned Low-Caste Dalit Millionaires," Swaminathan S. Anklesaria Aiyar. CATO Institute, Policy Analysis, No. 776. July 21, 2015
Media Coverage
Defying the Odds Review, Blake Cole. Penn Arts & Sciences Magazine, Fall/Winter 2014
The Politics of Dalit Venture Funds, Livemint, January 22, 2015
KCR puts Dalit growth on top of his agenda, Mahesh Avadhutha, The Hans India, January 8, 2015
Dalit entrepreneurship, Ferguson and Javkhede, Satyasheel Naland, The Hindu, December 11, 2014
These entrepreneurs are challenging India's cruellest social system—and winning, Defying the Odds excerpt, Quartz India, December 5, 2014
Dalits overcome caste barriers to become self-made entrepreneurs, Greg Johnson, Penn Current, October 16, 2014
Defying the Odds: Invigorating Accounts of Dalit Entrepreneurship, Rishikesha Krishnan, InsideIIM, September 22, 2014
Defying the Odds: Political Science's Devesh Kapur examines Dalit Entrepreneurs, Blake Cole, SAS Frontiers, August 2014
For a new paradigm of social justice, D. Shyam Babu, Chandra Bhan Prasad,Op-Ed, The Hindu, September 1, 2014 - [PDF]
Adam Smith vs Manu: Look who's winning, SA Aiyer, Op-Ed, Times of India Blog, August 24, 2014 - [PDF]
Why Madhusudan Refused to Play it Safe, Defying the Odds excerpt, Yahoo India, August 22, 2014
From village hut to Jubilee Hills, Indulekha Aravind, Business Standard, August 16, 2014 - [PDF]
Review: Defying the Odds, by Devesh Kapur, Review by Amy Kazmin, Financial Times, August 13, 2014
Western anti-capitalists take too much for granted, Op-Ed by Devesh Kapur, Financial Times, July 23, 2014
Video clip from the book launch event in Delhi
Inspirational tales of economic mobility, Book review by Preeti Mehra, The Hindu Business Line, July 27, 2014 - [PDF]
Come il mercato salvò gli intoccabili, Riccardo de Caria, Lo Spiffero, July 25, 2014 - [PDF-Italian]
Dalits who Defied All Odds, Chandra Bhan Prasad, The Pioneer, August 3, 2014 - [PDF]