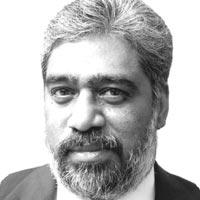 C. Raja Mohan
CASI Spring 2013 Visiting Scholar
Head, Strategic Studies and Distinguished Fellow, Observer Research Foundation, New Delhi
Dr. C. Raja Mohan is at CASI as a Penn Distinguished International Scholar. He is the Head of Strategic Studies and a Distinguished Fellow at Observer Research Foundation, New Delhi. His area of expertise is in India's Foreign and Defence policies, Asian Security, Arms Control & Disarmament, and the Impact of Rising Powers on the Global Order.
Dr. Mohan has a Master's degree in Nuclear Physics and a Ph.D. in International Relations. Before that, he was a Professor of South Asian Studies at the Jawaharlal Nehru University, New Delhi and the Nanyang Technological University, Singapore. He was the Henry Alfred Kissinger Chair in Foreign Policy and International Relations at the Library of Congress, Washington DC from 2009-10. He is currently a member of India's National Security Advisory Board, having served there earlier from 1998-2000 and 2004-06. He is also a Visiting Research Professor at the Institute of South Asian Studies, Singapore, and a Non-Resident Senior Associate at the Carnegie Endowment for International Peace, Washington DC.
Dr. Mohan served as the Diplomatic Editor and the Washington Correspondent ofThe Hindu and the Strategic Affairs Editor of The Indian Express, for whom he is now a foreign affairs columnist. His books include, Crossing the Rubicon: The Shaping of India's New Foreign Policy (2004) and Impossible Allies: Nuclear India, United States and the Global Order (2006). His new book, Samudra Manthan: Sino-Indian Rivalry in the Indo-Pacific was published in 2012.
We are pleased that Dr. Mohan will be in residence at CASI as a Visiting Scholar from April to May 16, 2013. His visit to Penn is made possible through the University of Pennsylvania Office of the Vice Provost for Global Initiatives and its Distinguished International Scholars Program.