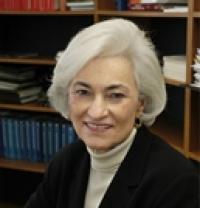 Francine R. Frankel
Founding Director, CASI (1992-2006)
Professor Emerita of Political Science and South Asian Regional Studies
University of Pennsylvania

Francine R. Frankel is the Founding Director of the Center for the Advanced Study of India. She is Professor Emerita of Political Science and South Asian Regional Studies at the University of Pennsylvania.
Professor Frankel has received numerous grants and fellowships. During 2006-2007 she was a resident fellow at the Woodrow Wilson International Center for Scholars in Washington, DC. She has also received fellowships from the American Philosophical Society, The Smithsonian Institution, and the American Institute of Indian Studies. Prof. Frankel was a founding member (1995-2006) of the Governing Council of the University of Pennsylvania Institute for the Advanced Study of India, New Delhi.
Prof. Frankel holds a BA (History) from the City College of New York; an MA (International Relations) from John Hopkins School of Advanced International Studies; and a PhD (Political Science) from the University of Chicago.
Selected Publications
India's Political Economy: The Gradual Revolution (1947 - 2004), Second Edition (Oxford University Press, 2005).
The India-China Relationship: What the United States Need to Know, Co-editor (with Harry Harding) and contributor (Columbia University Press, 2004).
Transforming India, Social and Political Dynamics of Democracy, editor (with Zoya Hasan, Rajeev Bhargava, and Balveer Arora) and contributor (Oxford University Press, 2000).
Dominance and State Power in Modern India, Decline of a Social Order, editor (with M.S.A. Rao) and contributor, 2 vols. (Oxford University Press, 1989 and 1990).
Affiliations & Memberships
Member, Council on Foreign Relations, 1982 - present
Member, Board of Directors, Holdeen India Fund, 1994 - 2001
Founding member, University of Pennsylvania Institute for the Advanced Study of India (UPIASI)
Member, Governing Council, UPIASI, 1995 - present
Member, Asia Society & Council on Foreign Relations Independent Task Force on India & South Asia, 2001 - 2003
Member, Executive Committee, Project on Tracking the Strategic Environment in the Asia-Pacific Region, The National Bureau of Asian Research, Seattle, 2000 - present
Member, Brookings Institution & Council on Foreign Relations Independent Task Force on South Asia, 1999 - 2000