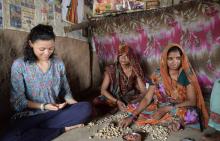 Wednesday, November 14, 2018 - 04:00
Center for the Advanced Study of India Ronald O. Perelman Center for Political Science & Economics 133 South 36th Street, Suite 230 Philadelphia PA 19104
Learn about 2019 CASI Summer Internship Opportunities and hear 2018 Interns present on their summers in India!
CASI partners with for-profit and non-profit organizations working across India on a range of development issues including health, rural development, environmental sustainability, education, gender, and social enterprise. Penn students apply to the CASI Internship Program through an application on the CASI website and are required to submit short essays on their interest in India and the CASI program. The internship scholarship helps offset the cost of round trip travel and in-country living expenses. Each intern is required to spend ten (10) weeks at their host organization during the summer months. Current Penn students enrolled in a degree program that will be continuing their academic studies during the fall of 2019 are eligible to apply. Deadline to apply is January 21, 2019 (11:59 pm).
Light refreshments will be served.