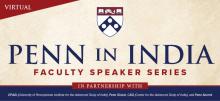 Thursday, July 30, 2020 - 10:00
On July 30, Professor Heather Schofield (Perelman School of Medicine and The Wharton School), who co-founded a lab in Chennai, joined us for a conversation to discuss her work in India, which focuses on questions at the intersection of development, behavioral economics, and health. The discussion was moderated by Professor Harsha Thirumurthy (Perelman School of Medicine).

About the Penn in India Faculty Speaker Series [2]:
The Penn in India: Faculty Speaker Series aims to highlight the wide range of research conducted by Penn faculty in India and engage the Penn community in intimate conversations on a broad range of topics. During each session, Penn faculty engage in a 60-minute virtual, moderated discussion about their work covering a wide range of research interests, from the urban studies and politics, to behavioral economics and health, to online education. The Faculty Speaker Series is sponsored by the University of Pennsylvania Institute for the Advanced Study of India (UPIASI), Penn Global, and Penn Alumni. These events are geared toward the Penn alumni community in India; however, members of the wider Penn and academic communities are always welcome.