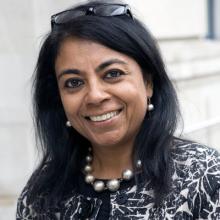 Associate Professor, Department of Anthropology, The London School of Economics and Political Science
Thursday, March 31, 2022 - 12:00
A Virtual CASI Book Talk via Zoom — 12 noon EDT | 9:30 p.m. IST





(English captions & Hindi subtitles available)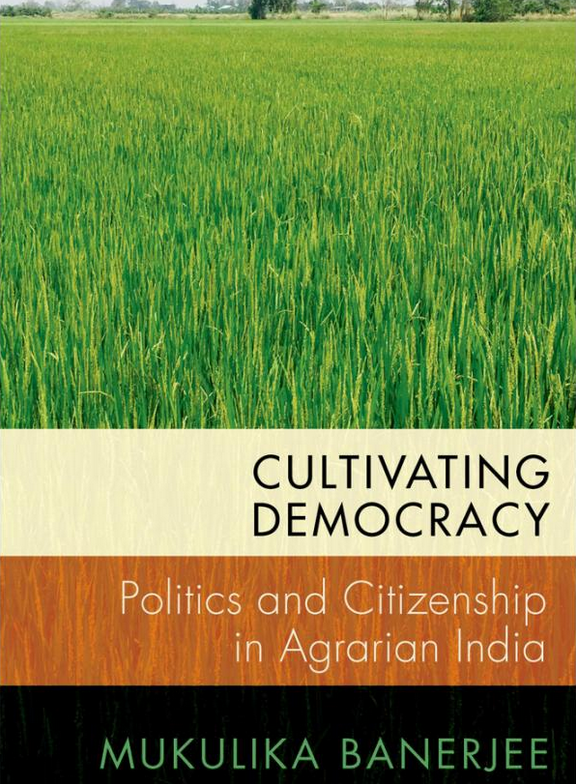 About the Book:
Cultivating Democracy: Politics and Citizenship in Agrarian India (Oxford University Press, 2021) provides a compelling ethnographic analysis of the relationship between formal political institutions and everyday citizenship in rural India. Banerjee draws on deep engagement with the people and social life in two West Bengal villages from 1998-2013, during election campaigns and in the times between, to show how the micro-politics of their day-to-day life builds active engagement with the macro-politics of state and nation. Her sensitive analysis focuses on several "events" in the life of the villages shows how India's agrarian rural society helps create practices and conceptual space for these citizens to be effective participants in India's great democratic exercises. Specifically, she shows how the villagers' creative practices around their kinship, farming and religion, while navigating encounters with local communist cadres, constitute a vital and continuing cultivation of those republican virtues of cooperation, civility, solidarity and vigilance which the visionary Ambedkar considered essential for the success of Indian democracy. At a time when so much of that constitutional vision is under threat, this book provides a crucial scholarly rebuttal to all, on Right or Left, who dismiss rural citizens' political capacities and democratic values. This book will appeal to anyone interested in India's political culture and future, its rural society, or the continuing relevance of political anthropology.
About the Author:
Mukulika Banerjee is an Associate Professor in the Department of Anthropology at The London School of Economics and Political Science.


FULL TRANSCRIPT:
Nafis Hasan:
So, hello and welcome to this event in CASI's spring seminar series. My name is Nafis Hasan and if you've been coming to these events, you know who I am, I'm a postdoc doctor research scholar at CASI, and along with my colleagues moderating this series. So before I introduce today's speaker, just to put in a plug for next Thursday, April 7th, we have a talk by Dr. Kanika Mahajan who's at Ashoka University, and is going to talk to us about gender and jobs in contemporary India. Registration details as always on the CASIs website. So I'm really delighted to welcome Dr. Mukulika Banerjee today. She's an associate professor in the Department of Anthropology at the London School of Economics and Political Science. Her new monograph Cultivating Democracy: Politics and citizenship in agrarian India was published in October 2021 and is the focus of her talk today. This is an anthropological study of the relationship of formal political democracy and the cultivation of active citizenship in one particular rural setting West Bengal studied from 1998 to 2013.
It draws on deep ethnographic engagement with people and social life in two villages, both during elections and in the time in between them, to show how those temporalities are connected. The book is part of a wider interest in the cultural meanings of democracy in South Asia, especially India, and in political anthropology more generally. Her last book Why India Votes?, which I read as part of my graduate training, broke several new grounds, both conceptually and methodologically, to explain the reasons why despite varying odds, India's voter graph continues to rise, making India the largest electoral democracy in the world. So as part of this interest, Dr. Banerjee has also prepared a BBC Radio 4 documentary on 'Sacred Elections' for the Indian national elections in 2009, and a current grant from the Indo-European Networking Program in the Social Sciences has allowed her to expand this analysis to cover state and Panchayat elections.
Her applied knowledge of anthropological methods to political behavior led her to the founding series editor of the hugely successful 'Exploring the Political in South Asia', which is a platform for scholars to publish political-ethnographic studies on India from Routledge. Now, Dr. Banerjee's interest in the social aspect of the modern, engaging and negotiating with identity and its constructions while overcoming the discomfort that traditional anthropologists encounter once they leave their canonical hinterlands are also reflected into other publications. Drawing on a grant from the British Academy, her collaborative work with the professor Daniel Miller on that quintessential South Asian women's clothing, The Sari, published in 2003, explores a simple piece of wraparound cloth has survived the challenges of dramatic social change and the vicissitudes of more practical options to emerge as the most wanted sartorial choice of millions of women across the region, especially in India. The other is Muslim Portraits: Everyday Lives in India (Indiana University Press, 2008), which is an edited volume of essays by renowned scholars presenting 12 portraits of Muslims in contemporary India marked by an intimacy that relies on a singular methodological attribute, which is the absence of jargon.
So together, Dr. Banerjee's engagement with anthropology combines the social and the political and varied research in publications testified to the advantages of perforating stereotypical categories for a more textured engagement with anthropology. We are especially delighted today to host her at CASI given her long and deep involvement at our center. She has served as a member of CASIs International Advisory Board since 2014 and generously given her time to help enrich our center's activities in numerous ways. Today's talk is in partnership with Penn's Department of Anthropology and the South Asia Center. So before I turn it to our speaker, just to let you know, if you have any questions at the end, please use the chat box to send them directly to me, Nafis Hasan, and I call on you to pose your questions to our presenter. Please keep your questions brief and to the point so we can get to as many and I apologize in advance if I can't get to everyone. And please use the chat box only for questions. Finally, please remember that you cannot record this presentation without prior permission from the presenter. So once again, thank you so much for your interest and for being here today, and with that, I'm going to turn it to Dr. Banerjee.
Mukulika Banerjee:
Thank you, Nafis. What a lovely introduction and thank you for your engagement with my work. I'm glad it's been off use in your graduate training. And thank you to CASI, really, and you and Tariq and others who've made this event possible. Obviously, it's always good to share one's research with as many colleagues as possible, but CASI is absolutely in a standout different category of a very special research center. As you heard, I've been associated with the center. It's delightful to see some board members on this call, and I shall do my best and muster all my communication skills to speak to as wide an audience as possible and not make it sort of academic in the bad sense of the word, but in the good sense of the word. It's also very nice to see several names, if not faces yet, on the screen of people whose work I have read and known, but not met in-person. So I look forward to your questions and your engagement. Okay. So I'm going to just talk through a series of slides. It's 5:10 in the evening here. I'm going to try and wrap up by 5:30, 5:35, and give you plenty of time to ask your questions, but I'm going to talk through a set of slides to do this, just to help visualize what I'm talking about. So here it goes.
Okay. So this is the book, it's called Cultivating Democracy: Politics and citizenship in agrarian India. And in the next half an hour, I'm going to try and unpack each of those terms that you see on the screen. The first thing to say is it is a book about democracy written by an anthropologist, and when political anthropologists write about democracy, my understanding of democracy is always in these two registers. I'm interested it in institutions of democracy, and I'm equally interested in democratic cultures. So the culture that these institutions of democracy produce is as much and as significant to the story of democracy, in my analysis, as the institutions of democracy. And of course, I'm making this distinction because the writing about democracy is usually the preserve of political scientists whose accounts with honorable exceptions tends to focus on the institutional story. And so the institutional stories, of course, parliament, elections, the rule of law, the separation of powers, the principles of institutions, frameworks of democracy, which is important.
It's absolutely not to be ignored and indeed anthropologists usually leave that discussion of institutional frameworks of democracy to political scientists. I tend to engage with those as much as I do with what happens in the production of a certain kind of democratic culture. And I'll explain more in a minute. The second thing to say about this book is that it covers a 15 year period in which I went back to the village regularly. Certainly every year and sometimes more than once a year, I continued to visit these villages. They're my research home. This is where, when I think of any new research idea, that's usually where I start. But this book covers this 15 year period because it's got these three important big arcs of change which I'm able to capture, because of this long term engagement. There's the electoral story in 1998, the Left Front government led by the CPM, a coalition.
The Left Front was a coalition of left communist parties dominated by the CPM and they had been in power since 1977. So by the time I got there in '98, the Left Front was an invincible political force. Now working in West Bengal in those days, felt like what sometimes India feels like at the national level now, where you feel nobody's going to be able to defeat the BJP ever. And that's exactly how it used to feel with the Left Front. But change did come, and it came from this insurgent [inaudible 00:09:29] Congress itself. A big breakaway from the Congress led by Buddhadev Bhattacharya who won the 2011 [inaudible 00:09:37] elections. And then in 2013, if you're a politician, the real power is consolidated when you win the Punjab elections. So in 2013, they won Punjab as well, and that consolidated that power. So that's why this 15 year period.
In this 15 year period, the story of paddy changes quite a bit. The green revolution turns brown in many places, and I can explain if you want. And Islam itself, the practice of Islam, which has always been something that is elastic and open to interpretation, especially in very particular ways in south Asian settings, I have always worked in Islamic settings in various parts of south Asia, including Pakistan, here in Bengal the story of Islam changed in as much as from that very elastic, but devout practice of Islam at the turn of the century, we slowly saw a more hardening of practices and ideas of practices brought back by young men who'd been sent off to the [inaudible 00:10:55]. So we saw this hardening of reform as Islam, which we see elsewhere in the world as well and the book is able to capture that story.
So even though I have this sort of 15 year period of material and data and field work to draw from, I've chosen to present it in what I hope is a reader friendly way by looking at these four key events, drawn from the four classic subdivisions of social life as anthropologists see them, kinship, religion, economy, and politics. From kinship, I draw a sexual scandal that happened between these two young people. The scandal was not the fact that they had an affair and the girl got pregnant. The scandal was caused because a very sacred kinship rule that you're not to marry across generations on your mother's side was floated, because of the interference of this very powerful communist comrade at the local level, who controlled all life, and in that very party's society where he controlled this too, causing this huge scandal. The event from religion, I present Qurbani [inaudible 00:12:17] when cattle is sacrificed, and I look at what work that does in village life. From the economy, I talk about a paddy harvest. From politics, I talk about an election.
So what I'm trying to do here therefore, is to look at these four events to explore both democratic institutions, say in something like the election, but also democratic culture. And I'll come back, in fact, let me... This is... Okay. Now, let's just park that idea for a minute and go back to that idea. I started with democratic institutions and democratic culture. In institutional framework of democracy, we have these ideas of elections of formal citizenship, government, and rights. When we are talking about democratic culture, as I have said through my examples of kinship, religion, and the economy, in social life these are non-political institutions. But my argument is that these non-political institutions of society have the capacity to create the values that are required for good democratic culture. So the values that we need for democratic culture don't only come out of democratic institutions, they come out of non-political institutions in life as well.
In this aspect, how does one study democratic culture as opposed to the study of culture in the way that cultural anthropology does? For assessing the levels of democratic culture, the study of levels of civility, the levels of fraternity, which is of course a word that we use to describe the Indian Republic, we think about what these actually mean and how successfully any society is able to create them as a result of being in a democracy. Or indeed not because of the institutions of democracy, but because of the institutions of society itself, in which there are moments in which a community needs to behave with civility, needs to create fraternity and solidarity, if you want. I use those words fairly interchangeably. So it is important therefore to look, if you're going to take democratic culture seriously, it's important to study democracy in those inter electoral temporalities. You can't find it only at elections. You've got to look at what's happening in society in between elections, but also what is a relationship between the temporality of an election and what has happened before and after it.
So I'm always astonished that when social scientists try and understand democracy just by studying elections, not realize what's happening afterwards. But again, this is something we can talk about. Now, when I talk about political values being created in these non-political institutions, I think I use the term social imaginary's because I find it very useful, it's a Charles Taylor term, the philosopher, because I think these are values that are socially grounded, but are also about imagination. They're about being able to imagine the kind of society that one is trying to produce. Now, the other thing that the book does, I think, perhaps in a way that is more significant than a lot of other writings on India, is I take India's credentials as a democracy and a Republic very seriously. India is a Sovereign Democratic Republic, and we write endlessly about Indian democracy, but we don't really write endlessly about the Indian Republic, but I think this institutional framework versus this cultural framework of talking about democracy captures this dichotomy very well.
So the word democracy does the work of that institutional framework, what Ambedkar called political democracy, and the word Republic captures what we would call democratic culture or what Ambedkar calls economic and social democracy. And it is these two things together that make up India and that's why it is important. And this was quite a debate when these words were being adopted by the constitution makers. So the word democracy, what does it do? It captures the vertical relationship between citizen and state. So it is about institutions, it's about legality, it is about competition. Elections are ultimately a competitive exercise. It is about who wins and who is vanquished in the process, peacefully, but nevertheless, it is about competition. So it's about politics as competition and therefore there is agonism in it. As [inaudible 00:17:55] says, that is the core of democracy. But the word Republic, which sits alongside democracy to capture that economic and social democracy of capturing democratic cultures, is really a word that captures the horizontal relationship between people, between citizens.
That's why it's important to pay attention to also the non-political institutions, to substantive citizenship as us scholars call it, to fraternity and solidarity. And therefore, in contrast to the competition and the agonism of competitive political democracy, the realm of democratic culture or the Republic is really as much about the repetitive mode of politics of how you create accommodation and corporation. What Jonathan Spencer calls the counter political. Because our understanding of politics itself has to be expansive enough to capture these two strains within our notion of politics itself, that politics is not just about competition and power and division, but it is also our capacity to create solidarity's and come together to act in concert in that very [inaudible 00:19:19] sense of political action. So just to recap quickly what I've said is we try and study elections, but also the period in between them, because it affects democratic politics.
And that village life, which I study, contains these institutions as elections, but they also contain these other events that create democratic values and I present four of them, making the argument therefore that these democratic values are created as much in non-political moments as in political ones. And the ethnographic method for a political anthropologist is very important because we are able to capture, by our long term immersion, all of these different kinds of events when seemingly nothing is happening, what you learn about a community. And secondly, you are able to observe. So the difference between an anthropologist doing field work and many others doing field work is that an anthropological field work is not just about asking in questions, it's not just about going with the clipboard and asking people various things, which is great. You get out of your offices, you go to the field, you work there, you ask people questions. But for an anthropologist, uniquely, a lot of field work is just about staying silent and observing, about having had conversations but then seeing what people actually do as opposed to what they see.
So the word cultivation in my book is used in two different registers, as you probably beginning to guess by now, it is an agrarian setting. I said, it's politics and citizenship in agrarian India. This is two paddy crops are grown, a wheat crop in the middle used to be grown. This is changing. It depends on the price of diesel, it depends on the water table, it depends on a lot of things. It depends the monsoon, of course, for the second paddy harvest. So it is agrarian, but I use it as a metaphor also because cultivation as an activity also generates certain values in anyone who cultivates. And if one had to quick me summarize what these values are, I would say that cultivation captures the tension of growing something, the patience with which you have to wait for it to come to fruition, the vigilance required to protect it, protect what you're trying to grow, ward of pests, make sure it is watered and nourished. It is exhausting work. You have to care, you can't just extract. You have to look after it.
And ultimately it is about imagination and hope because you do all of these things, visualizing, imagining what the bounty of the harvest is going to be like. And to put it very bitterly, I think that is what democracy and living in a democracy is about, because democracy is one of those things that you can't just import through a set of institutions and expected to flourish. That's just like planting the seed. But once you've planted the seed, a lot of other work, constant activity needs to go on to make sure that seed flowers, comes to fruition. But even when it is growing and flourishing, there is work to be done. There is no room for complacency. And part of what is happening in the world today with the degenerations of democracy that we see in so many different political contexts. In the country I'm sitting, in the country many of you are sitting in, this is a story that is familiar. And partly it is because our idea of citizenship has lost that Republican idea of citizenship, which is about active citizenship. It is about not just turning up in elections and voting, but also keeping tabs on the government in between elections.
What is happening in the US at the moment with Gerrymandering, with the appointment of polling officers, with what is happening in voting rights. All the work that the parties do in between elections, which come to fruit next time there is an election, unless you are paying attention, you're caught out when the election comes. So that idea of active citizenship, which is a very Roman idea of virtue, of being a good citizenship, of holding your elected representatives to account, is one that we need to recover. And being an active citizen is really like being a cultivator. That's the work that the word cultivation is doing in my title, in the title of my book. So finally, in the last few minutes, what I'm going to do is show you a set of images of my village, which don't feature in the book, because there are no color images in my book. So at least this way, you get a bonus for having come to a book talk and get what you wouldn't get even if you have or will buy the book.
So this is the village and it's on... This is not the village. This is the big road that runs between the two of villages. It was two for the price of one really. I chose these villages, having been to various parts of West Bengal, I'll tell you why, if you want to know. Ask me. But I chose these because they were these two villages. I got off the bus. The bus stop is just behind where the truck is and there's one village on one side and the other village on the other side. And they were right there. You didn't have to go walk a long way like you have to do in a number of villages in Bengal at least. I've called them Madanpur and Chishti to reflect their original names. And this is what they look like. Mud and patch, but also pucca houses, some two-storied houses. Women wear saris. High levels of adult illiteracy. Really quite poor villages. I realize now, having seen photographs of other villages and having traveled to other parts of rural India, that these were really quite modest villages.
This is Chishti. The other village on the other side of the road, which I want to draw two things attentions to, two very important features of the village landscape. One is the pokhar, the tank of water that you can see between the trees. And there are many dozens of such pokhars. There are rain fed, and they are where people use for their water. They wash their utensils, they wash their clothes, they bath. This is the main source of water for them. There is no piped water in these villages. There certainly wasn't when I was doing field work. And there's the bamboo. You see the extent of the bamboo groves, which are also, like pokhars, the village commons. So everybody has a completely different relationship to the water and the pokhar and the bamboo in the bamboo groves than they say, have to their fields, because these are commons properties that everybody uses together in corporation with everybody else.
This is how paddy is cultivated. The material culture of agriculture. I saw, like I said, swarna paddy and high yielding varieties of paddy being grown too, sometimes no paddy being grown if the rains were bad. This is the Imambara of one of the villages. This is in Madunpur. And where that space, where at the moment a harvest, you can see the grain is being stored, that is usually where Muharram festival are held, or not festivities, Muharram, yes, the end of Muharram is marked in that space. Where I'm standing, where the camera is, is the space where qurbani was conducted the year I was there and I write about. I won't play this by now, but I can come back to it. Anyone who wants to talk about. This is Muharram the year that... Actually, this is 2019. This is my last visit to the field. I haven't been able to go back since then, but it was... Actually, I will play it for you, if I can.
This is an institution called [inaudible 00:28:24], which is the last day of Muharram. So I just found this incredibly poignant because this was in September 2019. I had been there during the election campaign in 2019 and I can talk about West Bengal politics and what was happening during that time. But these are all Muslim men in Indian cricket strips. There were teams of young men who come and show off their stick fighting skills and then they have this finale at the end of each performance. And in this case, these guys had this Indian flag, they were chanting [inaudible 00:29:15]. They sang [inaudible 00:29:18]. The lives of these young men have become more precarious and fragile in contemporary India than they ever have been, and so it was important to just mark this moment and think about what is happening in Bengal, but we can come back to this. So this is what [inaudible 00:29:40] looks like.
Okay. Communist party offices used to be everywhere on the West Bengal landscape. This is what they looked like from the outside. You could not move in Bengal but to come across one of these. And inside, this was the Pantheon of communist leaders, which again is interesting in itself. I show this to anthropologists from other parts of the world and they never cease to be surprised. Maybe Indiannists here will have seen this elsewhere, but tell me. The murals and the art produced by elections and the combination of communism and elections produced a lot of things, but it also produced terrific art like this all over. And then these were the sort of main political parties. This was a very old holding, and it is quite telling that the story of the Congress hasn't changed very much since then. Mamata Banerjee, who started in 1998 and whom I shadowed for a month in 1999 after she had one eight lots of her seats immediately after setting up her election, is a story that is absolutely germane to this account.
And again, tussle between Mamata and the Left Front produced hilarious, not quite memes, but cartoons, satire that continued for many years. The election commission of India has always been really important in the story of elections, especially since I have studied them post session. And this urging of people to go and vote is something that they've always done. This particular poster says, [foreign language 00:31:38], it's your right and your strength, so go early and cast your vote. When Trinamool challenged the Left Front, they had this poster, which amongst many others, it says [foreign language 00:31:54], in Hindi you would say, [foreign language 00:31:57], that's the kind of play, which you can't translate into English, but what it means is we don't want revenge, we want change. And that's again a story that continues right up until today, which the stories of [inaudible 00:32:14] violence and the legacy of the importance of violence and politics continues. Elections bring voters out and when the election is announced, this is what you see in my villages. In Madanpur and Chishti, people checking to make sure their name is on the voter list. And then they turn up and vote in their best saris, which led to me formulating my thesis of elections being sacrosanct in Indian social life.
So finally, to sum up an ordinary village like Madanpur and Chishti, has the capacity to create the social imaginary's for democracy. I won't talk about this. I was going to give you an example of the harvest to show you how I argue that each event has its own dynamics and you've got to understand those dynamics first to see what is going on in that event. But at the end of the day, just briefly, to say that there is so much caste and class division, as you can imagine in a village as anywhere in India, but what you get out of this is a very fleeting momentary cooperation that the harvest brings, while also producing the idea of what a common good looks like. And I think both these ideas of cooperation and a common good are absolutely essential to creating democratic culture.
In the same, I said that about the harvest, the scandal showed us how you can have extreme competition and antagonisms, but it showed people how in order to challenge the comrade who looked invincible, they had to form alliances with people they did not agree with or did not like, they had to learn to compromise, they have to learn to deal with agonism and create that solidarity, that kind of reparative politics that I talked about a little while ago. From qurbani, I think the values that come out are, we qurbani is about a consumption of meat, but actually qurbani is about self denial first in offering your most loved animal for qurbani, for sacrifice. But also, the village is vegetarian because nobody can afford meat. So even though these are Bengali and they're Bengali Muslims, but there is also Hindu communities among these [inaudible 00:35:04], but everybody's vegetarian because nobody can afford to eat fish or meat.
But on the day of qurbani 11 families were wealthy enough to offer sacrifice of cattle and everyone got to eat meat. It's the only day when there is meat. So it's a little bit like taxation, I would say. Elections, that idea from cultivation, when you grow something, you develop this idea of an invalid commitment to doing something. If you're a farmer, you don't say, oh, I know that I should be checking on what happened with last night's rain in the field, but I don't feel like going. You just can't do that. You have to go, you have to check it out, otherwise there's disaster. And that idea of invalid commitment, people bring to the act of voting. And again, all of these things, I can elaborate on them. I want to stop to allow time for questions. So these are just some very brief conclusions. Institutions and culture, non-political settings are important, and that the social drama of these events is very important in producing the values of both that event for that event, but also values that are very productive in thinking about creating democratic culture. And these values are produced, but they need constant vigilance, nurture, and hope. Thank you.
Nafis Hasan:
Thank you so much, Dr. Banerjee. Such a really wonderful talk and a really deep description of the analytical, I think, that really defines your work. And so much of it was reminding me of other work in anthropology, [inaudible 00:36:59], towards the end with the social drama idea. So it's really fascinating. And I'm sure there are a couple of people who would like to ask you questions, but I'll just take this moment to say a little bit about what I was thinking about when in your initial part, where you made the distinction between political and the non-political, the democratic institutions and those of culture. So I was thinking given what's happening in the last 10 years with the government at the center, do you feel there's more rampant politicization of what may have been formally the non-political?
In other words, for instance, the clip that you showed us of the Muharram celebrations, it seems like that singing patriotic songs may not have been part of that event in the past, but now it's becoming more and more part of it. So what are your thoughts on that? And whether the argument then that you're making is in some ways an argument for recovery, a recovery of the non-political, a recovery of elements within the cultural landscape that could then both become pedagogical and instructive in how one participates in democratic life, but also a sort of challenge to this imposition of the political?
Mukulika Banerjee:
What a lovely question, Nafis. You're absolutely right. I've been thinking about it in different ways, but you've put it so well, because that is of course exactly what is happening. The non-political areas are being politicized. When I was there for that Muharram I kept asking them that Muharram is often at the start of the academic year, so I kept missing going there. So I hadn't been there before, and I said, what is it like? Did you used to sing these songs? They say, yeah, these are very old songs, we've always sung them. And this is where you know that people say something, but do something else. So there's no way of knowing what songs they were singing 10 years ago. Were they singing Muharram with the same? And maybe not, maybe young Muslim men feel the need to prove their religions, as we know from elsewhere in India, a lot more now. But the broader point that the non-political has been politicized is indeed true, which is kind of why it is so important to pay attention to it. Not simply because it has been politicized, but because it has the capacity to produce the political in itself and then can be appropriated by a political ideology or an agenda.
In this, I think a distinction that I'm thinking with and want to write something about is, as you heard, I was talking about active citizenship and the need for vigilance of protecting the democratic values and how that is a constant activity. The opposite of that is vigilantism, which is what we have a lot of. So we have an opposition of vigilantism against vigilance. And vigilantism is precisely about politicizing the religious, as we saw with who can say [inaudible 00:40:44], who can eat what, what women can wear to school. I mean, all of these things are not political issues, which have been politicized by people taking the law into their hands. And you need that kind of organic ground level politicization, which I think Hindutva has been so successful in doing through the RSS and through providing a narrative that large number of Hindus clearly find very attractive.
Nafis Hasan:
Thank you. Thanks so much. [inaudible 00:41:35] had a question. [inaudible 00:41:35] , would you like to? Sorry, you're mute I think [inaudible 00:41:35].
Mukulika Banerjee:
You're not mute, [inaudible 00:41:41], but we can't hear you.
Nafis Hasan:
Yeah.
Speaker 3:
How about now, is this good?
Nafis Hasan:
Yeah.
Speaker 3:
Is this good?
Nafis Hasan:
Yeah.
Speaker 3:
Okay. Sorry. Thanks. I'm really looking forward to the book, reading the book. And I wanted to hear, to think a little bit more about that work of cultivation, which I'm sure you've worked out in the book in relationship to the related projects of cultivation, not just about agriculture as moral improvement of making virtue, but also I'm thinking [inaudible 00:42:20], but also the technological and agrarian technology through which material development is achieved through agriculture. But I was really interested in what you mentioned at the beginning, there was a hint of cultivation as an undoing of worlds, this is around the browning of green revolution agriculture. So could you say a little bit more about that, about how cultivation might also be a lens to notice the undoing of not just material world, but also social cultural ones as well, political ones as well?
Mukulika Banerjee:
Oh, that's lovely. Okay. Yes. Cultivation as undoing is great. I always, I'm very partial to thinking about obviously cultivation as a generative activity. But cultivation done through artificial and mindless means as the green revolution did, absolutely, I can totally see why it was done, but the fact that we were not thinking about water tables and not thinking about why shorter stocks on paddy is actually a problem for people who catch their roofs and have cattle to feed, or the fact that using pesticides drives mosquitoes into the village and creates malaria to go up by growing of HYV. This is cultivation gone wrong in some sense. So cultivation in itself is a generative activity, but the political economy of cultivation is not always generative of the value of desirable values. And that's the story, and that's why the harvest that I write, the event that I present in the book, that harvest is of swarna paddy, of the traditional paddy crop.
Because the commitment and the tension of a monsoon fed crop was completely different to a high yielding variety one, and it allowed me to capture the texture of emotions much better in the sense that I wanted to talk about cultivation. But also because it was uncertain outcomes with a monsoon fed crop and people have differing outcomes, in different fields that the output differs, then you can start talking about the need for cooperation or what happens to class competition, what happens to land reform and its implications in society. Because precisely because, I mean, there's a long discussion here behind this, but briefly, your input of labor in cultivation, plus institution reforms of land reform, plus also inputs creates varying outputs and you see that dynamic at play. And so it allows you to think about when does cultivation work as a good activity, as opposed to the undoing of the social, as you say. But that's great. I'm going to add that now in the future when I talk about cultivation. Thank you.
Nafis Hasan:
Thank you. Our next question is by [inaudible 00:46:17]. Would you like to ask a question, Mr. [inaudible 00:46:19]?
Speaker 4:
Thanks. Can you hear me?
Nafis Hasan:
Yeah.
Speaker 4:
Hi, Mukulika. Thank you so much for a great talk. And I'm so glad that you brought in this element of culture, because I think it adds a great depth to our understanding of politics and democracy. So my question relates more to identity. You talked about change over those 15 years, so I was just wondering how the events you mentioned begin to shape changing identities of the villages? For example, the move away from the leftist party to a more, for want of a better word, we might call centrist party, seems to me to reflect trends in other parts of the world, or even in India itself, moving away from Lennon and Stalin and things like that to Mamata Banerjee is quite a leap. And similarly, you talked about the [inaudible 00:47:14] influence of Islam, which again, probably links the Muslims to a wider sense of what's going on in the world. So I'm just wondering if in this village you saw that with the maturing of democracy also comes a changed identity for the villages? In the sense, do they see themselves as part of something much bigger now than simply the village that they were in for many years? I'm interested in your views on that and how that might shape democracy or politics in the future as well?
Mukulika Banerjee:
Thank you. I mean, it does shape them, but I think my account would be slightly, my reading is slightly different to the way you present it. I think people were very democratic even when there was the Left Front government in power for 34 years. And that is one of the astonishing things about Indian democracy is that you can have the longest electorally elected communist government from '77 to 2011. Anywhere in the world you get this. But throughout the time, by the way, that the Left Front was winning election after election, after election, 40% of the vote share of the people actually voting for the opposition for the Congress continued. So 40% of the people were continuing to vote for the Congress and they did this because they did not want to vote for the Left Front, number one.
They also felt that you don't give to the hegemony of a dominant party, if you and want to support them. That is precisely what the secret ballot is about. You should be able to vote for who the hell you want. Thirdly, you must vote for other parties to keep multiparty politics alive, because that is a keystone of democratic culture, is to have multiparty competition. It keeps hegemonic make parties in check because they know they don't get 100% of the vote. So these are the ideas of how democratic politics is meant to be that are created even when there is a hegemonic dominance of one political party. So when Mamata Banerjee comes up, people say, okay, there is an option now, so it's not the Congress anymore, we can shift our allegiance, let's give it a try. So that's one set of observations.
The second thing to say about voting, the legacy of the communist in Bengal, the negative, I think political violence and the way violence is so salient in the politics as we saw this week in West Bengal, the horrendous scenes of violence is one, but also a less told story, but I think an absolutely central one is the communist elevation of the issues of manual labor and dignity. Whatever else one faults them for, and I fault them for a lot of things in my book, but simply raising the daily wage, by raising the issue of people who work with their hands being people deserving of respect, overturned centuries of inequalities between groups, social groups, between castes. This is, you can't turn that clock back and that is an important legacy too. So I think these ideas of dignity, these ideas of commitment to democratic politics, of multiparty, these, I think, shape identities more than almost anything else.
Speaker 4:
And what is remarkable it seems is that they can live with multiple identities. You can be part of a caste, you can be part of a religion, you can be part of Bengal and you can also be part of India. So you're living in different worlds almost.
Mukulika Banerjee:
Yes. And those different identities are important depending on the context. And even those ideas, I mean, I say this personally, having done field work in Muslim settings, like I was saying, and self-identifying as a Hindu, which way I know is not usual in academia, even once bizarrely one's religious identity or commitment or belief can also be fluid. And I think that is an idea that we are losing, that we are being told to lose in India. But that my Brahman grandmother would every Thursday put [inaudible 00:52:07] on the [inaudible 00:52:08] shrine in front of our house is something that is very usual. And it is the hardening of those identities that is ongoing at the moment and that is what the worry is in so many ways.
Speaker 4:
Yeah. But maybe the villages are our redemption?
Mukulika Banerjee:
Yes, I think so. But that's another story.
Speaker 4:
Thank you.
Nafis Hasan:
Thank you. Another question from Hira Sing. Would you like to ask her? Hi, Hira, are you there?
Speaker 5:
Hira, if you're there, you have to unmute yourself.
Nafis Hasan:
Yeah. Okay. Let's come back to them. So a next question from [inaudible 00:53:01]. [inaudible 00:53:01], would you like to unmute yourself and ask?
Speaker 6:
Thanks so much, Nafis. Thank you so much for the wonderful lecture. And like [inaudible 00:53:09], I was also struck by your use of cultivation and found it really helpful to think about democracy, especially in agrarian India. So my question is twofold. I was wondering if democracy or democratic culture is being cultivated through these practices, what are some other things that are being generated in the mix? So the democratic culture that you show doesn't fit into the model of a liberal democracy or even the social democracies, so how would you maybe qualify this democratic culture? What are some of the values? I mean, you have said it in so many ways, but if you had to kind of like encapsulate it in some kind of term? And then the second is, I would love for you to unpack a little more the Muharram video with the [inaudible 00:54:07] chants. And I was just really struck by that. My work is in [inaudible 00:54:13] and I can't imagine seeing something like that in a space like [inaudible 00:54:17]. So what's happening there? What is the role of nationalism in this democratic culture and is what you showed seen by people as a compromise or does it seem... I would love for you to unpack it a little more. Thank you.
Mukulika Banerjee:
Thank you. I should have written down the first question. Let me start with Muharram and then you can... Just remind me again, your first, just tell me one.
Speaker 6:
Just, I was asking, what are some of the byproducts of cultivating democratic culture and how would you qualify?
Mukulika Banerjee:
Yeah. Sorry. Okay. So let's start with that. You said, it doesn't conform to liberal democracy or others. Now that's not entirely true, but it's true that it is democratic in recognizable ways. So it is say people's commitment to voting and multi-party politics, like I was saying. So they're a recognizable ways. It's just that when you... So all the recognizable things about democracy are present, and Why India Votes?, if you read my earlier book, that unpacked that recognizable aspect of democracy thoroughly. There's a language of duty, there's a language of rights, there is commitment, there is the importance of participation and why political participation is central to democracy, et cetera.
What I'm extending here, I suppose, is by bringing in this idea of social and economic democracy as Ambedkar. Ambedkar, as you know, probably was very clear. He said, we can import these institutions, we can have universal suffrage, we can set all this up, but if you are not able to change the undemocratic soil of India, as he called it, we can import them and put them in this undemocratic soil, but unless we are able to annihilate caste in his state terms, but also create solidarity to create ways in which people encounter and engage with each other, then we have failed.
We should be able to create a new kind of society. Now in that, that goes way beyond what we would officially call liberal democracy, because it is not simply about individual rights, it is not only about individual freedom, though they are important. They're absolutely important, but it is also about trying to create a different kind of society. So there's that communitarian impulse is much stronger. And if we have to think of democracy with the communitarian impulse, then looking at the working of democracy and democratic values in a community like a village is what I'm trying to get at.
To get to Muharram, as I said, I was there in 2019, April, during the campaign for the national elections and it was really quite disturbing how places that I knew very well were suddenly all overrun by young men on motorcycles, Jai Shri Ram, chanting Jai Shri Ram, and conducting these Hanuman Pujas everywhere. And these are areas in Birbhum district, where my villages are, that I know very well. So I'd stop and ask these young men. And they said, oh no, we've been conducting Hanuman Puja forever. I said, what rubbish. I've been coming here for 20 years, there's been no Hanuman Puja. Then they'd realize, oh gosh, this is not some fly by night journalist, this is somebody who might know this. So they said, no, no, we've started this last year, two years ago. What made you start it? Oh, one day we suddenly found this Hanuman idol under a tree, and we started worshiping it. Next village, somebody said, oh, this [inaudible 00:58:44] just fell out of a truck one day and we just found Hanumanji lying by the side of the road so we have to worship him.
So clearly there'd been a concerted effort at two, three years in advance of instituting this Hanuman Puja, but it was so unorganic and I personally recite Hanuman Chalisa. Since the age of 16, I've done this. So I said to these guys, I said, okay, so you're doing Hanuman Puja. Let's sit down and recite the Hanuman Chalisa together. And they had no idea what I was talking about, because this was just a Hanuman [inaudible 00:59:19] that they had found. They had no idea of how one worshiped Hanuman. It just allowed them a chance to cook food and feed everybody and play loud music on a PA system. So this, it's not even communalizing, it is the trivializing of Hindu belief that used to overrun the landscape that created this sort of possibility of the younger generation.
I think it's a generational story of younger men saying, okay, our parents have been all about, are you Left Front or are you Congress or Trinamool? This is our thing. We are going to who have Hanuman and BJP and this is going to be our story. These Muslim young men doing Muharram, a few marking Muharram a few months after this, are probably responding to this capture of common areas and spaces by this aggressive talk of Hanuman Puja and Hinduism of this particular kind. I don't know if they felt the need to do this in particular now and they didn't do it in the past, but one can only speculate.
Nafis Hasan:
Thank you so much. I think Hira's mic is back. So Hira, would you like to ask a question? Please keep it short, because we are kind of running out of time. Hira, are you there?
Speaker 5:
Maybe she can type her question if the mics not working?
Nafis Hasan:
Yeah. Okay. Let's get back. We'll come back to her. [inaudible 01:01:25] had a question. [inaudible 01:01:25], would you like to ask your question now? Common question.
Speaker 7:
Yes. Can you hear me? I'll actually turn my video on. Yes. Thank you very much Mukulika for rich and fascinating talk with sort of interval of the economic, the social, the political aspects of village life and democratic culture in agrarian Bengal. Thanks also for your valuable emphasis on democratic culture as opposed to democratic institutions. Now [inaudible 01:02:05] and you've sort of partially addressed this already, but I'd like to push you a little more. Isn't the thing that stands out about Bengal's political culture since the Left Fronts advent or even before the degree of violence, politicization, intolerance of opposition and therefore absence of democratic culture, really, which may now be coming a feature in the rest of the country as well, in terms of the [inaudible 01:02:38] you were talking about out. And therefore, the individual rights have to be part of the story. I mean, it's okay if there's a kind of democratic culture that goes beyond individual rights and liberal notions of democracy as you were projecting, but the farmer is an important part of the story as well and large aspects of that seem to be missing in Bengals political culture.
Mukulika Banerjee:
Yeah, I don't know and I think we need to think more deeply about out these questions. The revolutionary violence of say the 70s, 80s, were about justice, about dignity, about fairness as much as anything else. So at one level, I think revolutionary violence creates the modus operandi by which you win certain rights. And the land reform program that finally happens when the Left Front wins power in '77 is the result, as we know, of many decades of these debates of is democracy [inaudible 01:04:13] compromise, should we be fighting for these things outside of democratic structures? These are conversations that have been going on within the communist parties for a very long time.
What has happened is that modus operandi, because it became also not just for the sake of winning the land reform program, operation [inaudible 01:04:40] finally, when it happens in places, I know it's very uneven, it doesn't work everywhere as well as it should have, agricultural markets are not reformed as Barbara Harris White's work has shown us, and therefore, despite being the greatest paddy producers in state of the country, the farmers are no better off. So it's an incomplete reform project. But having said that, what it did to realigning caste hierarchies and caste dynamics is phenomenal in place. So they are able to create a new social democracy, but violence was very central to that. And that has become, if you want change, then the normalizing of violence that the Left Front did. So where for 34 years, the fact that people talked about [inaudible 01:05:45] in West Bengal, terror, that was the mood in rural Bengal.
When I first started field work in 1998, people would not talk about politics to me they were so terrified. They were terrified. Now that kind of fear and the fear of violence, the fear of revenge, the fear of retribution that the comrade would unleash and the [inaudible 01:06:13] would unleash is exactly. So when, and I say this it's very bleak in my book, I know, but when this young [inaudible 01:06:21] becomes the new Trinamool leader and it looks in 2013 [inaudible 01:06:26] elections, I was there, and it was looking like they were going to win and Margie was getting quite excited, but not quite there. And I sat and had a conversation with Margie that day briefly, and I said, Margie, what are you going to do with this new power? And he said, oh, it's our turn now, you wait and watch.
And I said, but you're not going to do the same thing again, are you, that you fought against all your life? You're in your thirties, come on. And he said, yes, it's our turn. And that is, I think that is what we are seeing today as well. And BJP will have to, as a new and upcoming and very important player in West Bengal, will only fuel that more. It's just, I know we are running out of time, just one thing that I do want to say is that, what is the violence? So one can condemn the violence. My first book is on the longest Gandian movement the world's seen on the [inaudible 01:07:27] that lasted for 17 years in the Northwest frontier in British India. So I don't condone violence at all, but we must ask the question what violence is for as well? If the violence is however misguided, trying to get people their rights, that is one kind of use of violence. The violence of vigilantes is a different kind of violence. And we must begin to distinguish what these different kinds of violence and their projects are as well. Thank you.
Nafis Hasan:
Thank you so much. We are above time and I know it's evening for you. So the only thing left for me to do is thank you once again, profusely. And I'm sure, a lot of us, including scholars who've come from other disciplines would be interested in reading your book and we really look forward to keep engaging with it. So just to remind our audience that the link for next week's talk is in the chat box. So definitely check it out and we hope to see you back here again. Thank you so much.