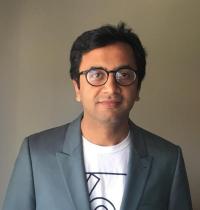 Nafis Aziz Hasan
Postdoctoral Research Fellow
Nafis Aziz Hasan is a Postdoctoral Research Fellow at CASI. His research examines the techno-politics of digital media, material politics of public institutions, and technological policies for governance with a regional focus on India. Prior to CASI, he worked on his Ph.D. in socio-cultural anthropology at UCLA, in which he examined the technologies, labor, and politics in the adoption of digital forms by colonial-era Indian administrative bureaucracies.
Nafis has conducted prior field research on biometric governance, the politics of welfare and development, and school education policy in various parts of India, including the northeast. His writing has appeared or is forthcoming in various scholarly journals and in the popular media. He has contributed chapters in books and is currently working on a co-authored book on the material histories of digital technology in India, along with articles from his dissertation.
Nafis brings his diverse work experience—research and teaching at Azim Premji University, research at the Centre for the Study of Culture and Society, and data analytics in the information technology sector—to bear on his critical praxis.